PSS 110th Anniversary Celebration Gala Dinner 2015 - Past and Future
The Pharmaceutical Society of Singapore (PSS) celebrated its 110th Anniversary with a gala dinner held at Hotel Fort Canning, Singapore, on the 12th of September. The event was graced by 200 guests, most of which whom attended the 25th Singapore Pharmacy Congress (SPC), held in conjunction with the dinner, at the Grand Copthorne Waterfront Hotel, Singapore, earlier in the day. The event was also graced by special guests including PSS Council members, various managers and leaders from the profession, speakers for the SPC, and even several of our pioneer generation pharmacists.
The event was also an opportunity to reinforce our values and the strength of relationships with PSS's partners. For instance, the Agency of Integrated Care (AIC), a strategic partner of PSS in providing integrated care to patients, and a proud sponsor of the gala dinner, was also represented at the dinner.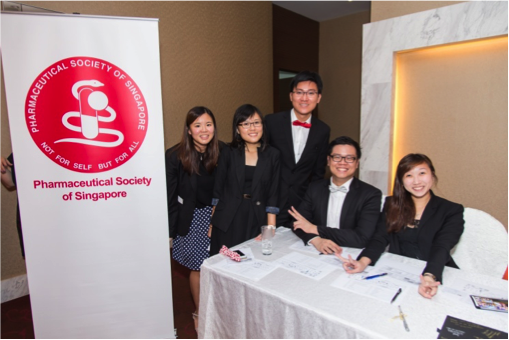 Members of the Social Committee preparing to welcome guests to the dinner at the registration booth
The dinner, themed "Past and Future", celebrated the success of pharmacy and recognised how far the profession has come, and how we can pave the path forward for the profession. This journey that we have undertaken in the past 110 years was showcased via a special commemorative video and an E-book launched by Ms Miko Thum, President of PSS, in her opening speech.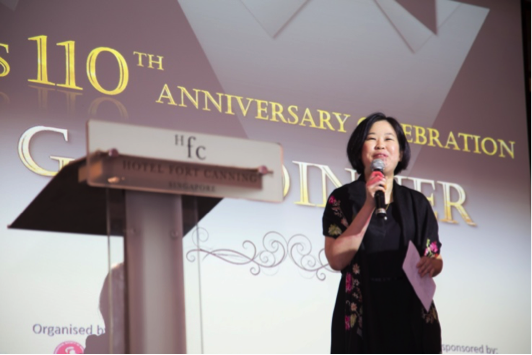 Ms Miko Thum. President, PSS, delivering the opening speech and launching the 110th anniversary commemorative E-Book
It was therefore fitting that we took the opportunity to recognise our pioneer generation pharmacists and pay tribute to the work that they have done to set the foundations of pharmacy practice in Singapore.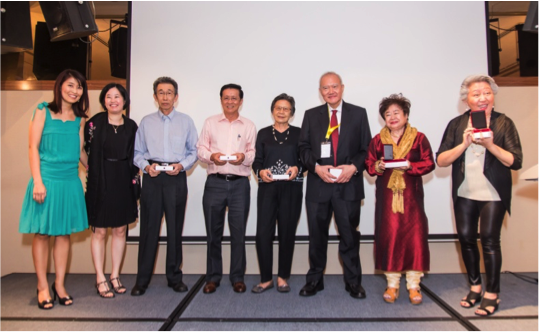 Showing our appreciation for our pioneer generation pharmacists
From left to right: Ms Ng Hong Yen (Vice President, PSS), Ms Miko Thum (President, PSS), Mr Solarson James, Mr Lim Joo Chye, Ms Amy, Mr Eng Tong Seng, Mrs Tan Shook Fong (Former Chief Pharmacis and Fellow, PSS), Mrs Pauline Ong (Past President and Fellow, PSS)
Several of our community pharmacists were also recognised for their efforts in championing health promotion efforts in the community setting with the newly renamed PSS Community Pharmacy Health Champion Programme (PHCP).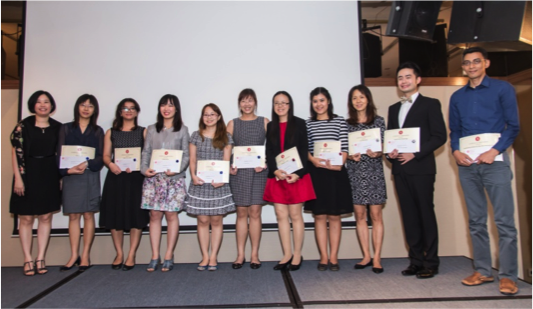 From left to right: PSS President Ms Miko Thum and the top 10 contributors for CPHCP, Ms Nelley Toh, Ms Grace Kng, Ms Hong Jiemi, Ms Foo Lee Sun, Ms Cai Ziqin, Ms Soong Lai Leng, Ms Chanida Jindasook, MsLee Wai Fong, Mr Anson Lim, Mr Muhammad Riduwan


PSS also recognised two exemplary leaders in our profession. In recognition of their exceptional contributions to the cause of Pharmacy and meritorious service to the Society, Asst Prof Lita Chew and Ms M K Fatimah were conferred as Fellows of PSS.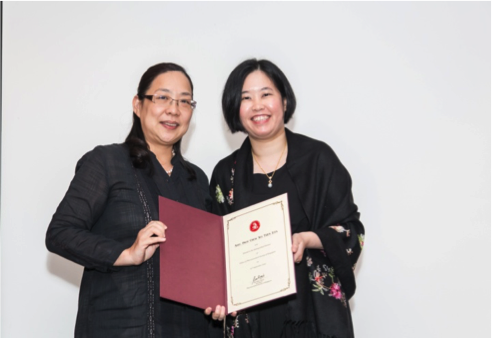 Asst Prof Lita Chew, our newly conferred Fellow of PSS, with Ms Miko Thum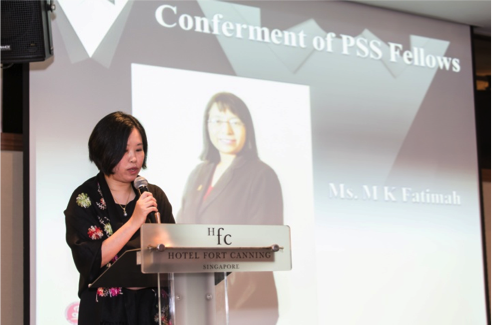 Ms Miko Thum reading the citation for Ms M K Fatimah
Apart from these, the evening was also one with good fun, great food and an excellent opportunity to catch-up with some already familiar faces and also meet new people from all areas of pharmacy. For one of the highlights of the night, Pharmacy Idol, the audience was treated to not just one, nor two, but three spectacular performances from talented individuals within the profession itself.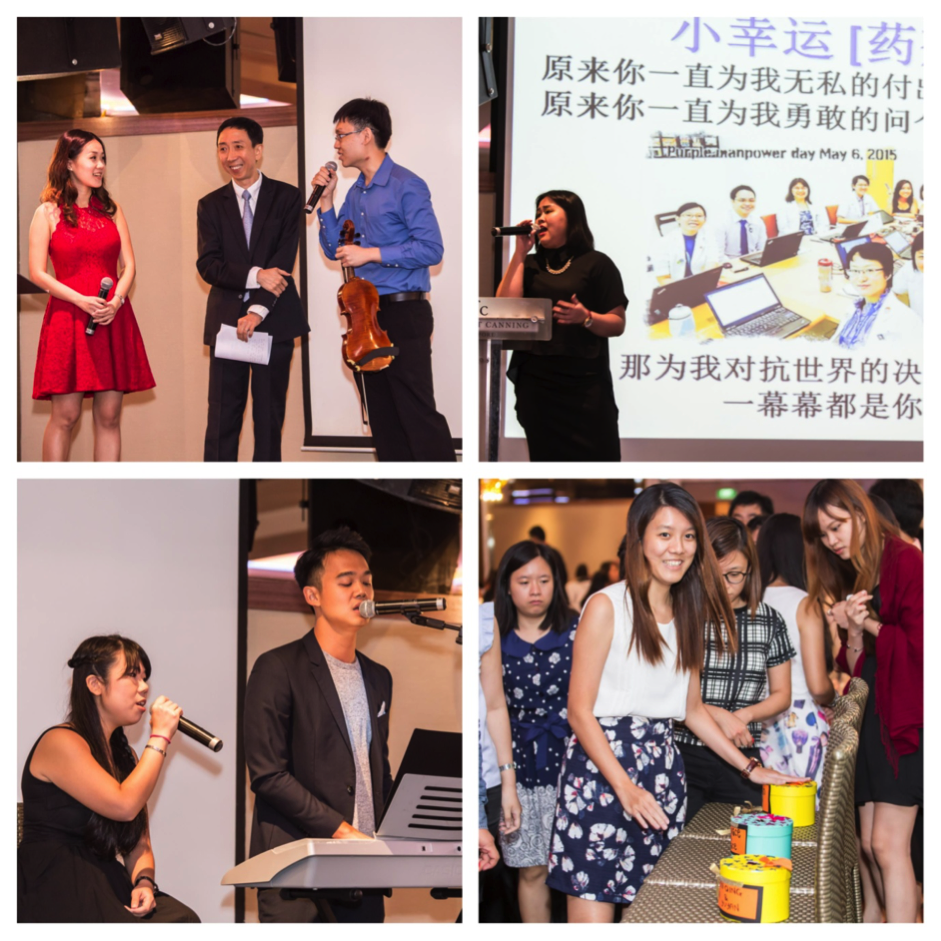 Clockwise from top left: (1) Mr Jonathan Francis Koh from SGH, with emcees Ms Germaine Soo and Mr Peter Yap, speaking about what he played masterfully on his violin. (2) Ms Jernice Aw with Dr Grace Chang (not in picture) from KTPH, who gave her own rendition of Chinese song 小幸運 , complete with her own Pharmacy-related lyrics. (3) Mr Chee Enqing and Ms Chiang Yu Yan from SGH, who performed an awesome medley of the latest pop tunes.
Guests were also able to take part in a mystery auction, where they bid for items with a limited amount of "currency" in the form of ice cream sticks, without knowing what the items were exactly, with only clues such as "an essential part of travel plans" to guide them. While there were "bogus" items such as an ordinary pen passed off as an expensive branded pen, there were also great prizes to be won, such as an air ticket to Japan, sponsored by our very own SPC Secretariat, Ping Healthcare, which publishes the healthcare magazine, LiveWell.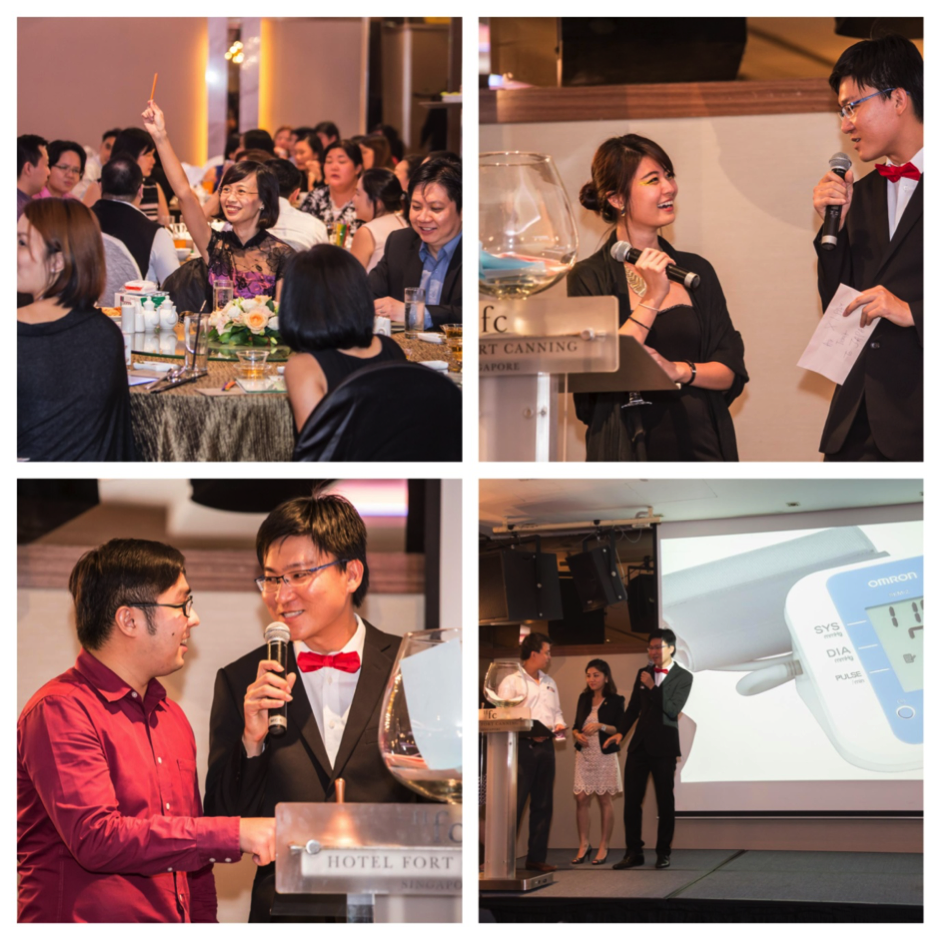 Clockwise from top left: (1) Ms Yong Pei Chean, Chairperson of the 25th SPC, leads the way to bid for one of the items up for auction. (2) Ms Koh Seow Ken from KTPH, who walked away with one of the top prizes of the night, the air ticket to Japan. (3) Mr Louis Lim from NUH, in a moment of apprehension before the prize was revealed to be an ordinary pen instead of a branded fountain pen. (4) Mr Shane Liaw from Guardian Health and Beauty, who won a Medicare non-contact thermometer and a blood pressure monitor.
The night of fun-filled activities ended off with the prize presentation for Pharmacy Idol, as well as the best-dressed tables and individuals.
Ms Jernice Aw and Dr Grace Chang were crowned winners of Pharmacy Idol, and won for themselves a Philips 58" ultra-high definition TV worth $4,699 from TPVision. The first runner-up, Mr Jonathan Francis Koh, won an air ticket to Japan, from Ping Healthcare, and $50 Capitaland Mall vouchers, while the second runners-up, Mr Chee Enqing and Ms Chiang Yu Yan, won $100 NTUC vouchers and $50 Capitaland Mall vouchers.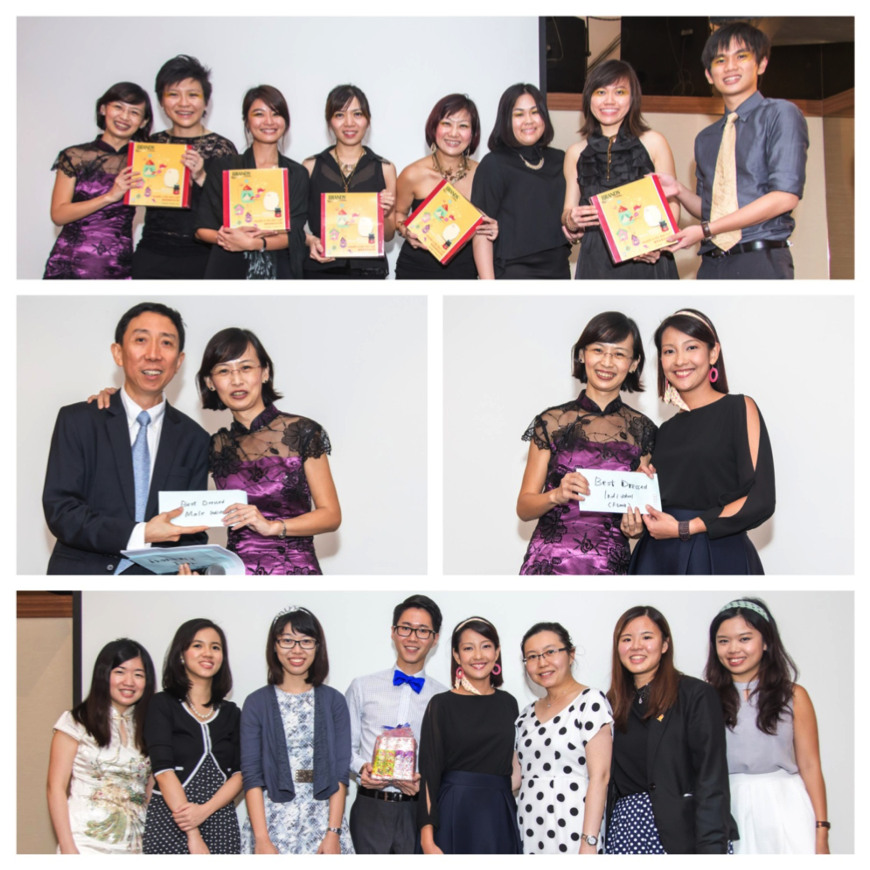 From top, and left to right: (1) The glitter-filled table from KTPH, won the best dressed table, and walked away with hampers from Brands. (2) Mr Peter Yap, receiving the award for best dressed male on behalf of Mr Anson Lim from Watson's. (3) Ms Connie Wong from NHC in her retro getup, was the best dressed female. (4) The table from NHC, runners-up for best dressed table, walked away with prizes from Omron and DKSH (featuring T3 and Moz Away products).
There was also a surprise by the Social Committee for Ms Miko Thum, who presented her with a bouquet of flowers to thank her for all her efforts in overseeing all the projects that PSS were organising for this special year of 110th Anniversary celebrations.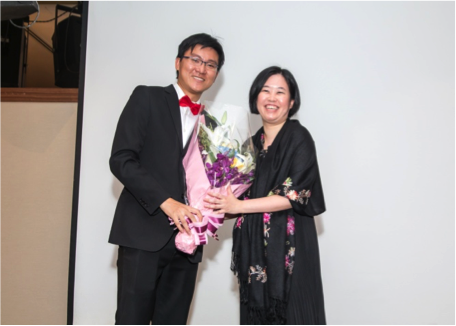 Ms Miko Thum, receiving her bouquet of flowers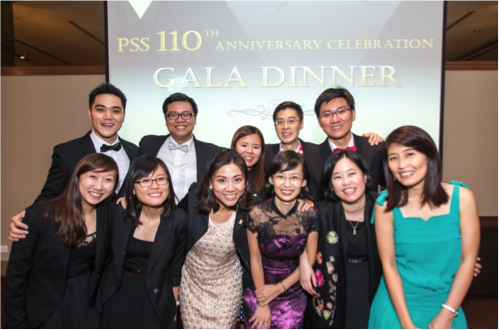 The Social Committee, with Ms Yong Pei Chean, Ms Miko Thum and Ms Ng Hong Yen
In all, the Social Committee is honoured to have had the opportunity to organise the gala dinner as part of the plethora of events that PSS has organised for our 110th Anniversary. We hope everyone had an enjoyable night, and had the chance to catch up with old friends while meeting new ones. It was a pleasure to have you join us on this very special night, and we thank everyone who had supported the dinner in one way or another!
----
Warmest Regards,
Ong Kheng Yong
Social Chairperson
25th Singapore Pharmacy Congress Committee