Join PSS
Privileges Of PSS Membership
2 ways to apply for membership:
1. Apply online. Click here and follow the steps. A detailed user guide can be found here.
2. Manual application:

---
Ways to renew PSS membership
For membership application or membership renewal
 
1. Credit card payment online via Paypal. 
Note: If application or renewal is performed online, only online payment with credit card is possible. 
Click here for the user guide on how to renew your membership online.
2. Payment via GIRO 
Pay your membership fees through GIRO, a convenient way to help you pay your fees! Simply complete this GIRO application form and attach it with your membership application form.
If you choose this payment method, the annual membership fees will be automatically deducted in February of each new membership year. To terminate this form of membership, please write in to the PSS secretariat at admin@pss.org.sg
3. ibanking Payment
To transfer the amount to Account No. 067-000464-7                     
Bank type - DBS CURRENT ACCOUNT
Please screen shot a copy of the transaction and email to admin@pss.org.sg or fax to 6259 2393 for our verification purpose
A receipt will be sent to your mailing address once the payment is confirmed
4. Cash Payment
Payable at PSS office from 9.00 am to  6.00pm from Mondays to Fridays excluding Public Holidays and eves of Christmas, New Year and Chinese New Year.
Please call us at 6259 2313 before dropping in at our office
A receipt will be issued on the spot
 
5. PayNow (*New - Recommended)
Scan and Pay via your smart phone!
You can scan to pay via the QR code below with your digibank at any PayNow, PayLah!, other bank application (that supports QR codes payment) or NETS merchants .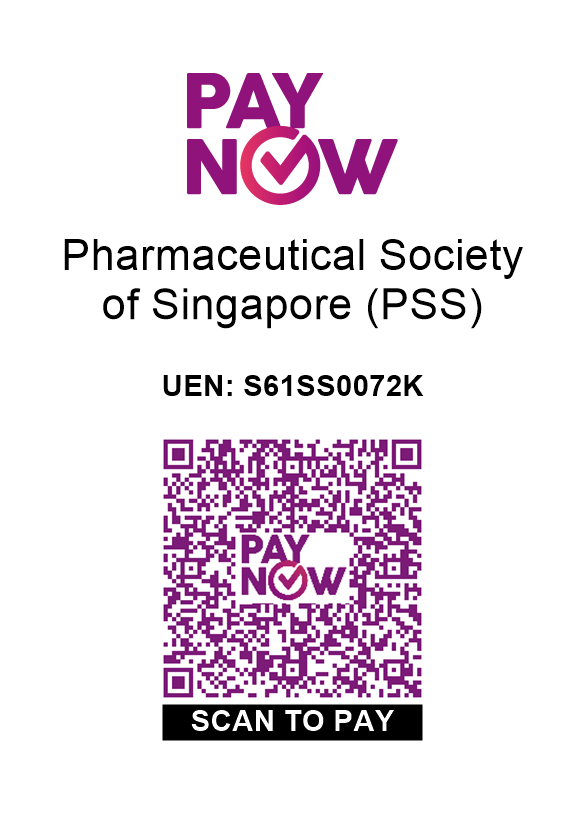 Click here for more details on PayNow
---
PSS member's benefits include:
Entitlement to use the post-nominal letters "M.P.S.S" (Member of the Pharmaceutical Society of Singapore) after their names for Ordinary Members of the Society

Receipt of the PSS electronic updates which contains

Ministry of Health / Health Sciences Authority directives relevant to pharmacy
Important notices from the PSS council
PSS e-bulletin
News on the pharmacy profession
Job opportunities
Details of continuing education & public education programmes; Information on Society activities

Entitlement to special rates in attending seminars, workshops, continuing professional education and other special programmes organised by our Society or affiliated organisations.
Complimentary registration to all PSS continuing education sessions which <=2 hours in duration.

Reduced rates for insertion of advertisements or professional announcements in PSS

PSS organises an annual Singapore Pharmacy Congress which aims to provide a forum for exchange of professional and scientific works, and ideas relevant to pharmacy and healthcare
Entitlement to special rates in attending Singapore Pharmacy Congress

Eligibility for the:

PSS – Student Overseas Enrichment Award
Professional Lucy Wan Outstanding Pharmacist Award
PSS-ICM Pharma Industry Pharmacist of the Year Award
PSS – J&J Hospital Pharmacist of the Year Award
PSS – DCH Auriga Community Pharmacist of the Year Award
PSS Innovation and Scientific Research Award

Reduced rates for insertion of advertisements or professional announcements in PSS

PSS members can enjoy -20% off course fees for courses that are run by other institutions advertised by PSS through emails

PSS members are entitled to a corporate discount for gym memberships with Fitness First.

PSS's Affiliations
Entitlement to special privileges accorded by our affiliated organisations.

Secretariat Services
Registration of various courses organised by the Society.
 
Information about programmes and activities of the Society.
Continuing Education
PSS runs a comprehensive year-long continuing education programme which all members are strongly encouraged to participate and keep updated professionally. PSS conducts and organises the following courses:

Training programme for pre-registration pharmacists
Lectures for pharmacy practitioners.
Public Education Programme
PSS runs a public education programme which aims to increase public awareness of the role of pharmacist through activities that identify pharmacist as a valuable health care professional who can advise people on a variety of subjects relating to medicines and health

Mailing Address:
The Honorary Secretary
Pharmaceutical Society of Singapore
2985 Jalan Bukit Merah
#02-2b, SMF Building
Singapore 159457
Tel: 6259 2313 
Fax: 6259 2393