The much anticipated 12th Asian Conference on Clinical Pharmacy (ACCP) was held on7th - 9th July 2012 in Hong Kong at the Hong Kong Convention and Exhibition Centre.
The theme for this year's conference was "Citius, Altius, Fortius: appraising clinical excellence, nurturing eminent practice". "Citius, Altius, Fortius" are latin words meaning "Faster, Higher, Stronger". Pharmacists need to commit to maintain high level of competency as we serve our patients so that they can achieve the best health outcomes.

The conference included a plethora of interesting topics shared by pharmacists from Asia and the United States of America during pre-conference workshops and the main conference itself. One of the pre-conference workshop, "Advances in Cancer Supportive Care and relevant research updates" was organized and chaired by our very own Dr. Alexandre Chan. He was joined by Ms. Cheung Yin Ting and Ms Teo Yi-ling, also from Singapore, in sharing latest updates with the participants.
Ms Lita Chew, our Chief Pharmacist, delivered one the talk that made up the Keynote address. Ms Chew spoke on ideas in developing clinical pharmacy in Singapore. Her talk was titled "Enabling Clinical Training for Pharmacists in Singapore".
At one of the plenary sessions, Ms Reshma Lhode shared how Singapore promotes clinical pharmacy in Community Practice while Ms Fatimah Moideen Kutty went on to highlight how partnering the government can help further the delivery of pharmaceutical care in the community.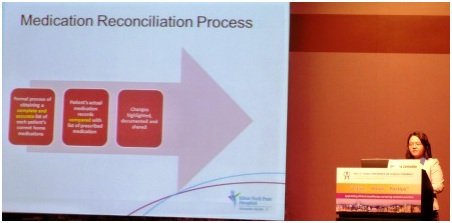 The other talks delivered by our Singapore colleagues included:
Pharmacist's role in managing metastatic renal cell carcinoma patients on Votrient by Dr Alexandre Chan
Medication management in geriatric oncology patients by Ms Yeoh Ting-Ting
Medication Reconciliation – Inpatient and Outpatient Setting, Employing Technology to Create a Hassle-free System by Ms Shakira Zainudin
Pharmacist-run Pre-discharge Vaccination Programme in Singapore by Ms Christine Teng
Embracing Care for the Elderly in Nursing Homes with Pharmacist Innovations by Dr Joyce Lee
Collaboration with the Government to Bring Clinical Pharmacy Services to Nursing Home by Mr Tan Jianming
Pharmacists' involvement in the management of CKD Mineral and Bone Disorders by Dr Priscilla How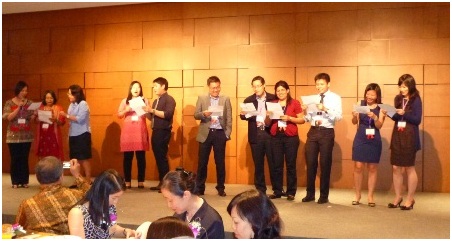 Other than sharing our experiences at the formal platforms, our Singapore delegates also had a chance to share on a more personal level with participants from other countries and to learn from their experience as well. It was indeed a fruitful time of intellectual and social exchange, not forgetting of course the beautiful sights of Hong Kong and delicious cuisine that we took in.
Christine Teng
President, PSS