The 13th Asian Conference on Clinical Pharmacy
The Clinical Pharmacist and Patient Care: Opportunities and Challenges
The 13th Asian Conference on Clinical Pharmacy (ACCP) was held at Hai Phong, Vietnam from 13th to 15th September 2013. This year's theme was on the opportunities and challenges faced by clinical pharmacists in patient care. It was an excellent platform for pharmacists from all over Asia as well as speakers from Western countries such as United States, France and New Zealand to exchange ideas with regards to education, practice and research in the area of clinical pharmacy.
The opening ceremony was officially opened by Minister of Health, Vietnam, as well as Prof Pham Van Thuc, from Hai Phong Medical University, who was the organising chairperson for ACCP this year. The highlight of the opening ceremony was a fashion parade by students from the Hai Phong Medical University. National costumes (made from paper) of the various participating countries were featured.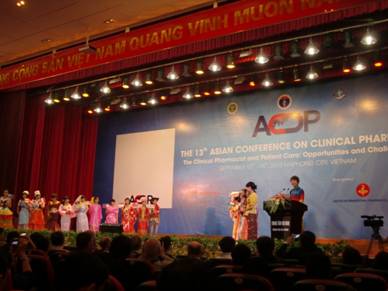 The keynote speakers were Prof Barry Carter and Dr Michael Maddux, both from United States. Prof Barry Carter, being an expert in the area of hypertension, gave a lecture on how clinical pharmacists can help to lower systolic pressure in patients in a collaborative team-based care model. Dr Michael Maddux, the Executive Director of American College of Clinical Pharmacy, shared on how clinical pharmacists can help Americans achieve better health on a individual level as well as a national level while reducing overall healthcare cost.
Singapore was represented by 15 delegates, many whom were invited to speak at the conference. Dr Vivianne Shih, with her keen interest in oncology, shared on how the pharmacist can add value to the management of patients with cancer at a plenary session.
Ms Shyamala Narayanswamy & Ms Yee Meiling, both from the Singapore General Hospital presented at a symposium session on formulary management and General Level Framework respectively.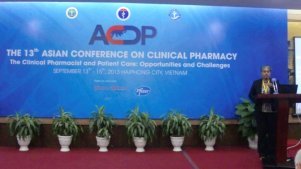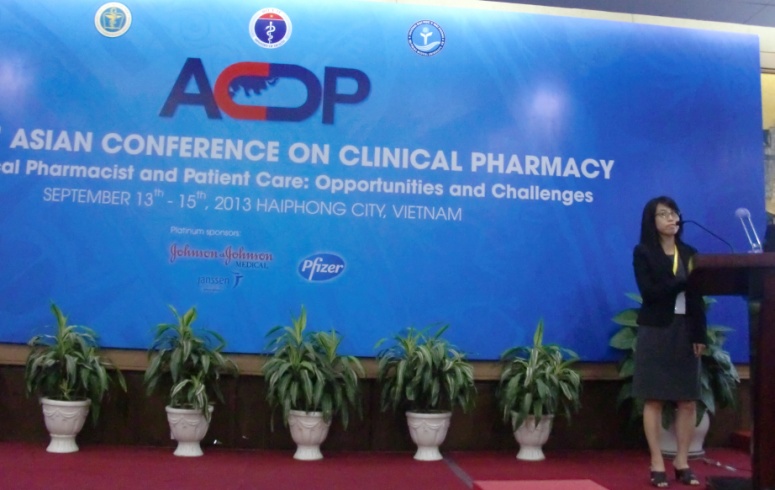 At the oral presentation session, Dr Kevin Yap shared on cyberpharmacy, which was about how the technology has impacted on the traditional practice of pharmacy and what is to be expected for the era of social media revolution in the arena of health and drug information.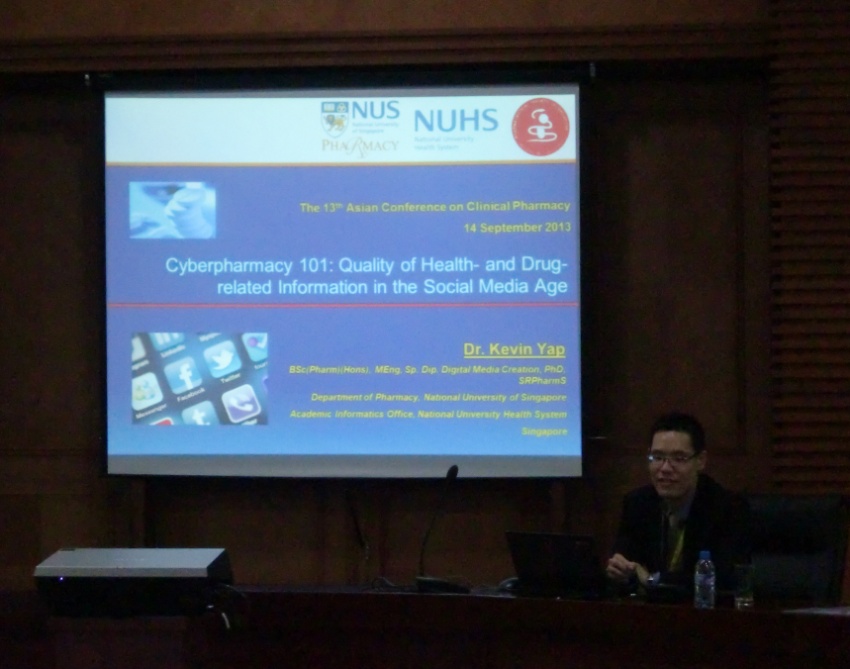 At another session, Ms Tan Yuen Ming introduced the need for medication labels in different languages like Chinese, Malay and Tamil in order to improve medication adherence as well as patient safety.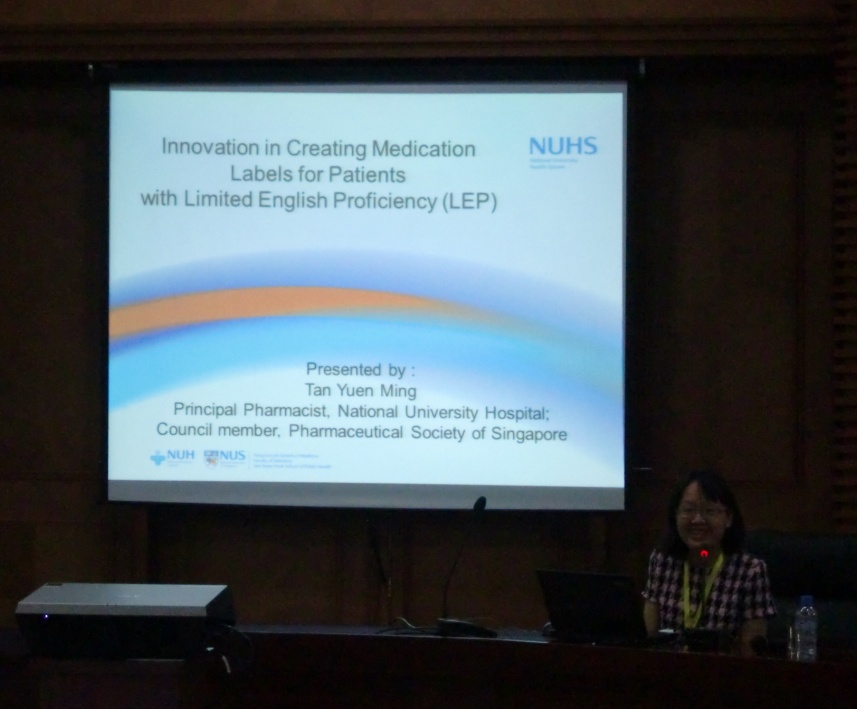 As per the tradition of ACCP, each participating country will put up a performance during the gala dinner which was held on 13th September 2013. In order to showcase our cultural and racial diversity and harmony, the delegates from Singapore performed three songs in various languages, namely Chan Mali Chan, in Malay, Munnaeru vaalibaa, in Tamil, as well as Yue Liang Dai Biao Wo De Xin in Mandarin, which was warmly received by the Vietnamese hosts as they were familiar with the tune of the song.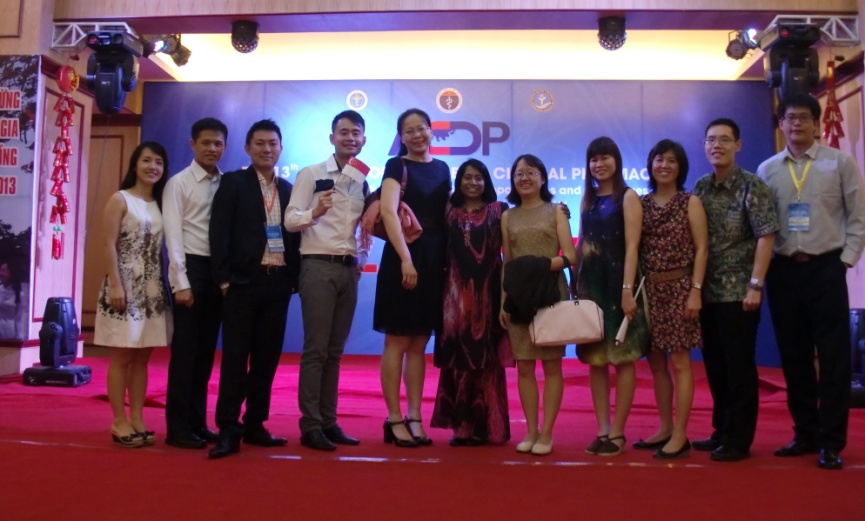 Personal Thoughts on ACCP
It serves as an excellent platform for pharmacists from all over Asia to exchange experiences with and learn from each other. Despite being a clinical conference, the scope covered was wide enough to encompass the education, practice and research tracks of clinical pharmacy. This allowed participants to bring home ideas and information about how certain projects and studies can be implemented in their own countries with modifications and adjustments to local context. Other than being informative, ACCP allows the building of friendship from all over Asia, from Korea to Kuwait, Malaysia to Mongolia. In addition, ACCP also allows one to foster friendship with fellow pharmacists from other countries.
Reported by Mr Anson Lim