In the spotlight is an initiative by PSS that features pharmacists who excel in their area of practice and have been role models for fellow pharmacists. In this issue, we feature: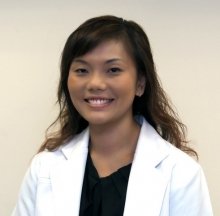 In September's edition of In the Spotlight, we are featuring Ms Lim Hong Yee, Senior Principal Pharmacist and Head of the Pharmacy Department at Tan Tock Seng Hospital (TTSH).
She has over 19 years of experience in pharmacy, starting out as an anticoagulation clinic pharmacist, to leading quality improvement projects and building an impressive career to being appointed as outpatient pharmacy in-charge and eventually as head of department in 2015.
Hong Yee graduated with a Bachelor of Pharmacy (Honours) degree from the National University of Singapore. She also holds a Masters in Business Administration, MBA (Specialization in Healthcare Management) from NUS School of Business and Masters in Community Pharmacy from Queen's University of Belfast.
Hong Yee remains driven as a hospital pharmacist with professional interests in quality improvement and healthcare innovation. She played a pivotal role in the implementation of the Outpatient Pharmacy Automation System (OPAS) in TTSH in 2015 and most recently, in setting up the framework for Advance Practice pharmacists and collaborative prescribing at TTSH. She currently holds several portfolios such as member of National Healthcare Group (NHG) Pharmacy Transformation Steering Committee, TTSH Clinical Board, Drugs and Therapeutics Committee, Collaborative Prescribing Committee, Medication Safety Workgroup, JCI MMU Chapter Champion, Transitional Care leadership taskforce, Chair of the Advanced Practice Framework Supervisors Committee and co-chair of Pharmacy, Education and Development Advisory Committee (PEDAC) in NHG cluster level.
She was the recipient of the National Day Commendation Award in 2012 and also the first allied health professional to be awarded the NHG Clinician Administrator Scholarship Award in the same year. Hong Yee was the Honorary Secretary of the 112th PSS Council. She is currently the Ex-Officio of both the Hospital Chapter and Infectious Diseases Special Interest Group Workgroup at PSS.
We are greatly honoured to have such an accomplished pharmacist share her experience and thoughts with us!
Describe the most satisfying/fulfilling day in your life as a pharmacist.

To be able to make a difference and it need not necessarily be the patient, fellow healthcare colleagues inclusive.

MBA (healthcare management) has indeed broadened my horizon beyond just pharmacy. It has not only taught me business and finance related knowledge but also critical thinking skills related to management, leadership, strategic planning and communication. All these are very relevant in healthcare industry. Change management in the adversity of life challenges and fast evolving needs of both patients and healthcare landscape is also one area which constantly pushes me out of my comfort zone. As a result, every day at work can be a roller coaster ride when we discuss difficult issues and brainstorm for ideas.  

 
What would your best advice be for the younger pharmacists, especially when faced with challenges to motivate them and keep them going?

Do not be afraid to fail. Being able to do things differently or innovate takes time and patience. A growth mindset where one is willing to try and fail till he/she gets the right model is often the key to success. Everyone can learn, grow, be better and reach their potential. Use failure as a springboard for growth. Inspire to commit, persevere and reflect.


The GROW model in coaching often serves as a great guiding tool when I start feeling lost:

1) What are my Goals? 
2) What is the Reality now?  
3) What are the Options available? 
4) What is the Way forward? Action plans

In alignment of choices, self-awareness is also important. Understanding one's strengths, weaknesses and blind spots will help one grab the right opportunities. Keep an open mind to values versus belief system.

I would also like to share an article on building resilience in midlife which was published in The New York Times sometime ago. The article emphasized that stress is not to be feared as times of manageable stress present an opportunity to build resilience. Jack Groppel, co-founder of the Johnson and Johnson Human Performance Institute said, "You have to invite stress into your life. A human being needs stress; the body and the mind want stress." The key is to recognize that you will never be able to eliminate stress from your life but instead learn to cope with it like taking stress breaks. Taking a walk break, spending five minutes to meditate or having lunch with a good friend are ways to give your mind and body a break from stress. Stress is the stimulus for growth and recovery is when the growth occurs. That's how we build the resilience muscle!  
 
Who would you say is your role model, whom inspired you to excel in the pharmacy field that you chose?

My very first supervisor when I stepped out to the Pharmacy world. She taught me diligence, resilience, how to serve with passion, push and persist. She took the time and effort to guide me but gave me the safe space to think and go beyond. This allowed me to achieve more than the usual scope of work and excel. I would not be where I am now without her as she set the foundation so strong and right when I first started work as a pharmacist. She is still at TTSH Pharmacy now. 
In the Spotlight - Past Features