In the spotlight is an initiative by PSS that features pharmacists who excel in their area of practice and have been role models for fellow pharmacists. In this issue, we feature: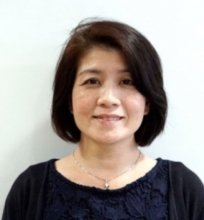 In March's edition of in the spotlight, we are featuring Dr Chan Hong Ngee, Senior Principal Clinical Pharmacist at Singapore General Hospital (SGH).  She has more than 25 years of experience in Pharmacy and specialises in Critical Care.
Hong Ngee graduated with the Bachelor of Pharmacy from the University of Queensland, Australia in 1992 and completed Doctor of Pharmacy from Albany College of Pharmacy, USA in 2005. She is a Board Certified Critical Care Pharmacist (US Board of Pharmacy Specialties). She also underwent 3 months of HMDP Fellowship in Critical Care in Burns at the University of Washington Burn Centre at Harborview Medical Centre in 2010. Her main practice areas are in medical intensive care and burn care management.
Hong Ngee is passionate about pharmacy practice and education. She has held various prominent leadership positions in pharmacy education including Chief Preceptor for Pre-Registration Pharmacist Training Programme from 2006-2015, member of the Singapore Pharmacy Council Board of Examiners from 2012-2018, Programme Director of SGH's postgraduate year 2 (PGY2) Critical Care Pharmacy Residency, and Associate Programme Director of the Ministry of Health's postgraduate year 1 (PGY1)Pharmacy Residency. She is heavily involved in workgroups for Pharmacy Residency, and Specialist Training and Accreditation in the Ministry of Health. Apart from these she is also a member of Duke-NUS Academic Medicine Education Institute (AM.EI) Professional Development Committee, faculty of SGH Postgraduate Allied Health Institute, faculty of SGH Pulmonary and Critical Care Medicine Foundation Course, Chair of the College of Allied Health SingHealth Academy, playing a critical role in fostering greater synergy between allied health professions and other healthcare professions through better coordination and alignment of strategies and plans. She was also the Co-lead of 2017 SingHealth Duke-NUS Strategy Retreat Standing Committee to support the development and implementation of the plans in building capabilities and fostering interprofessional collaboration. She and her team play a critical role to ensure healthy pipeline of future ready professionals in SingHealth Duke-NUS Academic Medical Centre. These activities serve as inspiration for her role as educator teaching and grooming the new generation of young pharmacists and healthcare professionals.

We are greatly honoured that she has taken the time to answer some of our questions and share what drives her passion for Pharmacy practice.
Describe the most satisfying/fulfilling day in your life as a pharmacist.

There is an amazing amount of team work in the medical ICU and Burns Unit. This is what I like most. Opinion and expertise from everyone are so valuable in critical care and burns. The most satisfying and fulfilling day in my life as critical care pharmacist is when I see what I am doing has an impact on patients especially critically ill patients with extensive burns or patients on both extra-corporeal membranous oxygenation support and continuous renal replacement therapy where dosing can be very challenging.

 
What would your best advice be for the younger pharmacists, especially when faced with challenges to motivate them and keep them going?

My advice to younger pharmacists would be to hold yourselves to the highest standard possible when deal with challenges at work as you have the privilege of the patients and the public to listen to your advice. You should treat that privilege with respect and act with integrity. Being resilient and continue to develop a sustained passion for life-long learning through having personal reflection and self-regulation are crucial to effective learning and to keep you going. Once in a while you have to pause, reflect and then move forward. Having learning and inquiry mind set are vital in bringing us to the next level. There is no finish line!

 
Who would you say is your role model, whom inspired you to excel in the pharmacy field that you chose?

The young pharmacists who work hard in the call of duty yet still find the time to impart knowledge and skill to the future generation of pharmacists through education, training and research.  I continue to be inspired by this group.
In the Spotlight - Past Features