What's Happening
Pharmacy News
You are here
Shining Star is a PSS initiative by the Community Chapter that features individuals who embody the exceptional qualities of a community pharmacist. In this issue we shine the spotlight on Ms Lim Xin Hui from Guardian Pharmacy.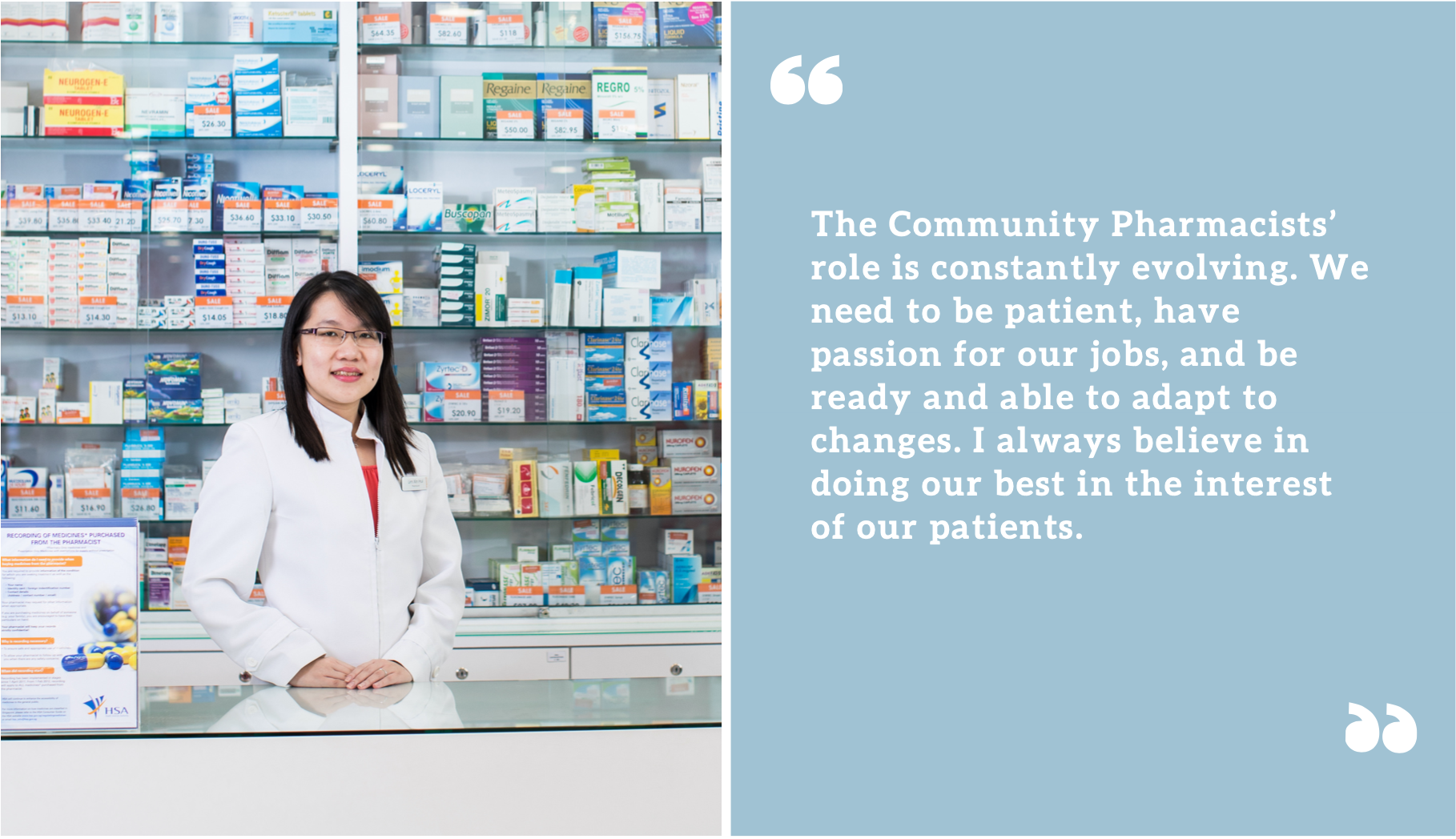 1) Why did you choose to be a community pharmacist?
As a community pharmacist and healthcare professional, we are most accessible by the general public when they need us. By interacting and building rapport with patients, we can help them make better informed decisions which would impact their overall health.
 
2 ) Share a typical day at work.
My daily work schedule includes dispensing medications, answering customers' queries, counselling on chronic medications, giving advice and recommending treatments for minor ailments. In addition, I also provide guidance to customers on product selections, proper uses of home health monitoring devices, rehabilitation products and appropriate supplement intakes. Operational duties such as management of inventories and merchandising are also part and parcel of my daily duties.
On some days, I will work on my project portfolios. My role requires me to lead my teammates to co-create, plan and execute activities for customers. Last but not least, my work scope also includes visiting nursing homes to conduct medication reviews and medication audits.

3) The COVID-19 outbreak has resulted in far reaching changes throughout many aspects of life. What do you feel is the role of community pharmacists in this new landscape?
During the COVID-19 outbreak, community pharmacists serve the public as a reachable and accessible medical information source. We would have to respond professionally to all sorts of questions and queries raised by them and to provide accurate and unbiased information upon request. We have also extended our service by collaborating with SGH and NHGP to make medication refills more accessible during the pandemic period. Some of my colleagues have taken up roles in digital health consultations and many more initiatives to make our healthcare services more effective and accessible.

4) What is the most memorable moment in your pharmacy career?
There are numerous memorable moments throughout my career life such as receiving compliments from patients and regular customers who intentionally follow me from my old outlet to my new outlet. I even received a "Char Koay Teow" pack from a senior just because I spoke in his dialect during medication dispensing as he was not conversant in English or Mandarin.
However, I am most grateful to my managers Mr Tan Wee Jin and Ms Grace Chew for giving me the opportunities to participate in different live events such as TV and radio interviews, as well as public talks. Singapore Pharmacy Congress public event was my very first seminar in Singapore. I was very nervous and kept practising to make sure I am able to deliver the content well. On the other hand, I was very excited and honoured to be invited! It was very rewarding when one of the audiences approached me after the event and mentioned that she is more confident to deal with her grandson's eczema after my talk. I am glad that I was able to make a positive impact to someone's health and I will never forget such precious memories in my pharmacy career.


5) What helped/motivated you to stay in your practice? How do you harmonize work and family?
I believe if I give my best for others, I will also do well for my family and myself. I will continue to stay in this community as it gives me the required job rewards and satisfactions, such as customers returning to me for advice and acknowledgements for good service.
My daily work ends late at dusk and occasional weekend workings are inevitable. Therefore, it is important to set priorities on what is my goal for the day and adhere strictly to the timeline set. Limiting after work tasks and planning family activities allow me to enjoy quality family time with my family on my off days. I am very thankful to my supportive family members, in taking turns to take care of my kids and sharing our joys and distresses. Nonetheless, I am where I am today as a result of the support, help and teamwork from my colleagues, teammates and managers.

6) What is one misconception about community pharmacist that you hope to correct?
The very common misconception about community pharmacist is that he/she is a "medicine seller behind the counter". We are more than that!
We are usually the first point of contact for customers who have health-related issues and the last point of contact after the medical consultations. Apart from dispensing and counselling of the prescribed medicines, community pharmacists also offer advice on over-the-counter products, giving lifestyle counselling on diet, exercise and non-pharmacologic advice to control various chronic diseases. Some community pharmacists also provide medication reviews; get involved in step down care and outreach programs; take up research work and lead various improvement projects within the community or the company.