What's Happening
Pharmacy News
You are here
PSS Shining Star is a PSS initiative that features individuals who embody the exceptional qualities of a community pharmacist.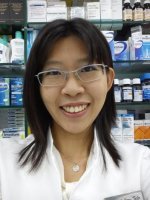 Name of Pharmacist: Nelley Toh
A. Interview Questions
Why did you choose pharmacy as your profession?

I have always wanted to be involved in the healthcare field and make an impact in a patient's life.

 
Why did you choose to be a community pharmacist?

I enjoy working directly with patients and helping them with their healthcare needs. In the community setting we are readily accessible to the public which allows us to get to follow-up with them on the progression of their medical conditions. We form meaningful relationships with our regular patients, answer a wide variety of queries, and provide basic screening services in a setting that is comfortable and convenient for them. This encourages them to open up more to us which in turn allows us to provide a more patient specific level of service.

 
What helped/ motivated you to be where you are today?

Patients who take the time to return to my dispensary, and describe how my advice and recommendations improve their lives, brighten my day and keep me motivated to continue giving my best.

 
Who would you say is your role model, who inspired you to excel in the pharmacy field that you choose?

My preceptors are my role models. They have shown me the importance of doing our best for our patients. I remember one incident, which left a deep impression on me where a foreign patient had forgotten to bring her anti-hypertensive medication. My preceptor liaised with a doctor so that she was able to take her medication. She even followed up with the patient by calling her to check on her blood pressure and on how she was feeling.

 
What is your advice for your fellow pharmacists and for people who are considering this career?

You will need to continue learning, keep an open, curious mind and avoid having preconceived notions. Sometimes, we can even learn from our patients.

 
Given that Singapore will be experiencing one in three citizens aged 65 and above by 2030, how do you think pharmacists can contribute to the healthcare of this group of people?

We can contribute in the following ways:

Early intervention. Advising all patients, young and old, on the importance of maintaining a healthy lifestyle and going for regular health checks.
Providing medication management services. This can be done through reconciling their medications and supplements, identifying drug related problems and intervening if necessary.
Patient education. We must take the initiative to ensure they understand their medications. This includes helping them to understand the indication of the medication as well as emphasizing the importance of remaining compliant.
Evaluating appropriateness. Finally, we should always check with the patients if they are experiencing side effects from their medications and provide appropriate advice to manage or respond to such side effects.

 

What is the most memorable moment in your pharmacy career?

My most memorable moment occurred during the first year I was Chief preceptor. I remember the look of happiness on their faces during their graduation ceremony.

 
Describe your career progression path.

Since joining Guardian, I have been heavily involved in pre-registration pharmacist training, eventually taking on the role of Chief Preceptor in 2011. I am also a member of the PSS Community Chapter, and work with other like-minded individuals to drive initiatives in the community sector.

 
Can you describe a typical day at work?

A typical work day can get quite unpredictable at times. Most days I help patients with minor ailments enquiries and dispense prescriptions. There might be requests for basic health checks like blood pressure monitoring. In the afternoon, there may be follow-ups with patients on chronic conditions like hypertension, diabetes or smoking cessation. On top of these, I will have to make sure the basic procedures like stock level maintenance are carried out in a timely manner to ensure the smooth running of the dispensary.

 

What do you think are the important skills that a pharmacist needs to be equipped with?


​​​​​​
Effective communication skills are very important for a pharmacist who provides direct patient care. It helps us ascertain that we understand the patient's needs and queries, as well as ensure that the patient can understand our counseling. As there is no one way of communicating that fits everyone, we must also learn to tailor our counseling to cater to each patient's unique needs and personalities.

 

What is your wish list to your patients/ the public who comes to you?



I hope that more patients will understand that there are a wide variety of ways we can assist them to keep them in good health. I also hope that they will be assured that we are always available to help.