What's Happening
Pharmacy News
You are here
PSS Shining Star is a PSS initiative that features individuals who embody the exceptional qualities of a community pharmacist. Featured Pharmacist: Ms Yang Jingxian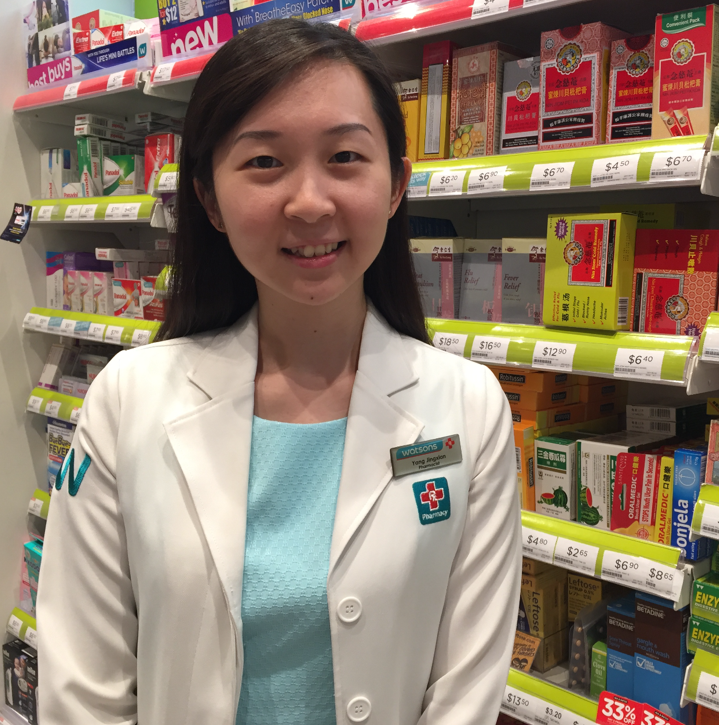 Ms Yang Jingxian, Cluster Pharmacy Manager, Watsons Singapore
Why did you choose pharmacy as your profession?



The ever-evolving roles of pharmacists, which are exciting and challenging, attracted me to this profession. In addition, the versatile nature of the pharmacy profession provides many opportunities to explore and different fields to work in.

 

Why did you choose to be a community pharmacist?



After going through the attachments during university, I found that community suited me more. The dynamic environment, flexibility of time to interact with patients and management of operations matched my interests.

 

What helped/ motivated you to be where you are today?



Having a passion to assist others and their genuine appreciation creates a positive motivation loop. The resulting trust and rapport built with patients further strengthen this motivation loop.

 

Who would you say is your role model, who inspired you to excel in the pharmacy field that you choose?



Ms Lim Kiat Wee, who was my preceptor during pre-registration training, inspired me with her passion and dedication to help her patients and ensure they understood their medications. With her in-depth knowledge on the medicines and products we had, she was able to answer most of the enquiries encountered. I believe that having the passion, dedication and to consider things from all angles have played a significant role in bringing me to where I am today.

 

What is your advice for your fellow pharmacists and for people who are considering this career?



Working in the frontline of healthcare is no easy feat. Not only do we have to equip ourselves with updated medical knowledge and clinical guidelines, we also need to have the passion to serve and to do it with compassion.   

 

Given that Singapore will be experiencing one in three citizens aged 65 and above by 2030, how do you think pharmacists can contribute to the healthcare of this group of people?



Pharmacists should continually keep abreast of the latest developments in geriatric care. With our accessibility to the public, the knowledge can be translated to preventive healthcare, for instance, via public health talks, health events, etc.

 

What is the most memorable moment in your pharmacy career?



I can still remember a few years back when a middle-aged lady came in to seek advice on managing a persistent rash on her husband's arm. After assessing the condition, we suspected irritant contact dermatitis. With medications and non-pharmacological managements, the rash cleared up. The couple returned to thank me and gave me some home-made pastries. Since then, they would drop by just to say hello or share with me their home-made desserts while reminding me to have my meal. Such gestures really make my day!

 

Describe your career progression path.



Upon graduation, I did my pre-registration training at Watsons. Thereafter, I continued working as a pharmacist at Watsons. I was involved in writing health articles (for The Straits Times – Mind Your Body, Lian He Wan Bao Chinese Newspaper, as well as EzyHealth, LiveWell and Glow magazines) and was the portfolio in-charge for IT, Telepharmacy and Dispensing Software. Subsequently, I was promoted to Senior Pharmacist and currently I am a Cluster Pharmacy Manager overseeing 10 pharmacy stores.

 

Can you describe a typical day at work?



Apart from dispensing duties and assisting walk-in patients with their enquiries, there are operational duties for maintaining the dispensary too. On top of that, I put aside time for case discussions with pre-registration pharmacists or interns, cluster stores' matters that require follow-up and to manage projects assigned by the management at Headquarters.

 

What do you think are the important skills that a pharmacist needs to be equipped?



As we deal with the healthcare of patients, strong clinical knowledge needs to be paired with good communication skills and soft-skills like empathy. Professionalism, the ability to multitask and problem-solving skills are important as well.

 

What is your wish list to your patients/ the public who comes to you?



It would be great if they understand our roles, know that we are here to help and they feel empowered to take charge of their health.