"What I have in mind, will be unique, like nothing anybody has seen.  We shall call it after us, Har Par Villa.
We will be remembered for generations to come" - Aw Boon Haw ~ 1934
 
"I must build a garden to teach Chinese culture to you"
 
So thus, in 1937,  Aw Boon Haw built Haw Par Villa, originally called Tiger Balm Gardens, as a grand residence for his brother Boon Par
 It was a magnificent seven domed villa situated on the highest point of the hill and commanded a beautiful view of the sea.
 
He also created an entertainment park to teach and preserve Chinese values.   The park's has a collection of over 1,000 statues and 150 giant tableaux centered around Chinese folklore, legends, history, and Confucian ideology.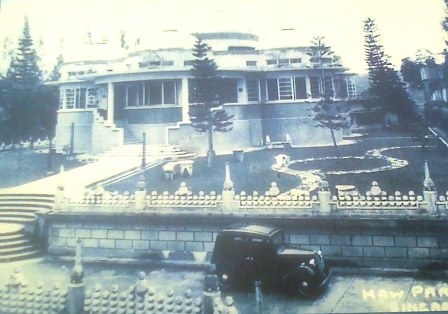 Haw Par Villa
 
Poems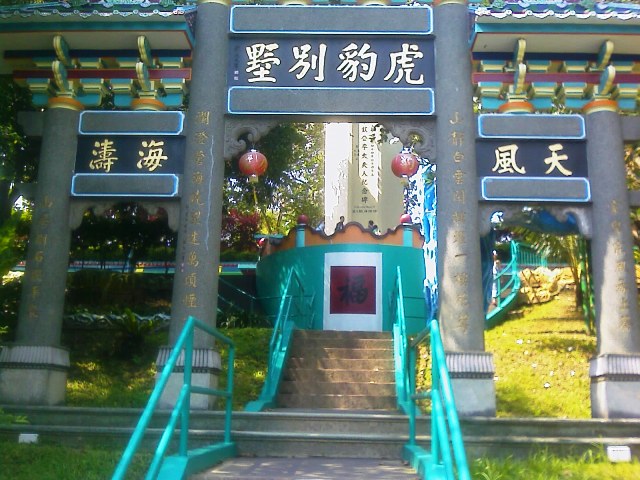 On the pillars is a poem couplet written by Yu Da Fu, aptly describing Haw Par Villa then.
 
山静白云闲
 
In the quietness of the hills amidst the rolling white clouds
 
辉耀一楼花萼
 
There stand a bright glorious house like blossoming flower petals
 
澜澄苍海晓
 
You can see the vast and clear blue ocean
 
望迷万顷烟波
 
And grazes into the and ripples of the sea waves in the far horizon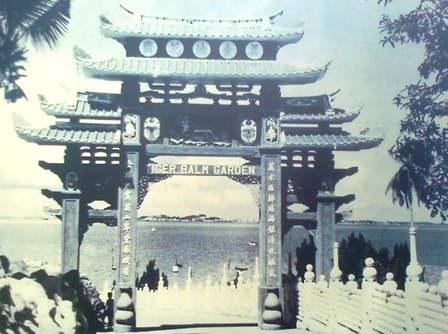 Yu Da Fu (1896  - 1945)
 
Yu Dafu was a 1920's Chinese short story writer. He was born in 1896 in Fu-yang in the Chekiang province, and died in September 1945 in Sumatra (in the Dutch East Indies). 
 
He worked as a writer of anti-Japanese propaganda during the Second Sino-Japanese war. From 1938 to 1942, he worked as a literary editor for the newspaper Sin Jew Ji Poh in Singapore. In 1942 when the Japanese army invaded Singapore, he was forced to flee to Sumatra where he was murdered three years later by Japanese military police. 
 
His most popular work, breaking all Chinese sales records, was Jih-chi chiu-chung "Nine Diaries", which detailed his affair with the writer Wang Ying-hsin. The most critically acclaimed work is Kuo-ch'u or "The Past", written in 1927, which is said to have psychological depth. 
 
Memorials
 The four memorials protraying the hierachical Chinese family.  From left to right, according to prominent positions 
in the Haw Par Villa,  The parents,  Aw Boon Haw, Aw Boon Par, and Aw How 
 
Aw How was the 3rd son of Aw Boon Haw, and a promising newspapers magnate when he died tragically in a plane crash in North Malaysia
in 1951. He was only  32 years old.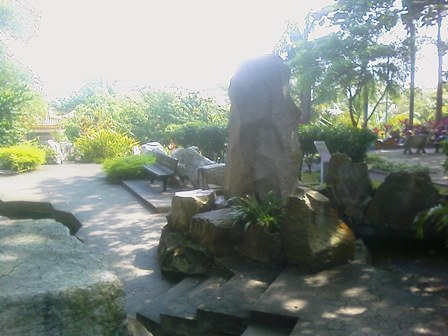 [Former site of Haw Par Villa Swimming Pool. It was the first private swimming pool,
but was open to the public for swimming
Some Chinese classics protrayed in Haw Paw Villa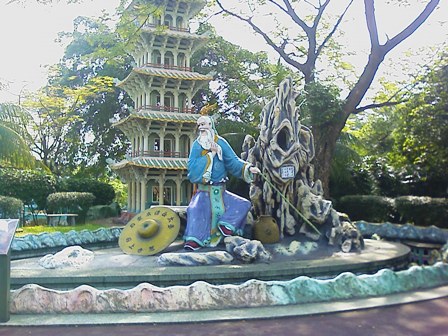 Jiang Tai Gong fishing. His fishing rod does not touch the water and has no bait.
"Let the willing be hooked," he said. And he did hooked a big fish later (King Zhou)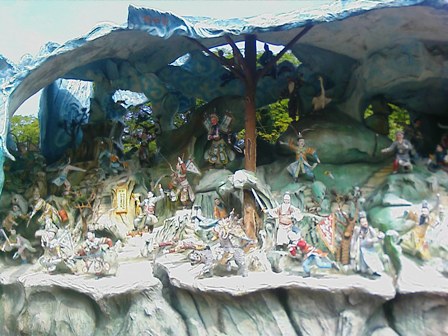 Creation of the Gods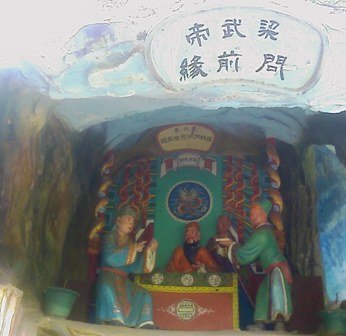 Emperor Liang Wu Ti enquires about past life karma.
He learnt that the big snake he saw in his garden is his dead. concubine whom has turned into 
a giant snake due to her previous bad karma
The theme of morality and battle of good versus evil was evident throughtout the Haw Par Villa, culminating in the famous Ten Courts of Hell.
Tiger Balm Business.
 
There are various versions on how the Aw brothers got their Tiger Balm formula.
 
 
1)  From a receipe passed down from their father herbal formula (玉树神散) The Jade Tree Magical Powder
2)  From a German doctor's receipe
3)  From a Western Doctor Hu
4)  From an old peddlar of medicines in Boon Haw ancestal village.
 
There was a saying at that time in his county:  "山苍子有万金"
 
This is the herb Litsea cubeba has multiple gold (万金).  The old peddlar is believed to have taught Boon Haw to use the oil
extracted from Litsea cubeba, to mix with other kind of ingredients.
 
It is thus believed that the name 万金油 (Tiger Balm Oil) arises from this saying..
 
Whatever is it,  The Aw brothers concocted the formula based on these experiences and their father ancestral formula.
 
Their concept of an easy to carry, low price all purpose traditional ointment remedy for common ailments was a hit in South East Asia, enabling them
to build a business empire based on Tiger Balm.
.
Haw Par Villa (Tiger Balm Gardens) is their lasting legacy gift to the Singapore people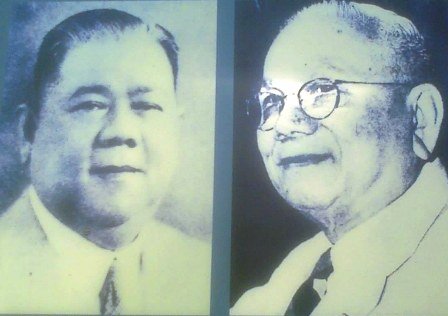 Aw Boon Par (1886 - 1944)        Aw Boon Haw (1884 - 1954
"That which is derived from society, should be returned to society" 
Aw Boon Haw's motto
Based on his motto to give back to society, he personally dictated that 1/4 of his company Yong Ann Tang's profits be useed for charity.
Later this figure was raised was 2/5 (40%)
They were thus great philanthropists, and donated generously to hospitals, schools, nursing homes, orphanages, leper homes, old age homes and others.
THE TIGER HAS CERTAINLY LEFT HIS MARK
*********************************************

Contributed by Raymond Goh

Raymond Goh, a pharmacist, recently passed a specialized tourist guide licence in heritage conducted by the Singapore Tourism Board