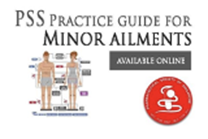 The PSS Practice Guide for Minor Ailments (PGMA) is a compendium of guidelines for 14 frequently encountered minor ailments that was successfully launched on 8th October 2016 by PSS Community Chapter. It aims to keep pharmacists' knowledge up to date, and also standardize practice across all institutions in Singapore. Modules are reviewed and updated every 2 years to ensure that they are updated with most recent guidelines and practice.
There were a total of 5 updated practice guidelines launched in October and early December 2021- Principles of Self Care, Hair Loss, Gastrointestinal Conditions Part 1 (GERD), Smoking Cessation and Skin Conditions Part I. Update yourself on the latest community pharmacy practice changes, treatments for hair loss, and summarized treatment options for GERD now!
PSS Community Chapter will also be launching 6 new modules early 2022. Do keep a lookout on our new exciting modules, which will include topics like medication reconciliation, COVID-19, insomnia, etc. Moreover, these modules are provided FREE for PSS Members!
Upon successful completion and passing of the Post Test (80% required) for each module, the participant will receive a "Certificate of Completion" and will be entitled to 2 CPE points per module under Category 3A.

You may find the link here.
 
You may also access it via PSS Homepage > Store > Online Resources > PGMA.