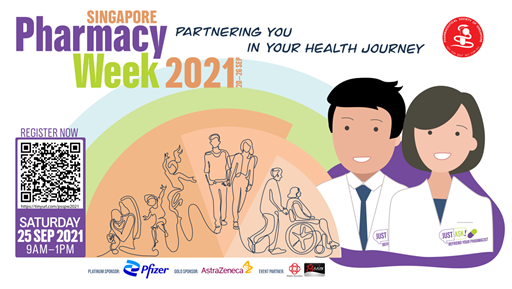 The annual Pharmacy Week organized by PSS was held from 20 – 26 September 2021. With the theme 'Partnering You In Your Health Journey', it was the second time Pharmacy Week was held via an online platform due to the ongoing COVID-19 pandemic and current safe management measures.


Throughout the month of September, a series of health and pharmacy-related infographics and interactive activities were posted on PSS social media platforms leading up to Pharmacy Week. Feature posters and videos of pharmacists from various settings were also put up to showcase the many roles that pharmacists play and highlight their contributions. Furthermore, PSS also partnered with the People's Association to provide free, appointment-based consultations, exclusively to PAssion Card members, via Zoom or face-to-face (at participating community pharmacies) where participants can channel any medication or health-related questions to pharmacists.


The annual event culminated in a virtual health carnival on 25 September 2021, in conjunction with World Pharmacists Day. Dr Koh Poh Koon, Senior Minister of State, Ministry of Health & Ministry of Manpower, graced the virtual event as Guest of Honour. In his opening address, Dr Koh highlighted the important contributions of pharmacists to our healthcare system and their active involvement in educating and empowering the public to improve their health.

As part of the virtual carnival, there were seven health and medication-related talks, with topics ranging from common ailments across different age groups, management of diabetes, to health promotion, including vaccination. Pharmacists from various institutions provided expert advice and answered questions from viewers during the Facebook Live event. The viewers greatly appreciated the recommendations, the interaction with the speakers and having their queries answered in real time.
The organising team would like to thank everyone who supported and participated in this year's Pharmacy Week. The co-chairpersons, Roman Rosales and Isabelle Teo, would also like to thank the organising team, the sub-committee members, volunteers, speakers, moderators, sponsors, the PSS Council and all those who contributed in one way or another to the success of Singapore Pharmacy Week 2021.

Looking forward to next year's event!
Written by Mr Roman Rosales, Co-Chairperson of Singapore Pharmacy Week 2021.