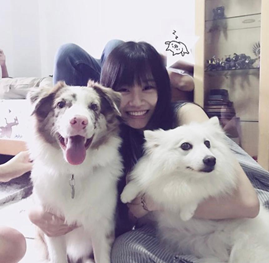 We have always featured pharmacists in different practices. This time round, we wish to feature someone special. This person is not a pharmacist, but she has been an integral backbone for the PSS in supporting the pharmacist profession. She is indeed an unsung hero, who deserves recognition and appreciation. She wears many hats and is integral in bringing pharmacists from different institutions together.

1) Tell us more about yourself. What are some of your hobbies and pastimes?
Hi everyone, I'm Tiffany, an admin & IT executive in the PSS Secretariat Team. My hobbies are travelling, watching YouTube/Netflix, and reading Chinese e-novels. Some of my current favourite pastime activities would be to groom my pet dog such as giving her a haircut or nail trim and social gaming to get to know more new friends or foster stronger bonds with existing friends. Pre-Covid, I used to visit my friends' houses often to hang out together or having a spontaneous night drive with friends for supper. It all ceased due to the capacity restrictions in place thus, my current favourite pastime activity now generally revolves around the technology world.
 
2 ) Why did you choose to be a part of the PSS?
I started as an admin officer at PSS six years back when I first graduated from Polytechnic, and it was my first full-time job. Upon graduating from Poly, I was uncertain of the direction of my career path and unsure if I wanted to continue my studies in university first or take a break and work. Therefore, I joined PSS for the opportunity to gain more diverse working experience while giving myself some time to slowly think through what I truly wanted to pursue. I chose to join PSS among other job opportunities as I loved the idea of working with a small team; a huge team seemed rather intimidating to me back then.
 
3) What are some of your thoughts about the pharmacy profession in Singapore?
Through these years in PSS, my thoughts on the pharmacy profession are that it is a profession that holds great responsibility on the patients' medications and is very often under-represented. If one would ask someone in the public that is not working in the healthcare industry for examples of "Healthcare Professions in Singapore", the more common identification would be doctors and nurses rather than pharmacists due to the limited knowledge or interactions the public have with pharmacists.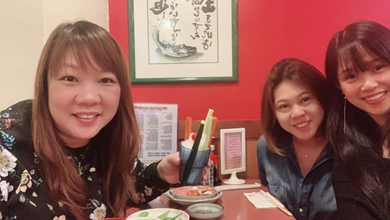 Pictured together with Janet and Jessin from the PSS Secretariat team.
 
4) Share a typical day at work and how it has changed in this COVID-19 situation.
Pre-Covid, a typical day at work starts from going into the office, working on my work desk, having small chats with colleagues, eating lunch with colleagues during lunchtime, running errands at the bank, post office or hospitals when required, and heading home or out to meet friends after work. During this Covid-19 pandemic, our whole work routine changed rather drastically due to all the restrictions that stopped all physical gathering at the workplace thus, ending all social contact with colleagues entirely. While it is sad that all interactions got interrupted, I'm thankful that all work processes managed to transit onto digital platforms such as Zoom, WhatsApp, Emails etc.
 
5) Share with us your most memorable experience or moment thus far in your career here in the PSS.
The most memorable experience in PSS would be when the venue for our 26th Singapore Pharmacy Congress in 2016 changed to Suntec Convention Hall. Even though it is the same event, it feels rather different perhaps due to the LCD screen that welcomed us with the event details upon alighting at the drop-off point, or it could be the change in venue floor plans that made it easier for us to look around different booths without any pillars blocking our view. Apart from the seemingly brand-new experience due to the location change, 26th SPC held in 2016 was particularly interesting as it was when Pokémon Go was new and trending. Thus, some of us even walked around the convention hall during tea breaks to catch Pokémon while chatting.
 
6) Is there any piece of advice or shout-out that you would like to share to all pharmacists in Singapore?
A big THANK YOU to all the pharmacists in Singapore for all your commendable contributions all these while and especially during this Covid-19 pandemic situation. Thank you for standing in the frontline to save lives and keep everyone safe. Stay safe and healthy everyone! 

 
On behalf of PSS, we wish to express our gratitude and appreciation to Tiffany for all the hard work she has put in to support the PSS and the pharmacy profession in Singapore. Keep up the good work!