2020 has passed by in a flash and we adapted and embraced the new normal in the Covid-19 times. Many congresses and conferences were converted to the online format and attending them no longer require juggling between the logistics on booking flights, accommodation and planning leave from work.
PSS Intermediate and Long-Term Care (ILTC) Pharmacists Workgroup had the privilege and honour of presenting a poster at the American Society of Consultant Pharmacists (ASCP) Annual Meeting, 12-15 Nov 2020, held online this year.

Title: 'Development of a medication list for medication regimen simplification in intermediate and long-term care settings: a modified Delphi consensus'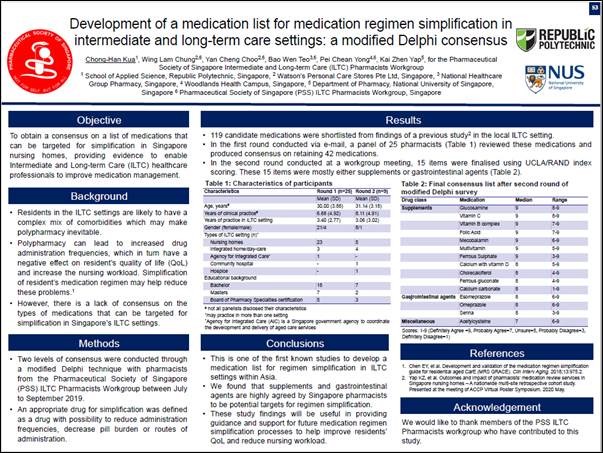 Chong-Han Kua, Wing Lam Chung, Yan Cheng Choo, Bao Wen Teo, Pei Chean Yong, Kai Zhen Yap. Development of a Medication List for Medication Regimen Simplification in Intermediate and Long-Term Care Settings: A Modified Delphi Consensus. Sr Care Pharm. 2020 Nov 1;35(11):521.

During ILTC medication reviews, pharmacists have the opportunity to simplify medication regimes, e.g. reduce dosing frequency without affecting efficacy. This reduces disruption to the patients and residents' schedules, also reducing nursing medication serving-related time and workload.
However, there is a lack of consensus of the types of medications that can be targeted for simplification in the local ILTC setting.
A consensus that supplements and gastrointestinal agents e.g. PPIs are targets for potential simplification was obtained after two rounds of the Delphi process.
This info will act as a reminder to pharmacists to consider medication simplification when they encounter these items during reviews.
A big thank you to all the pharmacists who have contributed to the study!
Moving forward, the workgroup plans to integrate medication simplification into the regular medication review process, and pilot data collection of medication simplification from ILTC institutions that have indicated interest.
There may be changes in timeline of data collection depending on the prevailing Covid-19 situation and measures. However, it is hoped to have more initiatives to improve work processes with a data-driven approach!
 
ILTC Workgroup wishes all Merry Christmas and Happy New Year 2021!