The Singapore Pharmacy Council (SPC) Pharmacist's Pledge Affirmation Ceremony held on 22 May 2020 was ground-breaking in the mode of delivery- via Zoom video conferencing due to the ongoing Covid-19 pandemic. Nonetheless, it was a happy occasion for the recently registered pharmacists to celebrate their achievement.
An important aspect of pre-registration pharmacists' training would be the guidance from their preceptors, who mentored them on their journey. Fittingly, the SPC Excellent Preceptor 2019 award was given out at the ceremony with 2 winners. 
This award honours pharmacists who are leaders, professionally competent and well-respected by peers, while having made significant contributions to pre-registration training as a preceptor and mentor.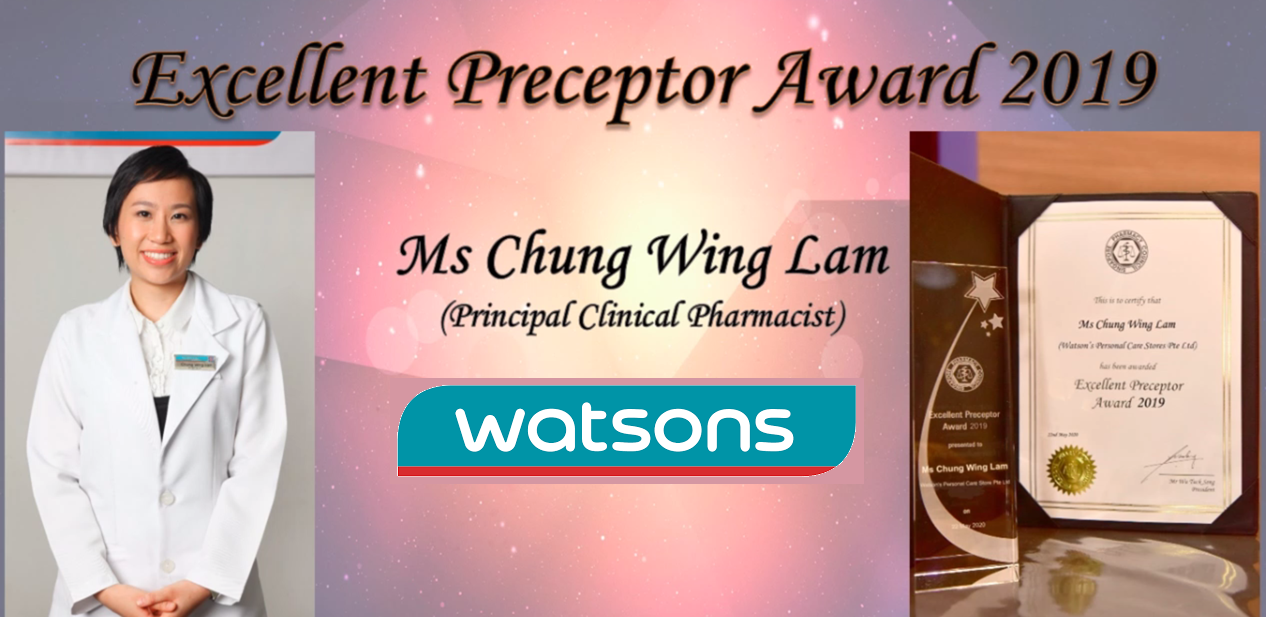 Ms Chung Wing Lam, Principal Clinical Pharmacist at Watson's Personal Care Stores Pte Ltd, recipient of SPC Excellent Preceptor Award 2019

'I first met Wing Lam during a meeting held by the Pharmaceutical Society of Singapore (PSS). We were working in different organizations then. She was a very young pharmacist but the way she spoke and asked questions with such conviction and confidence caught my attention. In my heart I was asking "Who is this young lady?". Little did I know that she will be one of the most dedicated and passionate pharmacists that I will have the pleasure of working with.' The citation by Ms Mariam Alkhatib, Senior Pharmacy Practice Manager of Watson's Personal Care Stores Pte Ltd was a fitting introduction to Wing Lam, who has brought great joy to her team and organization.
Ms Chung Wing Lam graduated with BSc (Pharm) (Hons) from the National University of Singapore, and went on to complete MSc (Clin Pharm Prac) from Robert Gordon University, United Kingdom. She has attained Board Certification in Pharmacotherapy (BCPS) and Geriatric Pharmacy (BCGP).

Strong interests in Community Pharmacy and ILTC
Wing Lam is a community pharmacist, providing patient care and advice to patients, performing stock ordering and control, managing of minor ailments and chronic diseases. Recognising the importance of health education for the public, she gives public talks and participates in educational videos e.g. Watsons YouTube channel. In light of Covid-19, she stepped out of her comfort zone to host a Facebook Live session on Watsons Facebook page in May 2020 to continue to provide trusted health advice to the public in the comfort of their homes.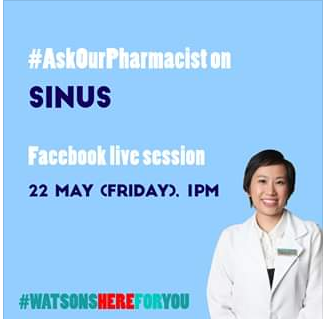 Wing Lam's impact to the profession goes beyond Watsons, as can be seen from her active involvement in PSS. The PSS Intermediate and Long-Term Care (ILTC) Pharmacists Workgroup comprises pharmacists who are involved in providing care to the ILTC sector, including nursing homes, senior care centres and daycare centres. Her previous role as Vice-Chairperson and current role as Advisor and Quality Improvement co-lead in the workgroup is vital in forming the framework and guidelines for the provision of pharmaceutical care in the ILTC settings, which is crucial with Singapore's aging population. She values the opportunity to work with up-and-coming pharmacists in the ILTC sector.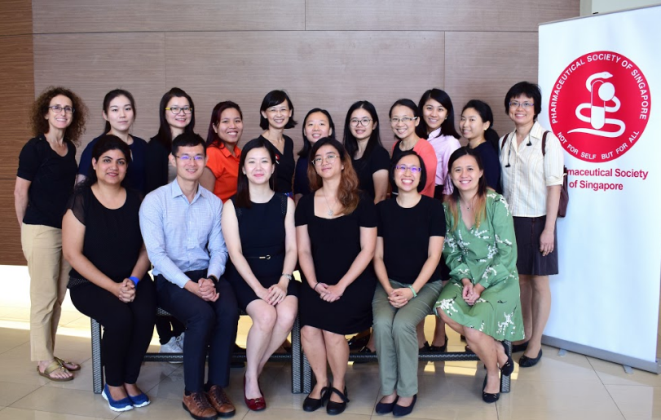 PSS ILTC Pharmacists Workgroup (some members not present)

Her positive attitude, sincere efforts and contributions to the organization and profession are demonstrated from the awards she has won- PSS-LF Asia Community Pharmacist of the Year (2015), Singapore Retailers Association Service Super Star Award (2018) and Watsons Best Team Player (Pharmacist) (2018). The latter is internally voted by members of Watsons pharmacy department.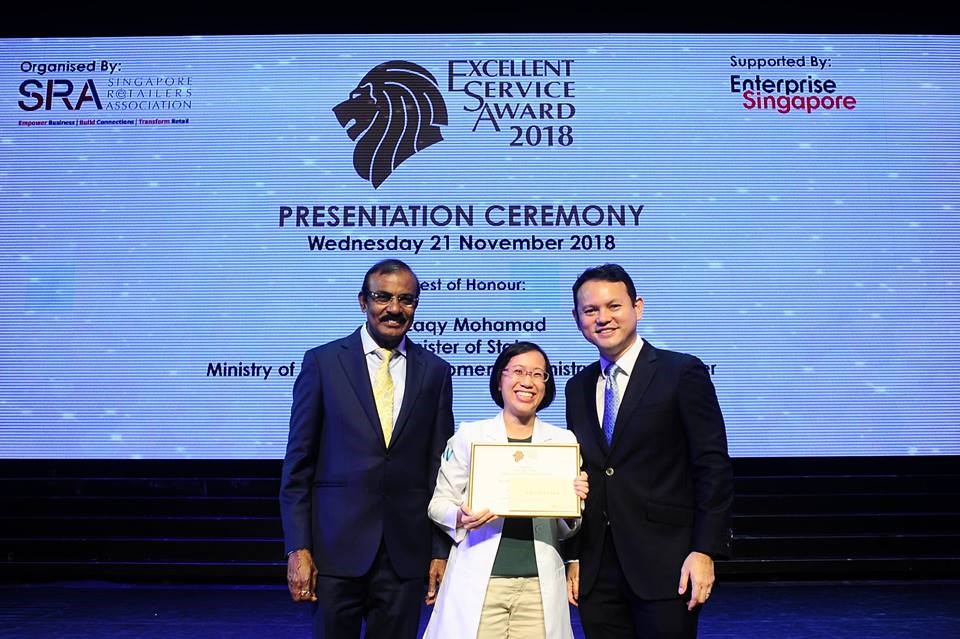 Wing Lam receiving the Service SuperStar award from Guest-of-Honour, Mr Zaqy Mohamad, Minister of State, Ministry of National Development & Ministry of Manpower and SRA President Mr R Dhinakaran at the SRA Excellent Service Award 2018 (EXSA) Presentation Ceremony on 21 Nov 2018

Sharing her experiences with pre-regs, interns and NUS Pharmacy undergraduates
Having had a fruitful learning journey with her preceptors and mentors, Wing Lam cherishes the opportunity to pass on the knowledge to her peers and juniors.
She believes that one learns while teaching and is honoured to be able to share her experiences with pre-reg pharmacists, NUS PECT interns and polytechnic interns as a preceptor. She served as co-Chief Preceptor of Watsons and is currently the advisor to the team. Wing Lam spearheaded the creation and updating of training manuals and competency logbooks to formalise the training standards in Watsons, as well as to ensure consistency for preceptors to assess their pre-reg and interns.
Wing Lam is also a part-time tutor at NUS Pharmacy, sharing her expertise and rich experiences with current Pharmacy undergraduates.
 
Wing Lam sharing her experiences at NUSPS Xperience Pharmacy event, Dec 2017
Continuous upskilling and professional development
Her drive to upskill and grow lead her to pursue Board Certification in Pharmacotherapy (BCPS), Geriatric Pharmacy (BCGP) and Masters in Clinical Pharmacy Practice on a part-time basis in conjunction to full-time work. With the knowledge and skills gained, she puts in her best to better serve her patients and customers, and guide her colleagues and preceptees.
On a national level, she contributes her perspective of community pharmacy practice as a member of the NUS-SPC-MOH Entrustable Professional Activities (EPA) workgroup. The workgroup aims to develop standards and guidelines for education and training for entry-to-practice pharmacists and align local and global workforce development strategies via EPA-directed learning.
Aside from her frontline work, she dedicates time and effort to conduct practice research in collaboration with other institutions (including SGH, NUS and PSS) over the years. Wing Lam is honoured to have been able to share research findings in oral and poster presentations, along with journal publications.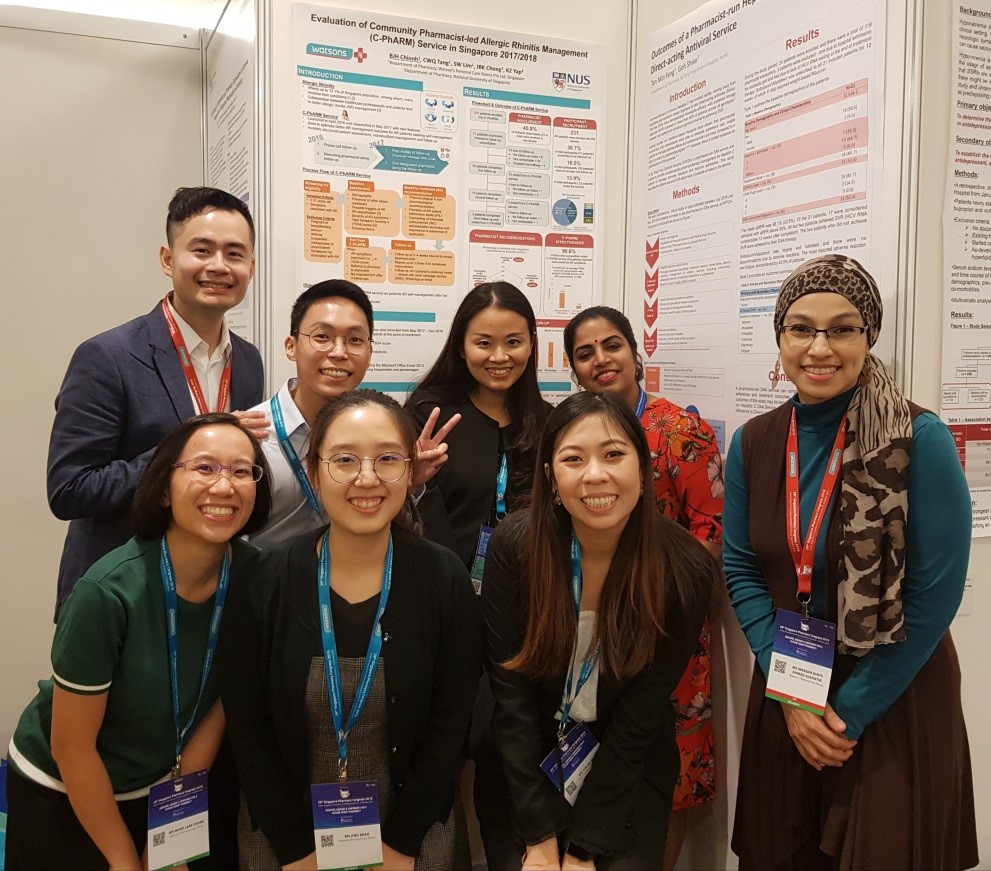 Watsons Pharmacy team with one of their posters at Singapore Pharmacy Congress 2019
Mentor and Coach
Wing Lam deeply appreciates the sharings from her preceptors during her training days– Mr Loh Yew Meng, Ms Lim Zhi Ying, Ms Wong Yee May and many pharmacists and pharmacy technicians she met during her internship and pre-reg period.
Post licensure, workplace and professional mentors including Ms Mariam Alkhatib, Ms Joy Chong, Ms Yong Pei Chean and Mr Png Yong Koh continue to inspire her to give back to the profession and future batches of pharmacists. Wing Lam values being able to broaden her views through the fresh perspectives from her interns and pre-regs.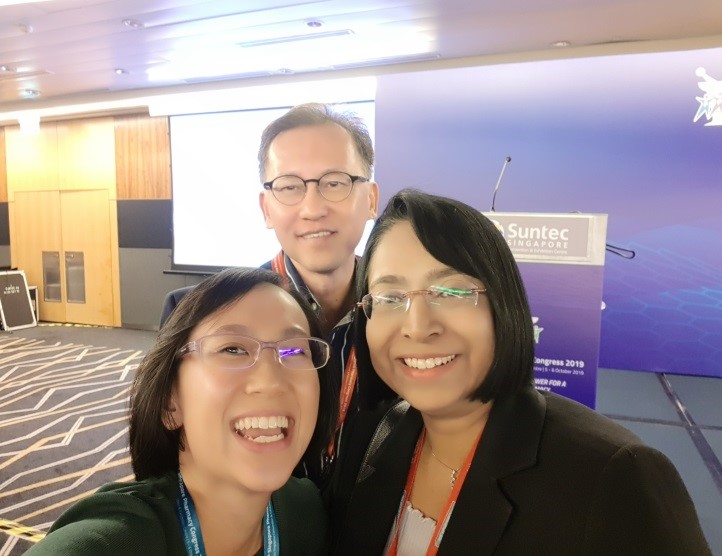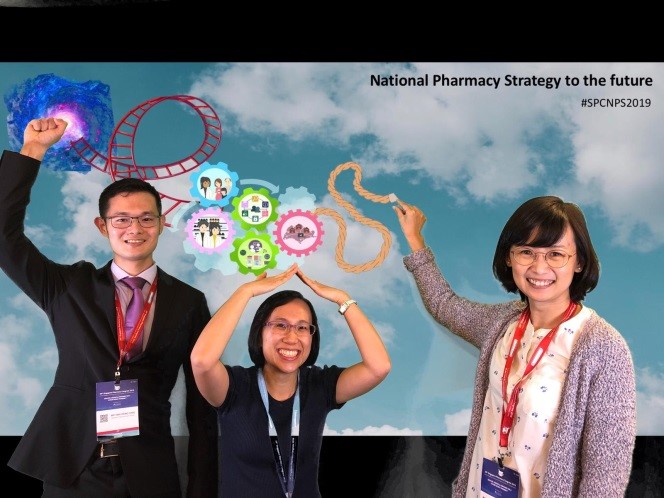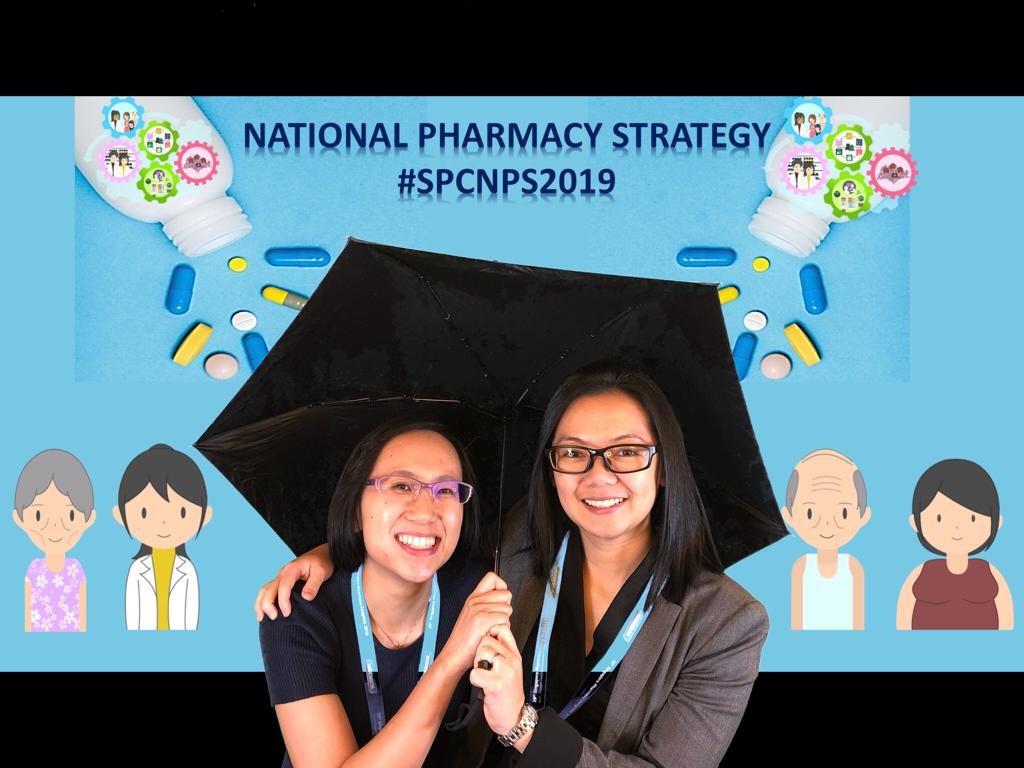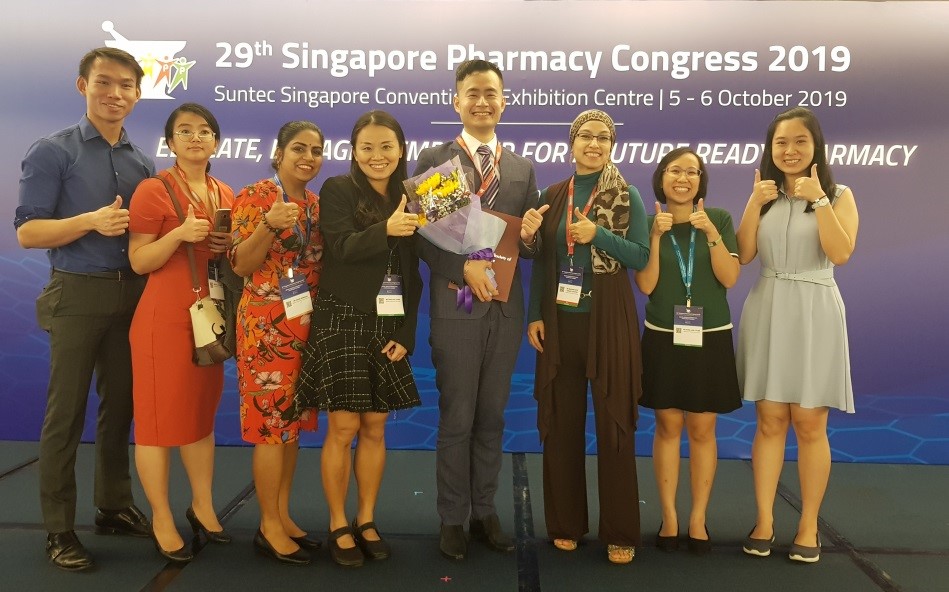 Wing Lam with colleagues, seniors and mentors at Singapore Pharmacy Congress 2019

Shout-out to all preceptors!
When asked whether she has any suggestions for would-be or current preceptors, Wing Lam shared: 'I appreciated my previous preceptors even more when I became a preceptor myself. I think those who are preceptors will understand what I mean. Kudos to all preceptors for their patient guidance and efforts to walk with students, interns and pre-regs in their learning journey! There will be challenges and unexpected moments along the way, persevere with an open mind and we will realise we learn and grow together with our preceptees

'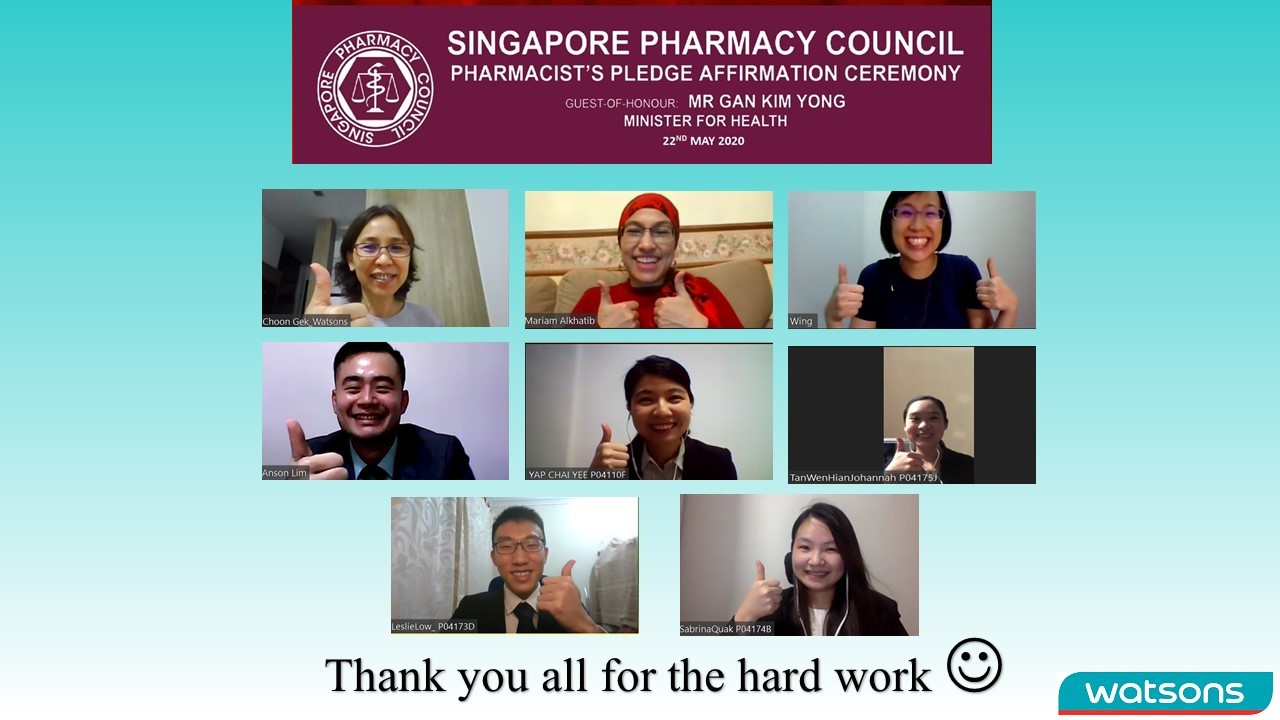 Wing Lam with members of the Watsons team at the ceremony over Zoom video conferencing

Wing Lam has truly been an inspiration to all pharmacists, especially community pharmacists. We hope she is able to nurture and groom more many generations of pharmacists in time to come! Keep up the excellent work, Wing Lam!
Written by Mr Lim Zong Neng Anson, Emcee, SPC Pharmacist's Pledge Affirmation Ceremony; Cluster Pharmacy Manager, Co-Chief Preceptor, Watson's Personal Care Stores Pte Ltd
With citation from Ms Mariam Alkhatib, Senior Pharmacy Practice Manager, Watson's Personal Care Stores Pte Ltd