In view of COVID-19 and postponement of doctors' appointments at public healthcare institutions (PHI), the PSS Public Education Chapter understands that patients may not know the channels available to top up their chronic medications.
Hence, an educational poster in both English and Mandarin versions was produced to educate and remind the public on the importance of adhering to chronic disease treatment and guide patients on how to order their chronic medications from home and get them delivered to their doorsteps.

These posters are available for sharing with your patients and their caregivers via this link (https://bit.ly/3e7Nl9a), Pharmaceutical Society of Singapore's Facebook page and Instagram (@pss.knowyourmedicines).
A compiled list of the various medication ordering channels is also available for your reference on the PSS Website via this link (https://bit.ly/2N4SvGW) or via the QR code on the poster. We hope that you will find this resource useful in your discussions about medication accessibility and adherence with your patients, even after we transition to a new normal in the post-COVID era.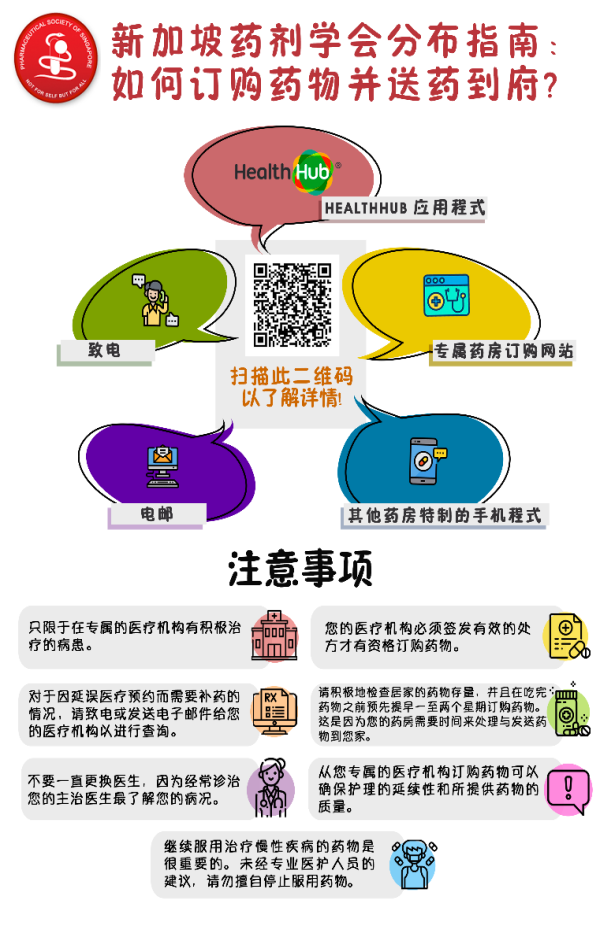 Acknowledgements:
This post was contributed by Soo Yi Hao from Khoo Teck Puat Hospital (Chairperson, PSS Public Education Chapter).
The poster was designed by Victoria Chor Jia Min from Woodlands Health Campus.