In May's issue of In the Spotlight, we are featuring Dr Wang Aiwen, Principal Clinical Pharmacist at Singapore General Hospital (SGH). She also has a joint appointment as a lecturer in the National University of Singapore (NUS). She has had 13 years of experience in Pharmacy, and specialises in Drug Information.
In the Spotlight is an initiative by PSS that features hospital pharmacists who excel in their area of practice and are role models for fellow pharmacists.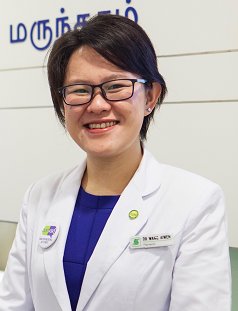 Dr Wang graduated with a Bachelor of Science (Pharm.) (Hons) from NUS and joined SGH as a drug information pharmacist after completion of her pre-registration training. In 2015, she completed her Pharm.D. from University of Chicago at Illinois, USA, and received the Board of Pharmacist Specialties (BPS) Certification in Pharmacotherapy. Her responsibilities as a drug information pharmacist include promoting evidence-based medicine practices through drug information consults, evidence-based reviews for the Pharmacy and Therapeutics Committee, and other research and educational activities within the Department of Pharmacy. As a workgroup member with SingHealth Institute of Patient Safety & Quality (IPSQ) Workgroup, SGH's Committee on Immunization Programme, and Ministry of Health (MOH) Health Manpower Development Plan (HMDP) Core Metrics (Drug Utilization) Workgroup on Drug Utilization, Dr Wang actively contributes to safe and effective medication practices.
Since 2008, she has been involved with a wide range of educational activities within the hospital, university and even at the national level. She is passionate and committed to excellence in educating the next generation of healthcare professionals. She has taken an active role to share, teach, mentor, guide and develop education resources for others to teach and continue joint efforts in healthcare education. As a faculty at SGH's Postgraduate Allied Health Institute (PGAHI), and active member of Pharmaceutical Society of Singapore (PSS), she regularly contributes to develop continued education programmes for pharmacists in Singapore. Recently in 2016, she received the Academic Medicine Education Institute (AM.EI) Grant under the Programme Development Category for "Drug Information Skills for Pre-registration Pharmacists (National Programme)", which trains over 200 students annually since August 2017. In 2017, she was nominated for AM.EI Golden Apple Awards 2017 (Outstanding Young Educator), as well as received the Singapore Pharmacy Council (SPC) Excellent Preceptor Award 2016.
We are greatly honoured that she has taken the time to answer some of our questions and share what drives her passion in pharmacy.
1. Describe the most satisfying/fulfilling day in your life as a pharmacist.
Every day is unique and full of various challenges and opportunities. It rarely gets boring practicing in drug information in SGH, when we get to solve controversies, find solutions, and provide consultations to the various healthcare professions to help in the care of our patients. Practicing in an academic medical centre, we get to contribute to helping a wide range of healthcare professionals (from doctors, nurses, and pharmacists) as we collaborate and build a stronger healthcare team to take care of our patients together in a dynamic environment. Guiding and teaching has been a very fulfilling experience, and it is amazing when your learner sees how the pieces fit together and suddenly develops clarity.
2. Who would you say is your role model who inspired you to excel in pharmacy?
There have been too many to name specifically. I am thankful to have "da peng yous" (older friends) and "xiao peng yous" (younger friends) who never fail to amaze me with their optimism, determination, kindness, and patience (all good things that I often wish I have more). Some are pharmacists, doctors, nurses, pharmacy technicians, educators, or even not within the medical field (like our patients) etc. Everybody brings something unique to the table, and opens up my perspective with different viewpoints.
To my previous and current teachers, preceptors, seniors, and team-members, I am deeply grateful for their time and the impact they have made on me in our journey together. Being with fellow passionate team members determined to help patients, promote evidence-based medicine, and try to make the health-care system safer and more efficient, that energy helps drive me to also put in my best to do my part, no matter how big or small.
Despite my dramatic sighs (I know I sigh a lot when I get baffled), I'll let you in on a secret- having students around really forces one to challenge assumptions, build clarity, and often I learn together with them on that learning journey. As an educator, it is always very affirming when you see your learners develop clarity. It makes me very proud to see them become the next generation and help carry the profession forward.
3. What would your best advice be for the younger pharmacists, especially when faced with challenges to motivate them and keep them going?
I am often amused when people assume I know everything. I guess that is part of the "magic" of being a "drug information pharmacist". Truth be told, more often than not, I learn new things together with them as we solve and figure out the situation together. It is okay to not know everything in today's world.
One thing I learnt from "swimming at the deep end" from the SGH years, is, above all, stay calm and apply a systematic approach. You will be surprised by how much clarity you can achieve, and how much more confident you can become just by doing the simple steps systematically. Through the consistent practice in strengthening the fundamentals, you develop agility and develop clarity. With that you develop a razor-sharp focus, to strategically identify key pivot points, and work on practical solutions to solve the problems, whilst building confidence and resilience to rise above the challenges.
With ready access to the internet, we often forget "data is not information, information is not knowledge, knowledge is not understanding, and understanding is not wisdom". Especially in the current VUCA (volatile, uncertain, complex, and ambiguous) environment, it is often no longer adequate to simply cite information. Breathe, and take the time to understand and curate quality data for decision making.
If you keep working on your art, you will always be better today than you were yesterday, even if sometimes it does not feel so! It is always amazing to have friends to support you through this growth journey. Be patient, and you will learn something new every day!