In this month's issue, PSS Hospital Chapter is featuring Ms Cheryl Lim Yu Ling (BSc (Pharm) Hons, BCPS), an outpatient pharmacist practicing in the field of Rheumatology in Singapore General Hospital. With 7 years of Pharmacy experience and 5 years in the field of Rheumatology under her belt, she will be sharing her experience and updates in Rheumatology.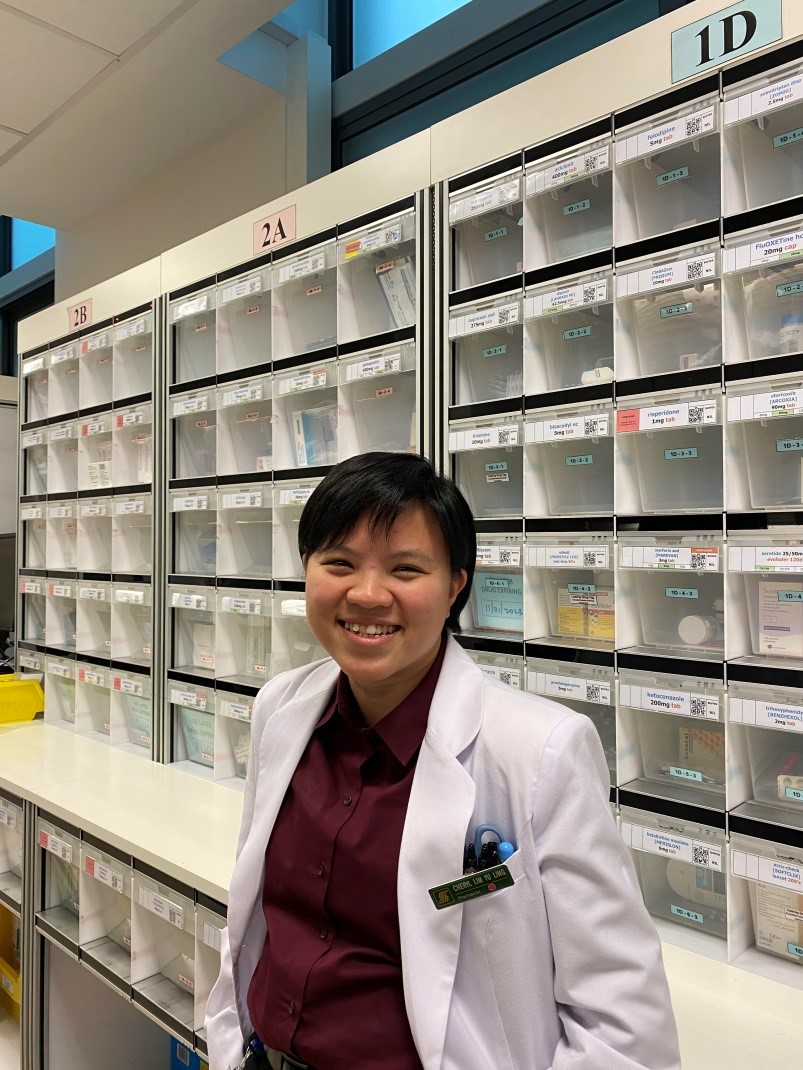 What are some of your day-to-day duties e.g. special services, rounds that are offered in your pharmacy? 
As a Rheumatology pharmacist, I provide care for patients with rheumatological conditions e.g. Rheumatoid Arthritis (RA), Systemic Lupus Erythematosus (SLE) and Systemic Sclerosis (SSc). This includes daily inpatient ward rounds with a team of Rheumatologists, during which I provide medication review, medication reconciliation and drug information services.
As a collaborative prescriber at the ambulatory clinic, I monitor for adverse effects from disease-modifying anti-rheumatic drugs (DMARDs) and other immunosuppressants and for signs of disease progression or flare in these patients through physical examination and relevant investigations. The disease activity scores are then calculated and used for monitoring. I also provide specialized counselling on DMARDs, corticosteroids and immunosuppressants.
What are some of the challenges that pharmacists working in your specialty might face and what are the approaches to overcome these challenges?
Rheumatology is a fairly new subspecialty. One of the major challenges faced is the paucity of data in this field. Just to share an example, I managed a patient with granulomatosis and polyangiitis who required aggressive treatment for diffuse alveolar haemorrhage (DAH) and rapidly progressive glomerulonephritis (RPGN) with both cyclophosphamide (CYC) and rituximab (RTX). The patient also required multiple courses of plasma exchange (PLEX) and dialysis for his newly diagnosed chronic kidney disease. It was challenging to adjust the minimum diluent permissible for both cyclophosphamide and rituximab, while avoiding rituximab infusion-related reactions. Furthermore, there is limited data on the interval of cyclophosphamide from dialysis and PLEX and rituximab from PLEX. After integrating information from multiple sources, we decided to proceed in the following sequence, plasma exchange, rituximab infusion, dialysis followed by cyclophosphamide infusion (renally dose adjusted at 50% of the intended cyclophosphamide dose). As the patient was anuric and concurrently receiving dialysis, Mesna was not administered. As with other disciplines, we often encounter new scenarios where it is crucial to conduct an extensive literature review and exercise our clinical judgment.
There has also been a surge in the development of new biologics with novel cellular targets in recent years.  Information and long-term data on their use in special populations e.g. paediatrics, pregnant women are often limited. Often, we have to rely on registries set up by established medical centres and keep ourselves abreast of updates from real-world studies. In addition, rheumatology patients often present with numerous comorbidities and are at higher risk of infections and multiple drug interactions, thus requiring individualized treatment plans. Counselling on the need for treatment may also be challenging as a majority of patients are young adults and autoimmunity is rare and poorly understood.
To me, every challenge faced is an opportunity for pharmacy practice advancement and also demonstrates the value pharmacists contribute to the patient's healthcare journey.
As a pharmacist working in the rheumatology specialty, what are some of the latest clinical practice updates or projects which you would like to share with fellow pharmacists? What resources would you like to recommend to those who want to learn more about your field of practice? 
For clinical practice, I would recommend established guidelines from the American College of Rheumatology (ACR), European League Against Rheumatism (EULAR) and British Society of Rheumatology (BSR). These guidelines provide comprehensive coverage of diagnosis and treatment recommendations for common rheumatological conditions such as RA, SLE and gout. For the less common conditions, which are not covered in guidelines (e.g. autoimmune myositis, Behcet's), primary literature is the main source of reference. EULAR has released guidelines on vaccination in patients with autoimmune inflammatory rheumatic disease and SLE in 2019. For pharmacists who would like to learn more about Rheumatology, I would recommend trying EULAR's online courses under its School of Rheumatology.