Congratulations to Mr Anson Lim Zong Neng, Cluster Pharmacy Manager, Watson's Personal Care Stores Pte Ltd for been awarded the PSS-DCH Auriga Community Pharmacist of the Year award 2019.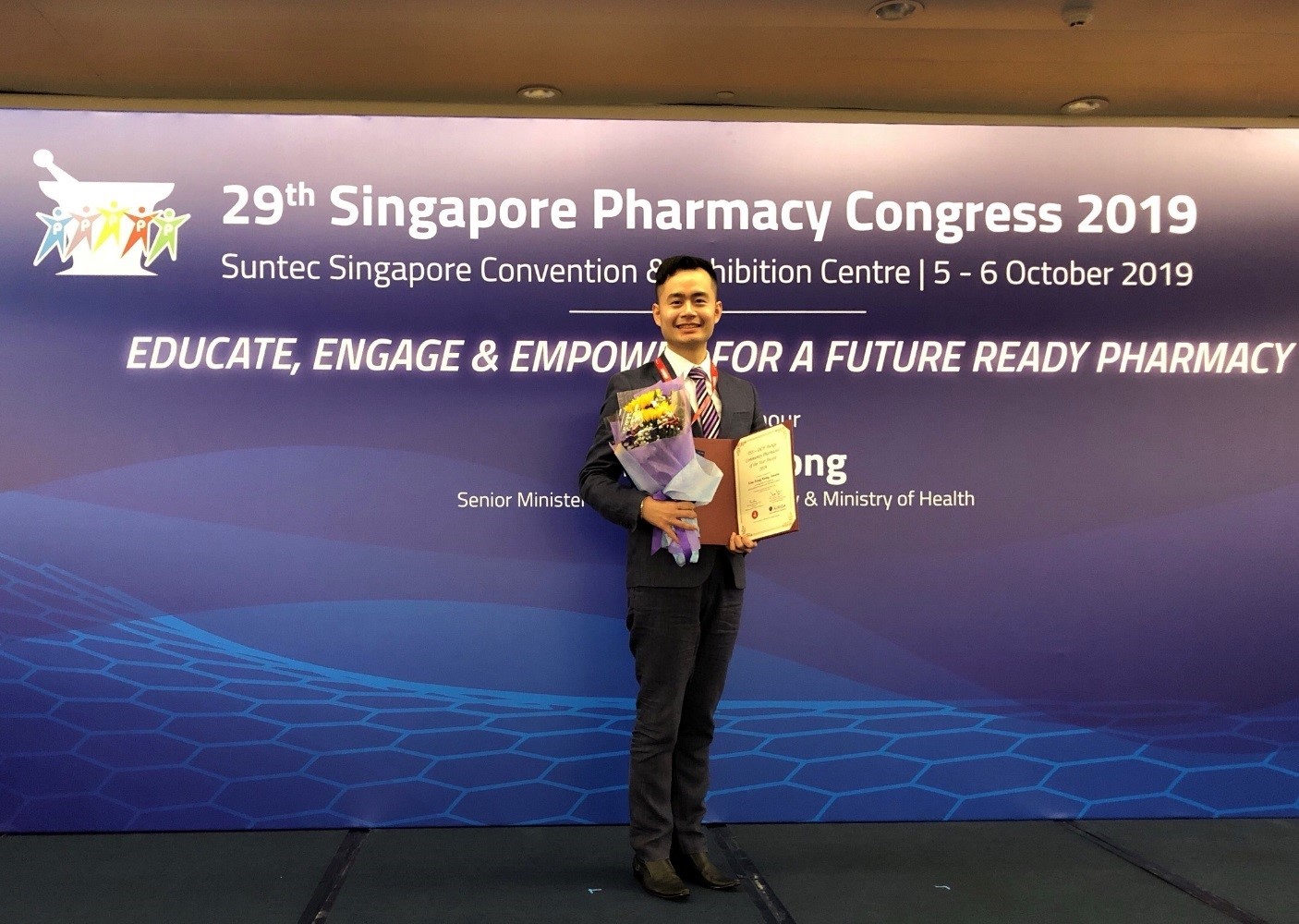 Anson received his Bachelor of Science in Pharmacy with Honours from the National University of Singapore (NUS) in 2011, and Master of Health Administration (MHA) from Flinders University, Australia in 2017. Anson has consistently demonstrated the qualities and attributes of an excellent community pharmacist.
 
People's person and leader
As a good manager, Anson leads by role modelling while being people centric. He listens to his staff and ensures that they are well taken care of while motivating and challenging them to achieve more for themselves, the profession and the company.
In his personal pursuit of providing excellent customer service, Anson has consistently received Singapore Retailers Association Excellent Service Award (EXSA) - Superstar in 2016, Gold Award or Star Award from 2014 onwards. With his encouragement to provide exemplary customer service, more than 80% of staff under his cluster were nominated for EXSA themselves.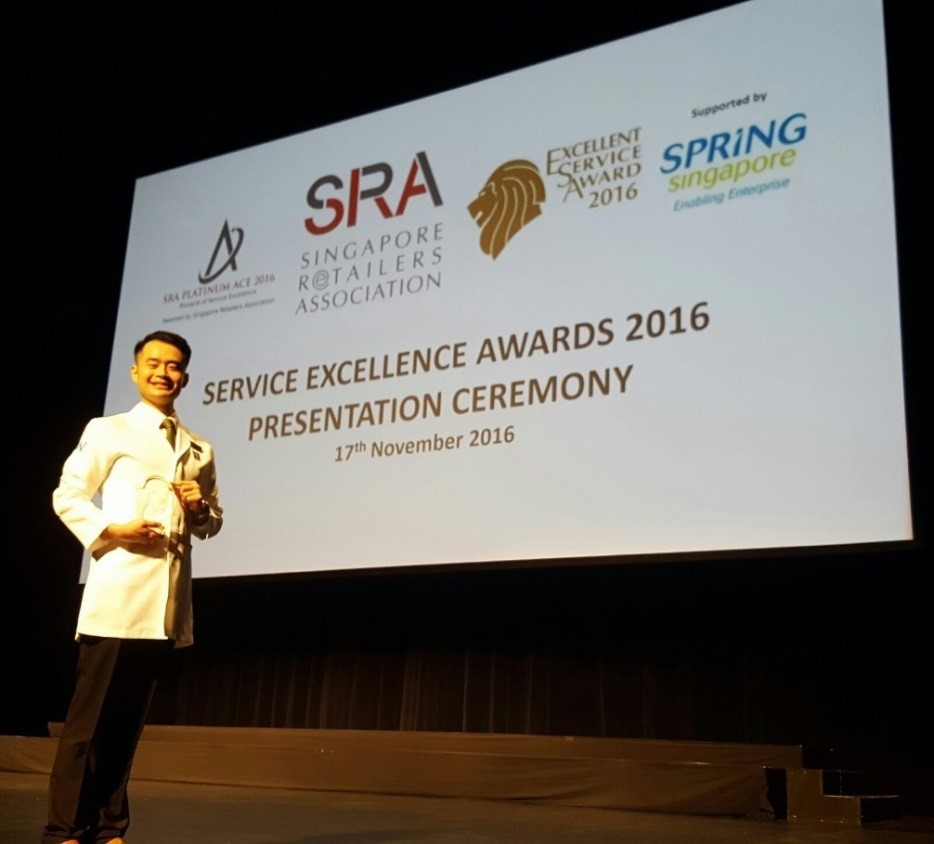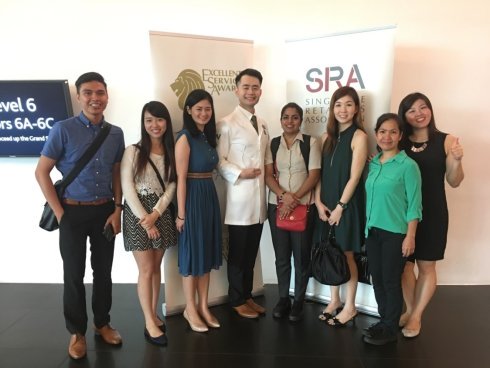 Excellent mentor and preceptor
Passionate about training future generations of pharmacists, Anson was the Chief Preceptor in Watsons for pre-registration pharmacists training and recruitment. He steered the training team in preparing for the change in the pharmacy undergraduate curriculum in 2017.
Anson was also in Pharmaceutical Society of Singapore (PSS) Pre-registration Training Committee where he helped to revise the pharmacy pre-registration training programme.
Singapore Pharmacy Council (SPC), in recognition of Anson's efforts, has awarded him with Excellent Preceptor Award 2017. He currently sits on the Ministry of Health (MOH) Pharmacy Pre-registration Training Oversight Committee to provide guidance and input at a national level.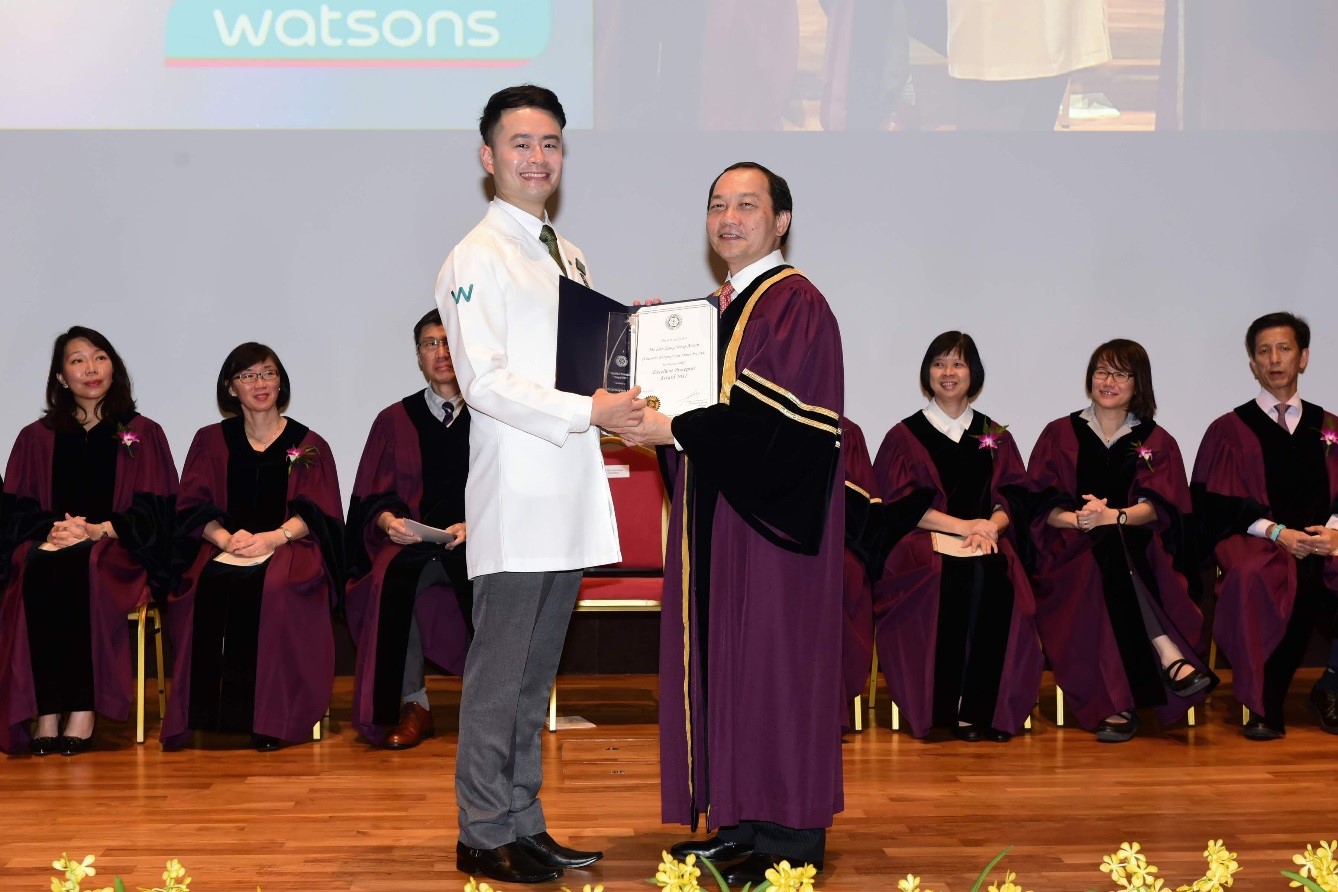 Lifelong learner
Other than being an excellent mentor to his trainees, Anson is one who believes in lifelong learning and continuous professional development.
To further his knowledge in the area of organisational and people management, Anson completed his Master in Health Administration with Flinders University in 2017.
In addition, to ensure that he stays clinically competent and updated, Anson maintains his status as a Health Promotion Board (HPB) Level 3 Certified Quit Smoking Consultant. He takes part in HPB iQuit smoking cessation roadshows and gives training to the Watsons Pharmacy Department as well as to NUS Pharmacy undergraduates on smoking cessation since 2016.
 
Charismatic healthcare champion
Commitment to providing excellent patient care, Anson puts in effort to follow up with his customers and patients he meets in community pharmacy. He was a recipient of the Top Ten contributors for Community Pharmacy Health Champion Program (cPHCP) from 2014-2016 and featured as PSS Shining Star in 2015.
Anson has been a strong advocate for public education as well as increasing public awareness of the pharmacy profession. He lead the Pharmacy Awareness Team in Watsons, which writes articles for magazines, newspapers, health blogs as well as patient information leaflets.
Anson was also the head of the Media Team in Watsons where he attended three live TV interviews on topics such on minor ailment management, usage of health supplements in both English and Mandarin, representing both Watsons and PSS on different occasions on national TV.
Additionally, Anson has been invited to give talks at various health forums such as Ezyhealth Forum, PSS Own Your Health Public Forum and Mediacorp Body SOS Health Carnival. Anson advises the Media Team in Watsons where he trains Watsons pharmacists to better prepare them for media interviews as well as live public talks and forums.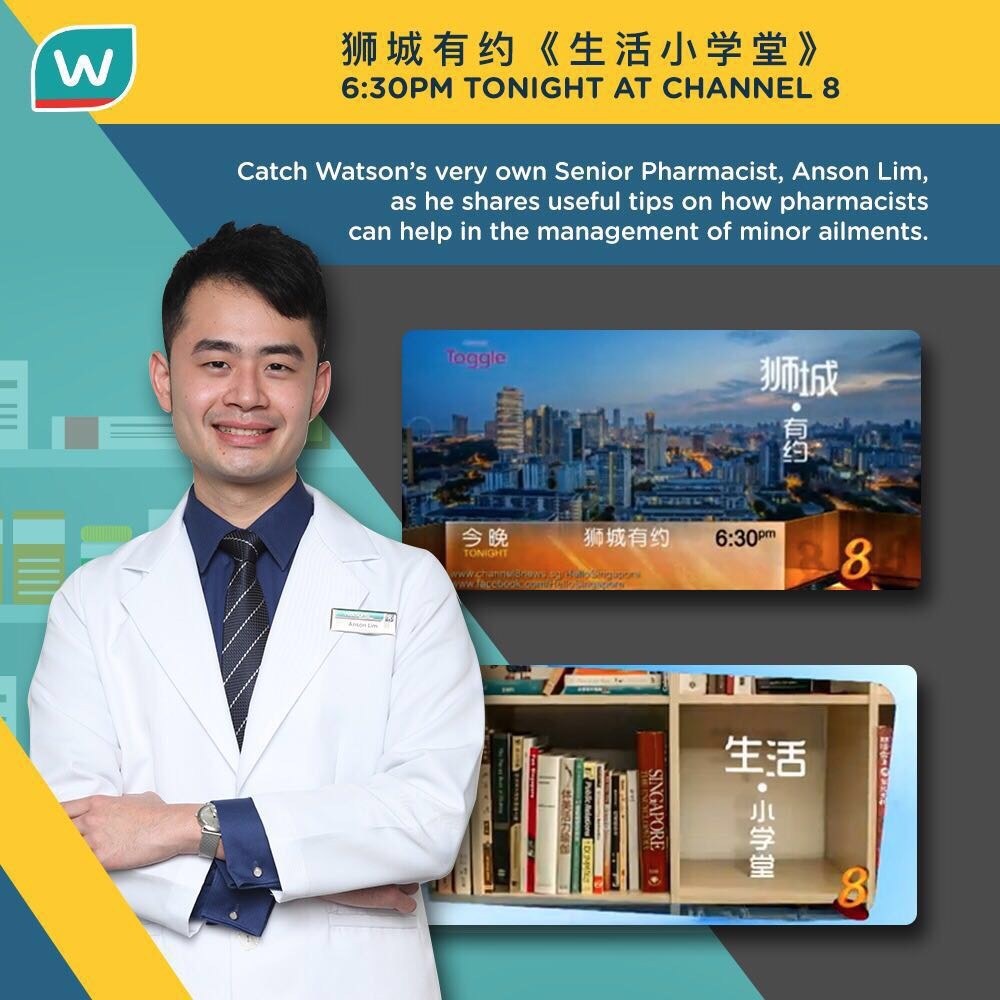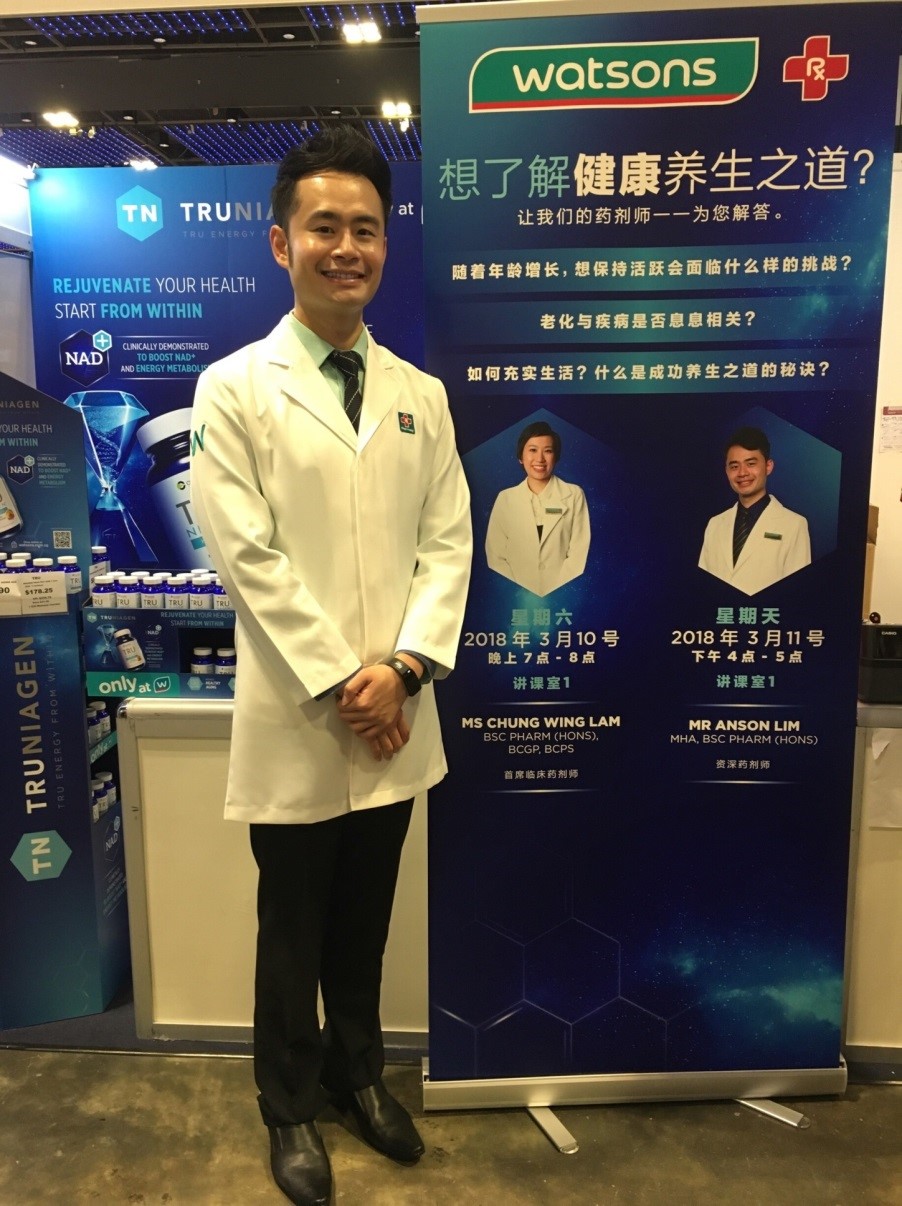 Passionate contributor to the Pharmacy Profession
On top of his busy schedule, Anson has been actively involved in multiple PSS and NUS workgroups and committees.
Anson served as a PSS Council member for two terms. He was closely involved in organising Singapore Pharmacy Week since 2012, serving as a subcommittee leader, then Chairperson in 2013 and subsequently as an advisor.
His active involvement in Community Chapter since 2014 allowed Anson to champion the progress of community pharmacy practice. He has been involved in dialogue sessions with MOH as well as Health Sciences Authority (HSA) to communicate concerns and seek understanding from the community pharmacy sector.
Anson was the ex-officio to PSS Young Pharmacists' Chapter (YPC) in 2013-14, and advisor in 2015. Regionally, he served as the Vice-President of the Asian Young Pharmacist Group (AYPG) in 2014-16, and Section Chairperson for Community Pharmacy section of AYPG in 2016-18. Due to his contributions, he was a nominee for AYPG Professional Excellence Award in 2018.
On the NUS front, in 2019 he was invited to sit on the Pharmacy Undergraduate Curriculum Development Committee, where he gave pertinent input to future-proof the pharmacy students for tomorrow's workforce.
 
Dedicated researcher
In the area of research, Anson has worked tirelessly to lead and support community pharmacy research. He led the 'Octo-pills' project, an initiative by Singapore General Hospital (SGH) and Watsons which enabled patients from SGH to have their medications reviewed at Watsons' pharmacies. Octo-Pills was presented at Singapore Pharmacy Congress and International Society for Pharmacoeconomics and Outcomes Research (ISPOR) 7th Asia-Pacific Conference in 2016.
Octo-Pills won the GEM award at the 8th Singhealth AHIP 2015. The study was published in Value In Health, the journal for ISPOR. Another publication on Octo-Pills include:
Project Octo-Pills-Engaging community pharmacists in the care of patients from a tertiary hospital: A pilot study (2018): https://www.ncbi.nlm.nih.gov/pubmed/30488988
Anson also partnered A/Prof Christine Teng from NUS Dept of Pharmacy to conduct a study on 'Private Chain Community Pharmacists' Knowledge, Attitude and Practice in Performing Medication Reconciliation and Review in Singapore'. This project was presented at International Pharmaceutical Federation (FIP) Congress 2017. Anson shared about this study in an oral presentation at Singapore Pharmacy Congress 2017.
 
Anson's contributions, passion and forward thinking has made him a valuable gem in the pharmacy profession in Singapore. He has the qualities of an inspirational leader and healthcare champion and is a well-deserved recipient of the PSS-DCH Auriga Community Pharmacist of the Year 2019.
His commitment, perseverance and aptitude set him as an excellent example to inspire fellow pharmacists to contribute to healthcare in Singapore.
Article contributed by Anson Lim and Chung Wing Lam, Watson's Personal Care Stores Pte Ltd, Singapore (Oct 2019)