The Asian Congress on Clinical Pharmacy (ACCP) is the only regional congress that revolves around clinical pharmacy and actively promotes congregation of both regional and international pharmacists who are passionate in the area of clinical pharmacy. The 10th ACCP was hosted in Singapore in 2010 that attracted approximately 1,200 local and overseas delegates. Over the last decade, the standard of ACCP had advanced markedly largely owing to the efforts of each subsequent host who built on the success of their predecessors respectively.
After securing the hosting rights for ACCP 2020 last year at ACCP 2018, Tehran and with the support of Singapore Tourism Board (STB) and Singapore Exhibition and Convention Bureau (SECB), 8 representatives from PSS and ACCP 2020 organizing committee attended ACCP 2019 in Manila from 25-28 June 2019. The aims of the PSS delegation to ACCP 2019 were as follows:
To attend as representatives of PSS at the ACCP 2019 Board Meeting, gala dinner, opening and closing ceremonies.
To deliver 4 pre-conference and main conference talks, and a plenary lecture as invited speakers.
To drive publicity efforts and promote ACCP 2020 to delegates of ACCP 2019.
To experience the scientific and social programmes and to collect feedback from ACCP Board members and the wider ACCP 2019 delegate community on their preferences for ACCP 2020.
Networking with ACCP board members and their country representatives
The PSS delegation, led by ACCP 2020 Co-Chairperson Mr. Lai Yi Feng and PSS President Ms. Irene Quay, made efforts to network with ACCP Board members as well as the various country representatives. They included Prof Kwon Kwang-il, Prof Robert Sindelar, Dr. Michael Maddux, Dr. Yolanda Robles and Ms. Hazel Docuyanan, chairperson of ACCP 2019. We were greeted with great hospitality by our Filipino counterparts. Of special mention was their extremely engaging gala dinner, opening and closing ceremonies, which showcased impressive local culture, talents, and vibe. This has thus set the bar high for us and prompted us to uphold similar, if not achieving better, standards for ACCP 2020. We will work towards making ACCP 2020 a fruitful and insightful conference for our distinguished delegates.
The PSS delegation officially took over the ACCP flag at the closing ceremony and Irene gave snapshots of ACCP 2020 planning and introduction of Singapore to the ACCP 2019 delegates. The event ended at a high note with keen anticipation among delegates in Manila for the next instalment of ACCP in Singapore. The ACCP 2020 Organizing Committee has started planning for the congress and we look forward to support from our members and sponsors to make ACCP 2020 a resounding success!
Programme highlights
25 June 2019: ACCP Board Meeting and ACCP 2019 Pre-congress Workshops
Irene attended the ACCP Board meeting on behalf of PSS and presented the Singapore ACCP 2020 proposed date, venue, draft scientific and social programmes to the board members. They were impressed with our progress so far and looked forward to visiting Singapore next year. 
ACCP board appointed a new President, Prof Kwon Kwang-il from South Korea and Secretary, Dr. Elida from Indonesia. Plans for next ACCP meetings were also discussed and agreed; ACCP 2021 in Malaysia, ACCP 2022 in Japan and ACCP 2023 in Hong Kong.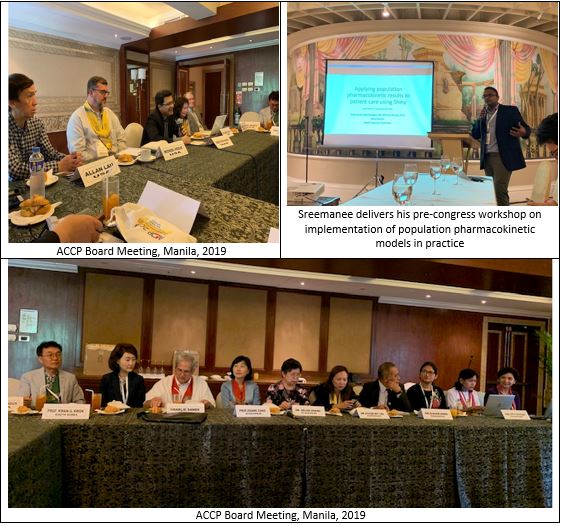 26 June 2019: Congress exhibitions and opening ceremony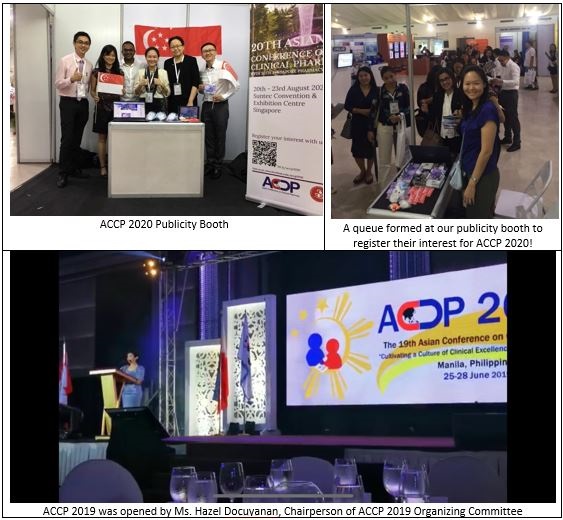 27 June 2019: Main Congress Day 1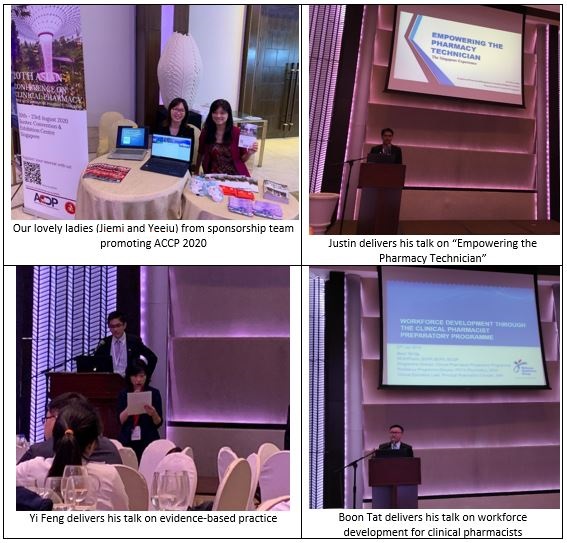 28 June 2019: Main Congress Day 2 and Gala Dinner