Read how our team of hospital and community pharmacists came together to develop the PSS Guideline for Supply and Delivery of Medicines to Customers (PSS SDM) successfully. 
Imagine the day when seeing a doctor and receiving appropriate care and medications with ease and within the comfort of one's home, becomes a reality. That day has come.  
By 2030, 1-in-5 Singaporeans will be above 65 years old. A higher utilization of healthcare would be inevitable with a growing and rapidly aging population plagued with mounting chronic disease burdens. The reduced mobility of our aging population adds to the challenge. At the same time, the current and preceding decades of low fertility rates (1.25 in 2015) will manifest as a declining old age support. In 2017, according to Singapore Statistics, there are 5.1 healthy, able adults to each elderly person. In 2030, this ratio will plunge alarmingly to 2:1. Furthermore, cut-backs on foreign labour only serves to further aggravate the manpower crunch. Against this backdrop of soaring demand and increasing medical complexity coupled with dwindling healthcare manpower resources and a finite healthcare budget, healthcare transformation efforts need to happen now.
To manage this unprecedented growth in healthcare needs, healthcare infrastructure had been expanding with 8 new polyclinics and 4 new public hospitals slated to be built by 2030. Many public hospitals also have integrated state-of-the-art pharmacy automation to complement the dwindling resources and to drive efficiency with accuracy.  But is such growth sustainable? Apparently not and this is clearly articulated in MOH's '3 Beyonds' strategy; "Beyond Healthcare to Health" where there is greater focus on health promotion and disease prevention to reduce overall healthcare utilization; "Beyond hospital to community" to help the population receive appropriate care at home which is more convenient and more affordable than expensive hospital care; "Beyond quality to value" where efforts are made to retain or increase quality of care while ensuring value for money. In alignment with MOH's 3 key shifts, the National Pharmacy Strategy (NPS) envisions the transformation in the delivery of pharmaceutical care and medication management to a person-centric care model.
To support MOH's transformative efforts to shift healthcare 'beyond hospital to community', clinical care model had been rapidly evolving, both in the public and private healthcare sector to improve accessibility and aging in place. An example would be telehealth innovation where doctor can provide remote medical consultation via videoconferencing to a patient in his/her own home. Another one is Speedoc, a recently introduced healthcare business innovation, where a doctor can be engaged for housecall through an app. Such services often necessitate access to medications via home delivery. This uberization in healthcare where patients can expect instant access to medical care at home meant that patients no longer have to navigate through the complex healthcare system to see their doctor or collect their medications in person.  
Up until the recent years, the traditional and legal way for patients to receive their medications was to personally visit a pharmacy with a valid local prescription so that medications can be dispensed and supplied after a face-to-face interaction with a pharmacist/ supervised staff within a registered pharmacy premise. This allows the qualified pharmacist to evaluate the overall health and needs of the customer, perform a prescription order review if required, as well as to conduct medication counselling. With technological advancement, an increasingly tech-savvy population riding on the global eCommerce trend as well as the national's direction towards aging-in-place, pharmacies inevitably have to change the way their services are provided. The replacement of existing controls under the Medicines Act and Poisons Act by the Health Products Act in Nov 2016, removed legal restrictions and paved the development of novel models for last mile delivery of medications. Today, in line with NPS's key strategic thrusts to redesign the medication delivery supply chain, patients can conveniently opt to receive their medication through dispensing kiosks, secured lockers or at the convenience of their homes, offices or other accessible locations, triggered either via a phone call or online request.
How can we then ensure that the quality of medications delivered is maintained so that it is safe and effective for use in treatment when it reaches the right patients? How do we make sure that patients or their caregivers understand how to take their medications appropriately or accurately? How can we ensure that they receive no lesser care or quality without the traditional face-to-face counselling at the pharmacy? These set the imperatives to map out the basic framework for the implementation of medication delivery by licensed premises/services in Singapore to ensure the proper storage, security, traceability and safety of medication during the delivery process as well as compliance with legal and professional requirements.
To address the above considerations and maintain the pharmaceutical care standards when medications are delivered, a team of hospital and community pharmacists was convened, with endorsement from Chief Pharmacist Office, to develop the PSS Guideline for Supply and Delivery of Medicines to Customers (PSS SDM). This document provides guidance to pharmacy business on the provision of medicine supply and delivery services and was officially launched in August 2016. Another key milestone was crossed on 31st March 2017, when a working group (WG), well represented with members from regulations, logistics, pharmacy and medical professional groups, was commissioned by Enterprise Spring (previously known as Spring Singapore) to position the guideline at a national level. Hence, the PSS SDM was elevated to the Singapore Standard for Supply and Delivery of Medicines (SS SDM). SS SDM WG expanded the scope of the PSS guideline after extensive reviews as well as industry and regulatory engagements, extending it beyond pharmacy premises to medical clinics premises/services and balancing it with greater focus on logistics and regulatory processes to ensure operational feasibility and regulatory alignment. This collaborative standard will replace the PSS SDM upon its launch approximately in the middle of this year. The target users will be from pharmacy, medical, logistics, regulators as well as anyone in the business of providing medication last mile delivery. It will serve as guidance to HSA and MOH for audit of licensed pharmacies/medical clinics providing delivery services, however, compliance with this standard does not exempt users from existing regulatory obligations.
SS SDM supports a new dimension of pharmacy services to patients who would no longer need to queue at pharmacy counters to fill their prescriptions or obtain their pharmacy only medications, while still allowing healthcare professionals to have clear oversight over the entire medication distribution process. Clearly, disruptive technology will or had changed the way traditional bricks and mortar pharmacies operate. With the new distribution model, direct pharmacist-patient interactions would be reduced to a minimum and possibly push the profession even further away from direct contact with patients.
This standard is more than a mere guideline. It is a wakeup call. The 'count, pour, lick, stick' days were long gone, the 'pick, pack, paste, zip' days are likely numbered. The reality today is that the bulk of the pharmacy workforce is still engaged in medication distribution. Along with the transformation in pharmacy supply chain, transformation of pharmacy practice is of paramount importance. As the saying goes, "Out of sight, Out of mind". Pharmacists, are we future-ready? If we are not, the question is how.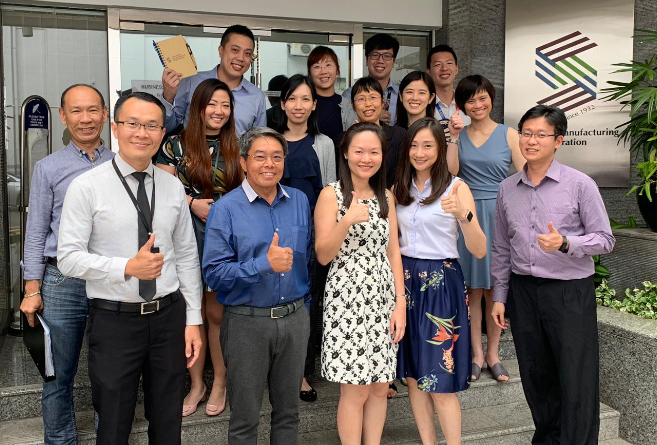 Group Photo of the SS SDM Working Group
From Left
Top row: Mr Choi Kwok Keong (Singapore Manufacturing Federation (SMF) - Secretariat), Ms Cai Ziqin (Guardian), Mr Kevin Tan (SMF Secretariat), Mr She Long Huai (SMF Secretariat)
Middle row: Mr Peter Lim (Yamato-TAQBIN), Ms Jasmine Koh (MOH), Ms Michelle Lin (MOH), Ms Christina Lim (SingHealth Polyclinic), Ms Joey Tan (Bright Vision Hospital) Ms Lim Woan Chyi (TTSH)
Bottom row: Dr Tang Chien Her (ST Logistics), Mr Gerry Tan (Griffin Kinetic), Ms Irene Quay (PSS President), Ms Corrinne Tan (NHG Pharmacy, WG Convenor), Mr Marcus Heng (NHG Pharmacy)
Absent: Ms Ang Por Chin (ST Logistics), Ms Joy Chong (Watsons Personal Care Stores), Mr Lee Boon Shim (IMDA), Dr Lou Huei-Xin (MOH), Mr Willie Tan (SingPost), Ms Doris Yeo (HSA), Mr Edwin Yeong (Individual Capacity)