Take a peep at Mr Ashley Lim's clinical experience in antimicrobial stewardship program at KKWCH and also working with the Paediatrics department. In this month's issue, PSS Hospital Chapter is featuring hospital pharmacists who are experienced in working in Infectious Diseases. Mr Ashley Lim, who is actively involved in the antimicrobial stewardship programme in KK Women's and Children's Hospital, will be sharing his experience with us about working in Infectious Diseases (Paediatrics).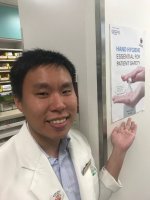 Mr Ashley Lim Shiyuan (BSc (Pharm) (Hons), BCPPS)
Clinical Pharmacist
KK Women's and Children's Hospital
What are some of your day to day duties e.g. special services, rounds that are offered in your pharmacy?

I follow clinical rounds and Antimicrobial Stewardship rounds with doctors in the morning and assist to optimize medications for children during their inpatient stay. For Antimicrobial Stewardship rounds, we focus on the usage of certain antibiotics, such as carbapenems, hence I will pre-round and clerk the patients daily before discussing the cases with the physician and making recommendations on the choice of therapy and appropriateness of the treatment regimen.

 
What are some of the challenges that pharmacists working in Infectious Diseases might face and what are the approaches to overcome these challenges?

Working with paediatrics entails challenges with regards to age-licensure of the use of antibiotics. For example, Co-trimoxazole has to be avoided in infants < 2months due to the risk of kernicterus and blood dyscrasias. Nitrofurantoin is avoided in this same age range due to the risk of haemolytic anaemia. Always keeping ourselves updated with the literature allows us to properly evaluate the risk and benefits of these medications and sometimes evaluate the off-label use of these medications.

Palatability and lack of paediatric syrups has been and likely will be an issue for children.  The use of flavouring such as syrups or dispersing tablets in apple puree and chocolate syrups are some of the ways which we have tried to increase adherence to therapy.

 
As a pharmacist working in Infectious Diseases, what are some of the latest practice updates/ resources which you would like to highlight to fellow pharmacists who want to learn more about your field of practice?

In 2017, Infectious Diseases Society of America (IDSA) updated their clinical guidelines for the management of Infectious Diarrhoea. It is important to note that even with bloody diarrhoea, empiric antibiotic therapy is not warranted unless it for infants less than 3 months of age, immunocompromised patients or patients with a travel history with body temperature >38.5°C. Supportive treatment with rehydration therapy is still one of the hallmarks of management and oral rehydration solutions should be used as first line in patients with mild to moderate dehydration. Also it is important to note that anti-motility drugs such as diphenoxylate or loperamide should not be given to children less than 18 years of age with acute diarrhoea as this may increase potential complications associated with toxin-mediated illnesses.

 
Is there anything else that you would like to share e.g. words of advice regarding Infectious Diseases?

Paediatrics and Antimicrobial Stewardship has been a tough but rewarding field. Initially, it was disheartening to see recommendations being rejected and high rates of inappropriate use of broad spectrum antibiotics (such as carbapenems). With our continued efforts, it has been rewarding to see their use being reduced and appropriateness rates going up. Moreover, clinicians are more amendable to recommendations once trust and rapport has been built up over time. There are battles won but the fight against antimicrobial resistance continues.