In the spotlight is an initiative by PSS that features hospital pharmacists who excel in their area of practice and are role models for fellow pharmacists.
In December's edition of in the spotlight, we are featuring Ms Janice Lim Chai Huang, Pharmacy Practice Manager, at KK Women's and Children's Hospital.  She has a wealth of 21 years of experience in Pharmacy and specialises in Pharmacy Automation. She is currently in-charge of the Emergency Pharmacy and Inpatient/Outpatient Pharmacy Automation System (IOPAS).
Awards that Janice achieved include the Singhealth Golden Apple Award 2018 and National Day Award (Efficiency medal) 2015. Her team's effort in Pharmacy automation was recognised by the Singapore Infocomm Technology Federation (SiTF) and was awarded the Silver Award for category "Best Innovative Use of Infocomm Technology (Public Sector)". The Pharmacy automation project also received the Asian Healthcare Management Award (Excellence Award in category: Innovations in Healthcare Technology. The project was presented at the Singhealth Healthcare Management Congress and achieved the first prize in the risk management category.
Janice also participates in various workgroups and committees such as MOH Pharmacy Technician Training and Development Committee, Singhealth Pharmacy Automation Workgroup and Emergency Department Information System.
We are greatly honoured that she has taken the time to answer some of our questions and share what drives her passion for pharmacy practice.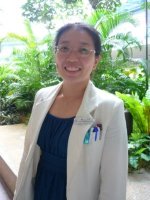 Describe the most satisfying/fulfilling day in your life as a pharmacist.

Every day brings a different experience for me. I recalled an incident where I had to perform service recovery. After managing the anger, frustration and unhappiness of the patient and caregiver, the patient's caregiver provided tips for our improvement. We accepted his/her feedback and improved on our processes. They appreciated our effort and subsequently when they visit the hospital for their appointments, they would stop by / drop by to say hello. It is heart-warming to know that they valued our effort.

 
What would your best advice be for the younger pharmacists, especially when faced with challenges to motivate them and keep them going?

Keep an open mind and embrace change. Don't stagnate at the negative aspect of any challenging situations or difficulties that have passed. Recalibrate, look forward, think about how to improve and move on. Take a quick time out, recharge and look to friends and colleagues who can help you out.

 
What is the most memorable moment in your pharmacy career?

KK Women's and Children's Hospital implemented Outpatient Pharmacy Automation System (OPAS) with the first in the world bottle dispensing system with direct labelling in March 2015. I am honoured to be part of the team who implemented this end-to-end automation solution. This was the most memorable moment in my Pharmacy career.