Ms Chung Wing Lam, a Principal Clinical Pharmacist at Watson's Personal Care Stores Pte Ltd, is the recipient of the 2018 Singapore Retailers Association (SRA) Service SuperStar award. The Excellent Service Awards (EXSA) is an annual national award that recognises individuals who have delivered quality service. The SRA Service SuperStar Award is the epitome of Service Excellence and each year only one individual is awarded with the highest honour in the retail industry in Singapore.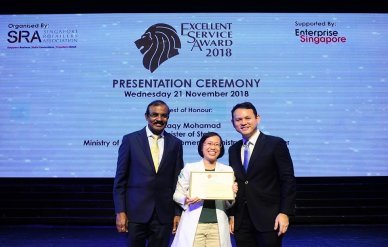 Wing Lam receiving the Service SuperStar award from Guest-of-Honour, Mr Zaqy Mohamad, Minister of State, Ministry of National Development & Ministry of Manpower and SRA President Mr R Dhinakaran at the SRA Excellent Service Award 2018 (EXSA) Presentation Ceremony on 21 Nov 2018
"Nurturing", "Patient" and "Thoughtful" were consistent comments given by both her customers and co-workers. Wing Lam's dedication to her work had proven to be an asset both to Watsons and her customers.
Her main job responsibilities include dispensing medication, provision of care and advice to patients, stock ordering and control, as well as coaching new preceptees and pharmacists.  What she does on a daily basis goes far beyond her job scope. Recognising the importance of health education for the public, she gives public talks and participates in educational videos e.g. Watsons YouTube channel. Harnessing mass media and social media allows the health benefits and information to be shared to a wider section of society.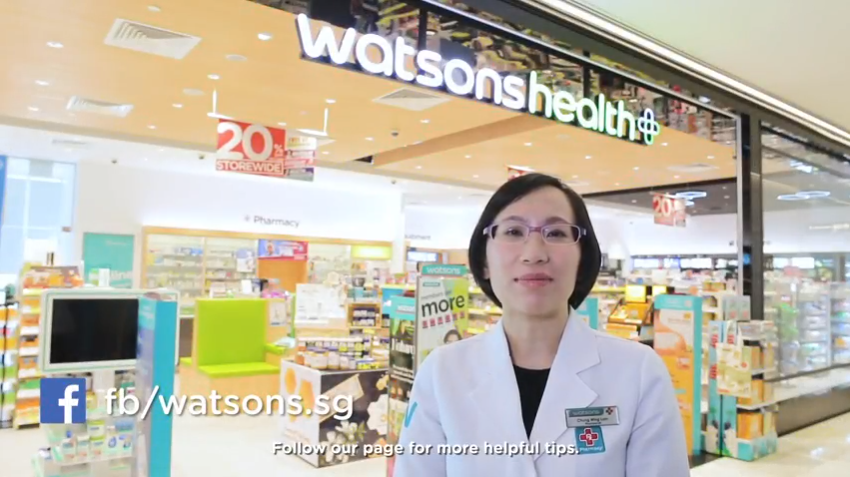 #WellnessWithWatsons YouTube series
In a heart–warming story, Wing Lam touched the heart of a customer from the UK who was looking for a blood pressure medicine which she was taking in her home country. Her stay was longer than expected and she had run out of her medication. However, this medication is not available in Singapore and the customer was worried that her blood pressure would become uncontrolled and lead to complications.
Rather than just telling the customer this medicine was not available locally, Wing Lam took the effort to look up the medicine from the references to understand more about it, and then took time to search through locally available medicines to find one which was in the same category with similar effects. She then looked for references on the equivalent dosing, and explained to both the customer and the local doctor on the switch and the reasons for her recommendations.
The doctor accepted her recommendations and the customer was grateful for Wing Lam's remarkable efforts to find an alternative option to maintain her blood pressure control.

On top of her busy frontline workload with high volume of local and international customers, she takes time to mentor and nurture junior pharmacists and colleagues, and conduct practice research in collaboration with other institutions. Her dedication is demonstrated over time as she puts in her best consistently in her various projects over the years. Some collaborators include Singapore General Hospital (SGH), National University of Singapore (NUS) Pharmacy Department and PSS. Examples of publications can be found at
Validation of a Drug-Related Problem Classification System for the Intermediate and Long-Term Care Setting in Singapore (2018): https://www.ncbi.nlm.nih.gov/pubmed/30282930
Project Octo-Pills - A practice model engaging community pharmacists in the care of patients from a tertiary hospital (2018): https://www.ncbi.nlm.nih.gov/pubmed/29054693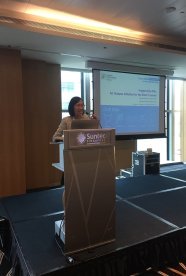 Presenting on Octo-Pills at Singapore Pharmacy Congress 2016
Wing Lam's impact to the profession goes beyond Watsons, as can be seen from her active involvement in PSS and NUS Pharmacy Department, where she is a part-time tutor. She believes in giving back to society and inspires colleagues to do the same.
The PSS ILTC Pharmacists Workgroup comprises of pharmacists who are involved in providing care to the ILTC sector, including nursing homes, senior care centers and daycare centers. Her role as advisor in the PSS ILTC workgroup is vital in forming the framework and guidelines for the provision of pharmaceutical care in the ILTC settings, which is crucial with Singapore's aging population.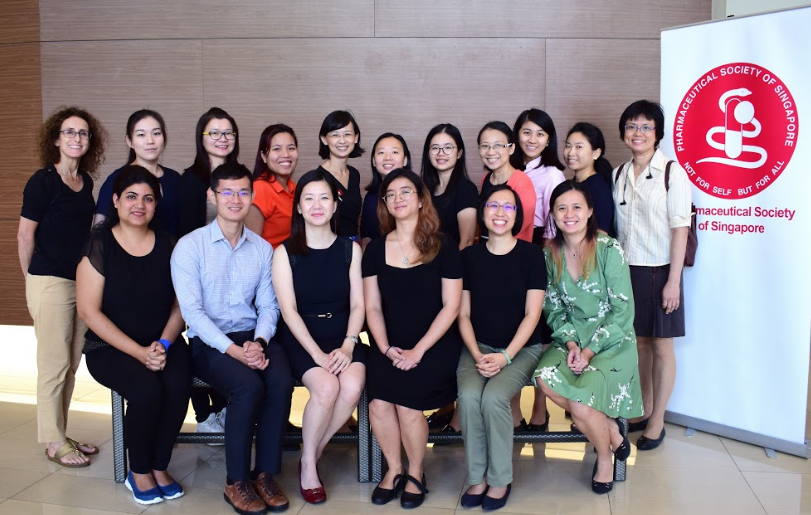 PSS ILTC Pharmacists Workgroup (some members not present)
Wing Lam's commitment, positive attitude and aptitude lead her to have the honour to receive the PSS-LF Asia Community Pharmacist of the Year award in 2015. This is an award given out to one pharmacist per year to recognise outstanding community pharmacists, identify leaders and role models and inspire others in this sector.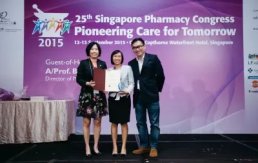 Wing Lam receiving the PSS-LF Asia Community Pharmacist of the Year award at the 25th Singapore Pharmacy Congress, 2015
Internally, she was nominated by colleagues as the Best Team Player (Pharmacist) award in 2018.
With a drive to serve customers better, Wing Lam strives for continuous learning and improvement which is crucial in this fast paced and progressive healthcare landscape. Her achievement of Board Certification in Pharmacotherapy (BCPS), Board Certification in Geriatric Pharmacy (BCGP) and Masters in Clinical Pharmacy Practice on a part-time basis in conjunction to full-time work is a testament to her desire for development.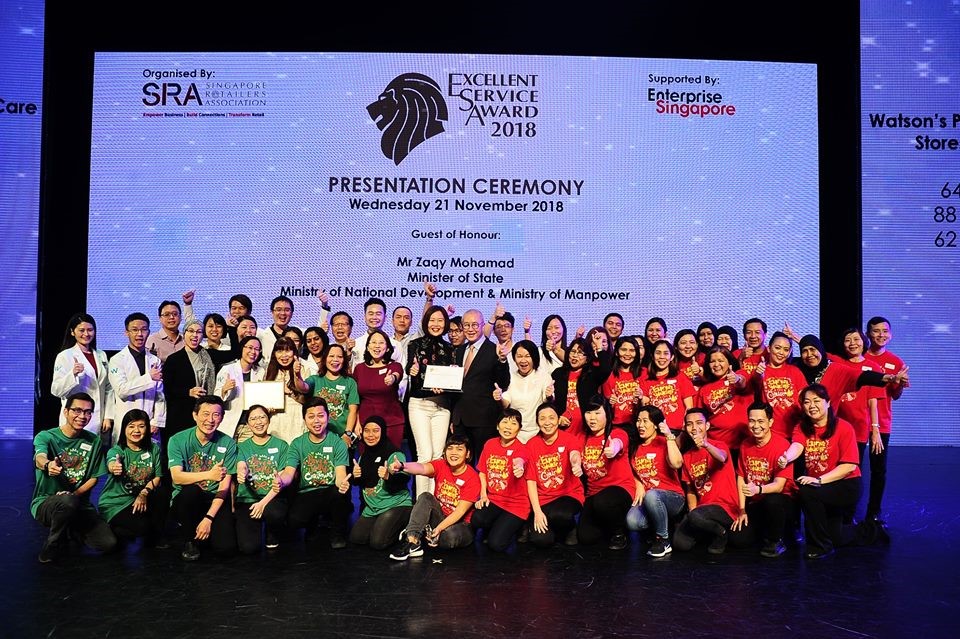 Members of the Watsons team at the award ceremony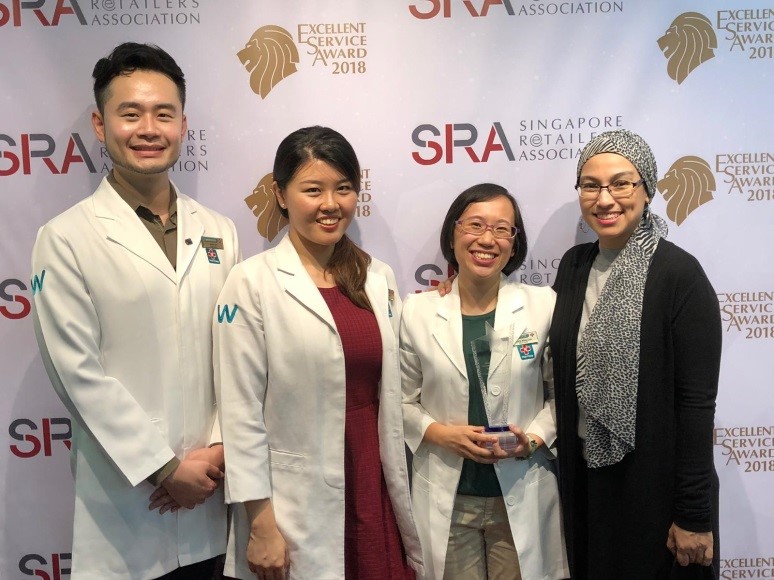 Wing Lam (second from right) with past SRA SuperStar award recipients from Watsons (L-R): Mr Anson Lim (2016) and Ms Sharene Goh (2014); and Senior Pharmacy Practice Manager Ms Mariam Alkhatib
Wing Lam shared: 'I am extremely honoured to receive this award which would not have been possible without the support of management and encouragement from colleagues and peers, both within and outside of Watsons. Thank you for giving me the opportunity to work with you, grow as a pharmacist and contribute to the profession. Let us continue to do our best and progress together!'
PSS congratulates Wing Lam on receiving for this well-deserved honour for her contributions to the pharmacy profession and community. Keep up the good work!