In this month's issue, PSS Hospital Chapter interviews Ms Lin Huimin (BSc (Pharm) (Hons), MClinPharm, BCPS, BCGP), a geriatric pharmacist from Changi General Hospital, who has a wealth of 9 years of experience in Pharmacy and the field of Geriatrics.

1. What are some of your day to day duties e.g. special services, rounds that are offered in your pharmacy?
I reconcile the medications of geriatric patients and take the opportunity to speak to patients and/or their caregivers to find out how they have been managing their medications at home and identify any possible medication-related issues including those that could have led to their admissions, so that they can be addressed during the in-patient stay.
In addition to reviewing the inpatient medication orders and making recommendations to optimize therapy (in consideration of patients' functional status, input from the multidisciplinary team, patients and/or caregivers), I handle medication management issues within the ward and serve as the resource person for geriatric pharmacotherapy. 
Other services which I provide include pharmacist services to long-term care facilities, staff education and provision of advice on medication-related issues in nursing homes and medication management audits in welfare homes and nursing homes.
 
2.What are some of the challenges that pharmacists working in your specialty might face and what are the approaches to overcome these challenges?
Older adults are a very heterogenous group – they can range from being very fit to terminally ill, have different (multiple) comorbidities, functional capabilities and complex care needs. What this really means is:
One treatment and guideline doesn't fit all – following treatment guidelines strictly for one condition may worsen co-existing conditions.
Several considerations also need to be made in their care e.g. is this drug beneficial given the patient's current functional status, can he swallow pills whole, is there a caregiver to ensure medications are given in a safe and timely manner if the patient is not independent, is there any history of non-compliance and what was the reason(s) behind it so that they can be addressed accordingly. 
While following the basic principles of drug use in older adults is useful (as PK/PD of drugs changes with aging), taking on a patient-centred approach is more important.
Older adults may require a wide spectrum of healthcare services hence frequent transitions of care within or across healthcare settings. During which, breakdown in communication at points of transfer is entirely possible and this may include lapse in transfer of medication-related information. We often need to clarify and do a bit of "Sherlock-Holmes" work to address these gaps.
This has taught me the importance of clear documentation of our actions and decisions to facilitate continuity of care.
 
3. As an expert in your specialty, what are some of the latest practice updates/ resources which you would like to highlight to fellow pharmacists who want to learn more about your field of practice?
"Geriatric syndromes" - this is not a new concept but is one that one should appreciate in the care of older adults as these "syndromes" are highly prevalent in this population, have shared risk factors, and can cause significant disability and impact on quality of life.

4. Is there anything else that you would like to share e.g. words of advice regarding your specialty?
Geriatric care deals with many grey (pun not intended!) areas, which people may not always feel comfortable with, but it is challenging and exciting in that:
It considers the older adult as a whole, not just an organ or disease.
It is patient-centred.
It looks beyond "the best evidence".
It is interdisciplinary, coordinating the skills of various healthcare professionals.
It is proactive, as we try to preserve patients' function as best as we can.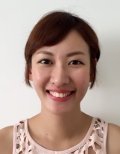 Ms Lin Huimin (BSc (Pharm) (Hons), MClinPharm, BCPS, BCGP)
Senior Clinical Pharmacist
Changi General Hospital