In the spotlight is an initiative by PSS that features hospital pharmacists who excel in their area of practice and are role models for fellow pharmacists.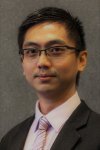 Yi Feng first joined the public healthcare sector with Singapore General Hospital (SGH) in 2010. Since joining, he made conscious efforts to expose himself to various learning opportunities, which then saw his responsibilities developed and spanned from front-end patient care to clinical and practice research, then to training and education. He was not only involved in the routine pharmacy operations, but also tapped for a variety of roles including being an Ambulatory Care Pharmacist, Outpatient Clinical Trial Pharmacist-in-charge, and Inventory Pharmacist-in-charge.
Having displayed exemplary self-motivation, organizational skills and keen willingness to learn, he was awarded SingHealth Quality Service Award in 2012, Pharmacist Retention Award in 2014, and given opportunities with formal appointments to serve in various service planning committees from 2012 to 2015 for Sengkang Health before finally transferring over to Sengkang General Hospital (SKH) in 2016.
Despite his heavy regular work commitment, Yi Feng was also passionate about clinical and practice research. At SGH, he conducted and supervised a number of clinical studies and quality improvement projects. Many of the papers he wrote made their way to reputable academic journals, as well as regional and international conference presentations. In 2016, he became the pharmacy department research coordinator and subsequently in 2017, he was appointed into SingHealth Group Allied Health Research Committee and Sengkang General Hospital Research Review Committee. Beyond his institution, Yi Feng is also contributing to some PSS work, including serving in Singapore Pharmacy Congress Organizing Committees and the upcoming Asian Congress on Clinical Pharmacy Organizing Committee. Internationally, Yi Feng's accomplishment and competence also led to his appointment as manuscript peer reviewer for International Journal for Quality in Health Care and Journal of American College of Clinical Pharmacy.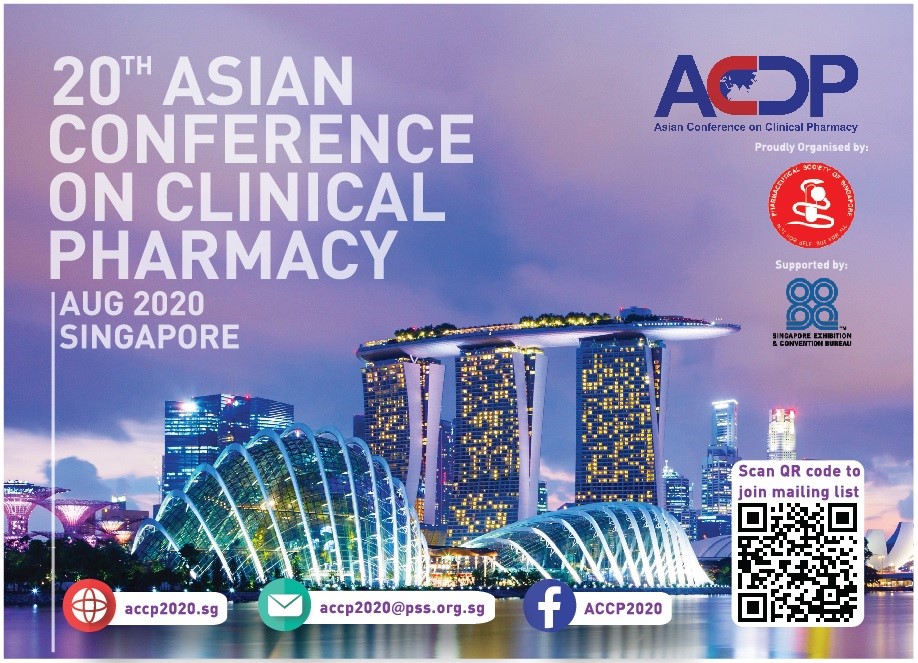 Yi Feng has a passion and inclination towards public health administration and related epidemiological research. In 2014, he was awarded Sengkang General Hospital Scholarship to read Master in Public Health at Saw Swee Hock School of Public Health, National University of Singapore.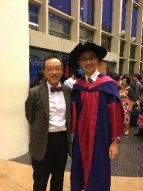 Yi Feng with SKH CEO Prof Cheng at Commencement Ceremony

Throughout his adult working life, Yi Feng has also made it a point to do his part in the community. He started by volunteering at Bedok Community Centre (CC) in 2011 and progressed to hold grassroot leadership positions over the years. In the current term, he was appointed key officer bearer in Youth Executive Committee and CC Management Committee. These community exposures not only allow him to understand the community he lives in, but also facilitate events with community partners, schools and professional bodies, such as Health and Medication Awareness Carnival with PSS in 2015, Family Sports Carnivals, and "Incubator @ Bedok" with Touch Young Arrows. Some activities received recognitions from Prime Minister Initiative Award and People's Association Youth Movement Outstanding Project Award.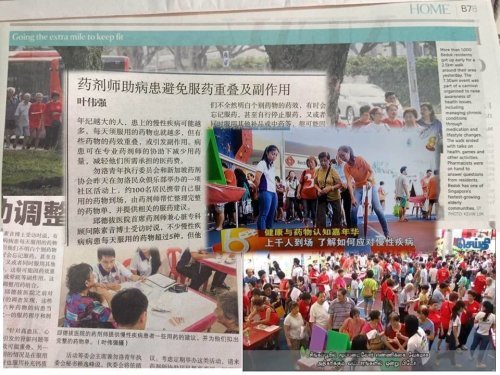 News reports on Singapore Pharmacy Week, and Health and Medication Awareness Carnival 2015
Q&A:
Why pharmacy?Who would you say is your role model, whom inspired you to excel?What would you advise for the younger pharmacists?Adopt a life-long learning attitude.

Pharmacy was not the natural first-choice course for me when I applied to universities. In fact, I was so unsure of what I should do that my applications landed me with offers of accounting and economics with SMU, chemical and biomolecular engineering at NTU, and pharmacy at NUS. When I was finally confronted with the harsh reality to choose, I went with pharmacy, thinking that things I could learn from this course might be more handy and useful outside of work, and also applicable to my family and friends. Once the decision was made, I never looked back.

 
Who would you say is your role model, whom inspired you to excel?

I have been very fortunate to have met many mentors and role models along the way in my journey as a pharmacist. From my days as a pre-registration pharmacist, Mr. Lim Teong Guan gave me useful advice as my preceptor. In operations and outpatient services, Ms. Tan Mui Chai, Ms. Chiong Sieu Hong, Ms. Lee Soo Boon and Mr. Lim Mun Moon were important guiding figures when I started practicing at Singapore General Hospital. Mr. Kong Ming Chai played a very vital role in my ambulatory care training to run Anticoagulation and Asthma/Allergy Clinics. When I started my endeavour into clinical research, Dr. Ng Heng Joo tirelessly guided me the ways and means to conduct scientifically rigorous studies and author academic publications. At Saw Swee Hock School of Public Health, A/Prof Lim Yee Wei and A/Prof Tai Bee Choo further honed my research skills and broadened my horizon in public health.

However, if I should name a single most significant person, I'd go with Dr. Camilla Wong. Not only is she a towering figure in the SingHealth Allied Health Division, she is also a well-respected practitioner nationally within the pharmacy fraternity. Our interactions intensified after I was nominated into the Sengkang Hospitals planning team. She had always been around to guide in the initial phases of pharmacy and related hospital planning. Though I was a relatively junior staff, she trusted my work and seldom cast doubts unnecessarily. When I applied to do further study in public health, she strongly supported my course and scholarship applications; when I needed a guarantor for my scholarship deed, she agreed to help without any hesitation; when I lost my focus and needed directions, she'd be there to offer help. I'm heavily indebted to her for all the guidance, patience, trust, mentorship and assistance all these years. I would probably not be able to come this far without her in this journey.

 
What would you advise for the younger pharmacists?

Adopt a life-long learning attitude.
This is a principle I personally practice- keep learning new things and adding values to myself. If I were to leave my current practice one day and venture elsewhere, I should not be only able to showcase how fast I can review patients, process prescriptions and dispense medications. Regard additional responsibilities as opportunities to get exposure and learn.
 
Work is not everything.
This is something I come to appreciate more over the last few years after I started a family. There are many other good things in life- family, friends, and the world out there! Having a meaningful life outside of work can also produce synergistic effect at work. For this reason, I'd also like to dedicate this recognition to my wife and fellow pharmacist, Ms. Wong Qian Hong, for going through the thick and thin with me all this while!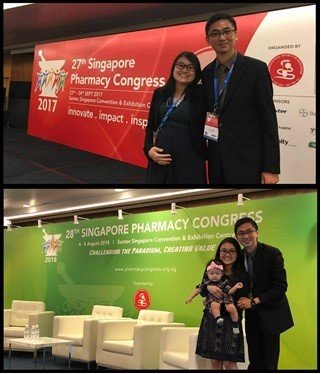 Yi Feng with his family