OFFICIAL LAUNCH OF PSS MEDICATION THERAPY MANAGEMENT TRAINING PROGRAMME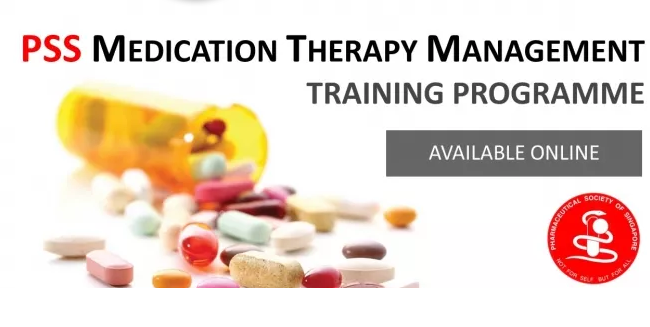 PSS is pleased to announce that on 23 September 2017, PSS Medication Therapy Management Training (MTM) Programme was officially launched! This training programme targets to standardise practices of medication management in chronic diseases, and build capacity and capability in the community sector.

With a rapidly ageing population and rising incidence of chronic diseases in Singapore, polypharmacy is a prevalent and pressing problem. There is a growing need for effective medication management services to optimise medication use, especially in primary care to keep patients well in the community.

The PSS Medication Therapy Management training programme aims to equip pharmacists with the clinical knowledge and skills essential for provision of MTM services. This set of skills enables pharmacists to help patients with effective and safe medication use, advancing public health and patient care. It also serves to educate and empower patients in the management of their condition, and improve medication adherence. This programme adopts a blended-learning approach developed to impart knowledge and skills required for a systematic approach for MTM.

It comprises the following components:
1. E-learning modules on clinical topics

(Available at: https://www.pss.org.sg/store/online-cpe/medication-therapy-management-training-programme)

2. Online assessment

 

3. Workshop

 

Considerations in Pharmacotherapy for the Elderly [Available Oct 2017]
Diabetes Mellitus [Available Nov 2017]
Geriatrics Syndromes Part 1 [Available Dec 2017]
Geriatrics Syndromes Part 2 [Available Jan 2018]
Cardiology Part 1 [Available Feb 2018]
Cardiology Part 2 [Available Mar 2018]
Psychiatry [Available Apr 2018]
Medication Therapy Management 101 [Available May 2018]

50 multiple-choice questions to be completed within 100 mins
Available in Jun 2018
Passing mark of 80%

 

Full day workshop for case discussion and practical assessment
Pre-requisite: Obtain a Pass in the online assessment
First run scheduled for Jul 2018

 

Module Validity Date: up to 1 October 2019, 23:59 (After the Module Validity Date, activities can still be viewed. Pre and Post Tests will no longer be available and CPE points cannot be obtained after this date)
No. of CPE points: 2.0 (Category 3A). There will NOT be auto-submission of CPE points to Singapore Pharmacy Council. Please file your CPE points via the Singapore Pharmacy Council Portal.
PSS would like to thank the training workgroup for their contributions.
Chairperson:

Ms Lee Jye Chyi Principal Pharmacist (Clinical), TTSH

Vice Chairperson:

Ms Tran Anh Nhi, Patient Care Pharmacist, Guardian Pharmacy

Members:

Ms Low Suat Fern, Geriatrics Pharmacist Specialist, YCH

Ms Jolyn Seah, Senior Pharmacist, TTSH

Dr Ong Wan Chee, Senior Clinical Pharmacist, SGH

Dr Khee Giat Yeng, Senior Clinical Pharmacist, SGH

Ms Pang Su Yin, Pharmacist, CGH

Mr Anthony Yip, Pharmacist, NHGP

Ms Imel Tang, Clinic Pharmacy Manager, SHP

Mr Low Jing Yang, Pharmacist, Unity by Fairprice

Ms Siti Rahil Bte Mohd Yussof, Pharmacist, Watson's Personal Care Stores Pte Ltd

Ms Ng Hong Yen, Specialist Pharmacist (Oncology), SGH