In the spotlight is an initiative by PSS that features hospital pharmacists who excel in their area of practice and are role models for fellow pharmacists.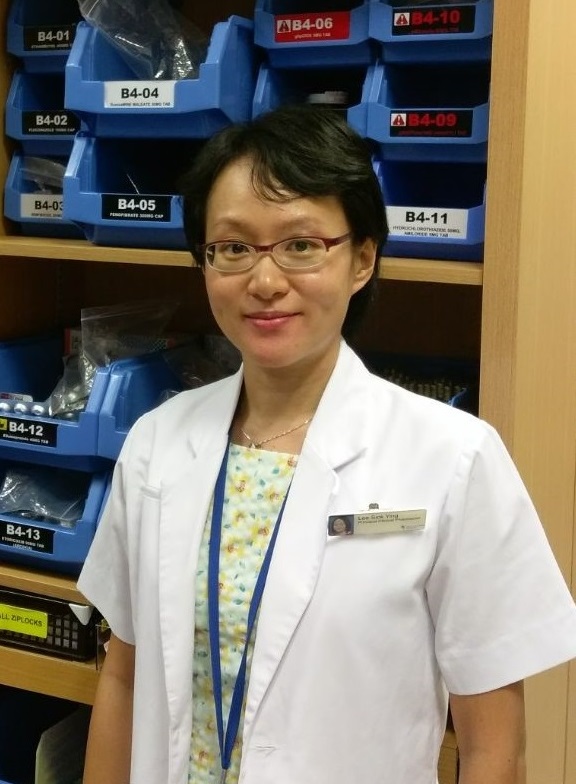 In this edition of in the spotlight, we are featuring Ms Lee Siok Ying. Siok Ying is a Principal Clinical Pharmacist at Khoo Teck Puat Hospital and has a keen interest in antimicrobial stewardship.
She graduated with BSc (Pharm) with Honours from the National University of Singapore (NUS) in 2004.
Siok Ying is a Board Certified Pharmacotherapy Specialist, with Added Qualifications in Infectious Disease. In 2014, she completed her Masters of Science in Infectious Disease from the London School of Hygiene and Tropical Medicine. In 2017, she obtained her specialist accreditation in Singapore, in the area of Infectious Disease.
She sat in the Alexandra Health Pharmacy and Therapeutics Committee from 2006 to 2008, where she reviewed the use of restricted antibiotics and compliance to protocols. She collaborated with the Infectious Disease (ID) Consultants to successfully set up the Antimicrobial Stewardship Program (ASP) at KTPH and currently holds the position of Secretary for KTPH Antimicrobial Stewardship Program Workgroup.
We are honoured that she has taken the time to answer some of our questions and share what drives her passion for pharmacy practice.
 
---
Name one thing in the pharmacy profession in which you are passionate about.
Stewardship of drugs--mostly antibiotics, but it can be any drug---to ensure appropriateness & necessity of use.
 
Tell us about a typical day in your life as a pharmacist in five sentences.
Morning starts off with working on training related matters for Pharmacy Technicians (PTs), Pre-registration Pharmacists and Junior Pharmacists. These matters include planning of rosters, dissemination of information, getting updates about training status, planning training schedules, hosting the orientation sessions for pharmacy undergraduate students, interns and polytechnic students.Occasionally in the morning, I may be involved in verifying prescriptions for patients who are discharged from the wards. I start ASP work usually in the late mornings. I will carry out audits on use of broad spectrum antimicrobials--Carbapenems, Piperacillin/Tazobactam and Fluoroquinolones by doing a bedside review of patients' conditions and assessing the team's plans in case-sheets. After lunch, I will meet with the ASP doctor for 1 hour to present cases for the day. If the patient's condition has improved significantly, de-escalation or stopping of antibiotics may be recommended. Lastly before the day ends, I will complete some administrative work such as check my emails for important updates or to complete preparation for materials required for scheduled meetings.
 
Describe the most satisfying/fulfilling day in your life as a pharmacist.
I once received a thank you note from an ID doctor whom I called on a Saturday to check regarding a patient's antibiotic regime. I thought it was very thoughtful of him to be appreciative of our inputs instead of feeling 'why is the pharmacist bothering me on a Saturday', because we all care for the patient.
 
Who would you say is your role model, whom inspired you to excel in the pharmacy field that you chose?
I have not really excelled and there is no single person I role model from, but I observe which people excel at different aspects and try to learn from them. Dr Andrea Kwa (for her capabilities, ambitiousness and tenacity) and Dr Doreen Tan (for her visionary front, foresight and people skills) are some examples, to name a few.
 
What would your best advice be for the younger pharmacists, especially when faced with challenges to motivate them and keep them going?
Do not make decisions in haste. Be resilient and steadfast in your path. Think about what motivated you to become a Pharmacist. Review what is the root cause of your hurdles, speak to someone senior if need be to get more insights, then try different ways to overcome the challenges.

Be open to build relationships and rapport with colleagues within and outside your department. Have a keen eye to look out for allies in other departments who will collaborate with you towards a common goal.
 
How would you envision the future of the profession?
Perhaps pharmacists will start obtaining prescribing rights through the non-medical prescribing framework. Even with prescribing rights, pharmacist should maintain their close relationship with patients -- being the one they can easily talk to, be humble, rooted to the good they can do for the patient and not become self-serving.

Automation will make good progress in replacing the monotonous packaging work and Pharmacy Technicians will be up skilled and may eventually move towards being registered, so in these exciting times pharmacists may begin to find their niche in complex medication therapy management, nanotechnology in dosage form design, pharmacogenomics and individualised medicine.