In the spotlight is an initiative by PSS that features pharmacists who excel in their area of practice and have been role models for fellow pharmacists. In this issue, we feature: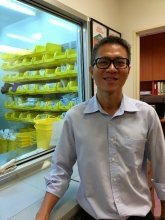 In this edition of in the spotlight, we are featuring a passionate hospital pharmacist, who practices in both traditional Chinese medicine and western medicine.
Ricky Ang graduated with BSc (Pharm) from the National University of Singapore (NUS) in 1997. Since then, he has worked in community pharmacy and polyclinic pharmacy. Currently, he is practicing in National Cancer Centre Singapore (NCCS).
In 2008, he obtained his Dip in TCM from The Singapore College of Traditional Chinese Medicine. In 2011, he completed his Hematology/Oncology Pharmacy Practice Residency Program (NUS), obtained his Board Certified Oncology Pharmacist (BCOP) certification and received his Masters in TCM from Nanjing University of Chinese Medicine (NJUCM). And in 2014, he obtained his PhD in TCM from NJUCM.
He sat in the Singapore General Hospital - Traditional Medicine Information Service (SGH TMIS) committee from 2012-2014, which answer queries related to herbal medicines from healthcare professionals. He is currently the chief preceptor and oversees the training programs for pre-registration pharmacists and junior pharmacists. He is currently a member of the Palliative Care Basics for Pharmacist Workgroup. He is also a certified trainer with Pharmaceutical Society of Singapore and is involved in CPTC training. In his free time, he volunteers as a TCM practitioner.

We are honored that he has taken the time to answer some of our questions and share what drives his passion for pharmacy practice.
 
Describe yourself and your working style in three words.



"Flexible with principles"
Name one thing in the pharmacy profession in which you are passionate about.



Training
Tell us about a typical day in your life as a pharmacist in five sentences.

Day would start with checking and verifying chemotherapy order before treatment is given to the patients.
Provide counseling for newly diagnosed cancer patients.
Review and manage patients' symptoms like nausea and vomiting, mucositis.
Carry out topic and case discussion with students.
Describe the most satisfying/fulfilling day in your life as a pharmacist.



When a patient said "thank you very much" to me for simple things that I did which I feel is just part of the job.
Share two practices on overcoming the challenge of maintaining work life balance.
 

Prioritise commitments and plan in advance.

Sometimes have to give and take, win some, lose some.
Give one advice to motivate our younger pharmacists to overcome the current challenges of the profession.



I remembered Dr Simon Ong's quote 'Don't be stingy with knowledge and skills'. It is always good to know and learn more as the knowledge and skills will come in handy one day.
List four factors which you think make someone an outstanding pharmacist.

Willing to teach and share
Non-condescending
Non-judgmental, have a listening ear
Willing to learn
In the Spotlight - Past Features