Product
Guidelines for Telepharmacy & Tele-Pharmaceutical Care Services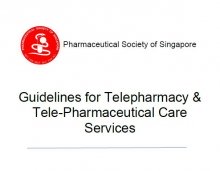 INTRODUCTION
Telepharmacy was first introduced in 2002 to facilitate supply of Pharmacy-Only (P) medicines in Singapore at HSA-approved retail pharmacies. In 2009, HSA extended the scope of telepharmacy to include supply of Prescription-Only medicines (POM) for retail pharmacies which had met additional regulatory requirements and safeguards. These initiatives have greatly improved access to medicines and related advice by pharmacists. As the population ages, national morbidity profiles will shift towards higher incidence of chronic and degenerative diseases. The increasing healthcare demands of the ageing population necessitates a ready pool of pharmacists providing accessible pharmaceutical care services. This is to ensure rational, safe and cost effective use of medications while catering to the evolving healthcare needs in Singapore. Implementation of tele-pharmaceutical care services aims to complement initiatives such as ageing in place by allowing the general public in Singapore to gain access to pharmaceutical care services including remote medication review, patient counselling and education, pharmacist consults, and medication adherence monitoring, regardless of their ambulatory status and at their convenience.
Telepharmacy and tele-pharmaceutical care services serve as important avenues that improve accessibility to medicines and pharmaceutical care services
This set of guidelines serves to provide guidance on the critical aspects involved in the implementation and provision of Telepharmacy and Tele-PCS in Singapore, including premises, information technology, permitted providers, training and competency, roles and responsibilities of personnel involved, work processes, quality assurance, prohibitions, and restrictions.