YOUNG PHARMACISTS CHAPTER 2019/2020
Ex-officio:
Mr Lim Kai Kiong
Chairperson:
Ms Nguyen Thi Hai Van
Vice-Chairperson:
Mr Marshall Liu Mao Sheng
Secretary :
Ms Denise Yeo Jia Qi
Immediate Past Chairperson:
Ms Chew Yue Xin Cindy
Members :
Ms Chean Ning Wei Tracy
Mr Franky
Mr Muhammad Hafiz Bin Amir
Mr Ian Tan Sheng Feng
Ms Juliana Charles D/O Anbalagan
Ms Lee Chiawli
Mr Lim Cheong Cheng
Ms Low Hui Ming Margaret
Ms Low Kai Xin
Ms Ng Yali Shermain
Mr Ong Chin Kheng
Mr Ong Kheng Yong
Mr Puah Yong Kin
Ms Vivian Chin Hui Min
Objectives:
To engage younger pharmacists from various disciplines of the profession. 
To harness and translate the zest, drive and interests among young pharmacists into an influential voice that aims to improve the professional profile of pharmacists in the local and international arena.
Identify needs and organize programs for young pharmacists
To form and develop an able Young Pharmacists group that can represent Singapore/PSS at a regional and international level.
To foster stronger cooperative ties between PSS and NUSPS, with the aim to engage pharmacy students in more PSS-organized events or vice versa.

Click HERE for Young Pharmacist Chapter's Terms of Reference

The idea to form the Young Pharmacists Chapter was first proposed by the Past President of PSS, Ms Christine Teng, on the basis that young pharmacists needed a channel to get together, voice their concerns and bring about positive changes. This idea was echoed and approved by Council.
The criteria for admission into this chapter is that the pharmacist must be aged 35 or under. 
Look out for more to come from these young and energetic new pharmacists!
The inaugural leadership forum on the topic - Interprofessional Collaboration with Adj A/Prof Derrick Aw, Dr Camilla Wong, Dr Irene Too and Mr Ong Kheng Yong was a great success! Throughout the forum, we had gained valuable insights on ways to foster interprofessional collaboration from healthcare professionals of different expertise.
---
PSS Appreciation Dinner 2019
Organising Committee: Mr Lim Cheong Cheng, Ms Low Kai Xin and Mr Puah Yong Kin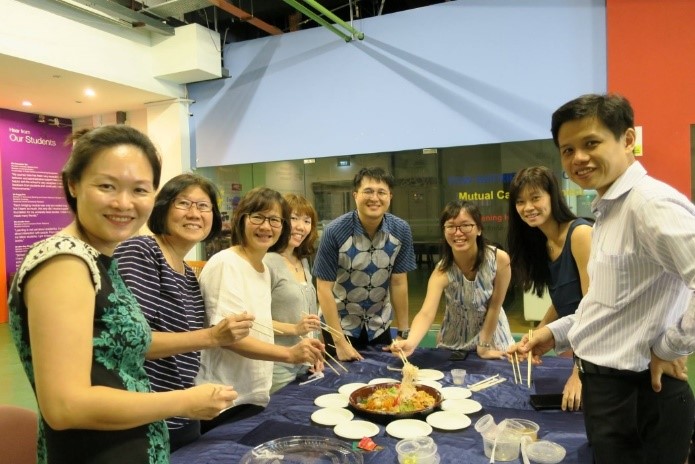 On 18 January 2019, YPC ushered in the New Year by hosting the Pharmaceutical Society of Singapore (PSS) Annual Appreciation Dinner. In recognition of the shifting of the PSS office, the Appreciation Dinner Committee hosted the dinner on-site at the Singapore Manufacturing Federation (SMF) building. More than 50 committee and chapter members turned up to celebrate their efforts in ensuring the success of all events organized by PSS throughout 2018. In addition to the traditional Lo Hei, the members were also provided with the opportunity to mingle, play games, and enjoy performances by our own talented Pharmacists and Pharmacy Students. YPC is honoured to host this yearly event on behalf of PSS.
YPC Leadership Forum, Iteration 3: Information Technology in Pharmacy
Organising Committee: Mr Chew Wong Seng, Ms Vivian Chin, Ms Nyx Chong, Mr Marshall Liu
On 27 Feb 2019, 120 PSS members participated in the final series of the leadership forums hosted by YPC. The forum was a panel-led discussion around the topic of Information Technology (IT). Panel members for the evening included Dr Kevin Yap, Senior Lecturer in Public Health (Digital Health) at La Trobe University; Mr Kenneth Leung, founder of Mediview; and Ms Lindsay Nickel, Head of Partnerships and Alliances of mClinica. The forum was led by Ms Nyx Chong as the moderator.
Each panelist brought to the table diverse opinions and advice on the landscape of pharmacy and how various technologies may cause a shift in practice. Mr Leung encouraged young pharmacists to diversify their skillsets and to find small means to contribute to the society through free online tools. Dr Yap enthused over the opportunities that unchartered waters in IT present for pharmacists; whereas Ms Nickel shared about how applications such as mClinica have changed the way medication reconciliation and records are managed in neighbouring countries such as the Philippines and Vietnam.
The event ended with a lively round of Q&A. Questions that piqued the interest of the audience included the use of newer technologies such as Artificial Intelligence, Blockchain in pharmacy and the importance of cyber security. Other common enquiries included curiosity for accessible IT resources for upgrading of personal skills.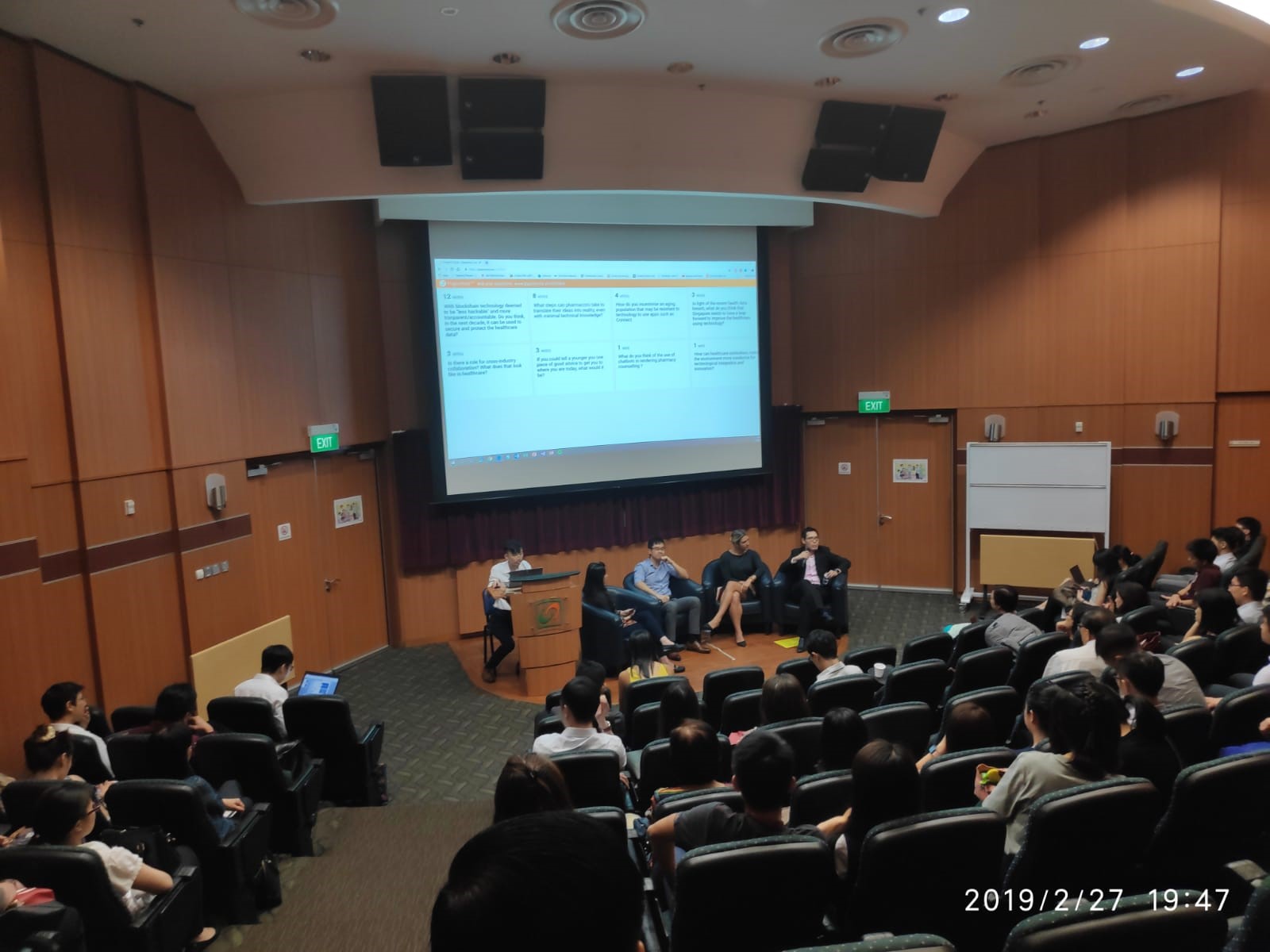 Hosting of the Pharmaceutical Society of Sri Lanka (PSSL)
Organiser: Mr Marshall Liu
On 26 and 27 March 2019, Marshall, Vice-Chairperson of YPC, hosted a 2-day visit for the members of the Pharmaceutical Society of Sri Lanka (PSSL). The PSSL representatives comprised of pharmacists and healthcare leaders working in various sectors, such as hospitals conglomerates, industrial MNCs and universities.
The comprehensive itinerary included tours to restructured hospitals such as Singapore General Hospital (SGH) and Khoo Teck Puat Hospital (KTPH); visit to the National University of Singapore (NUS) and retail pharmacies chains; factory tour of ICM Pharma Pte Ltd; talks by the Singapore Pharmacy Council and sharing session from Ms Tracy Chean, Regulatory Affairs (RA) manager about her experience in the RA field.
The tour ended with a hearty dinner at Singapore's iconic Wee Nam Kee chicken rice restaurant. The dinner was graced by Ms Irene Quay, President of the 113th Pharmaceutical Society of Singapore (PSS) Council. YPC was honored to host the PSSL and we were glad that new friendships were forged as well!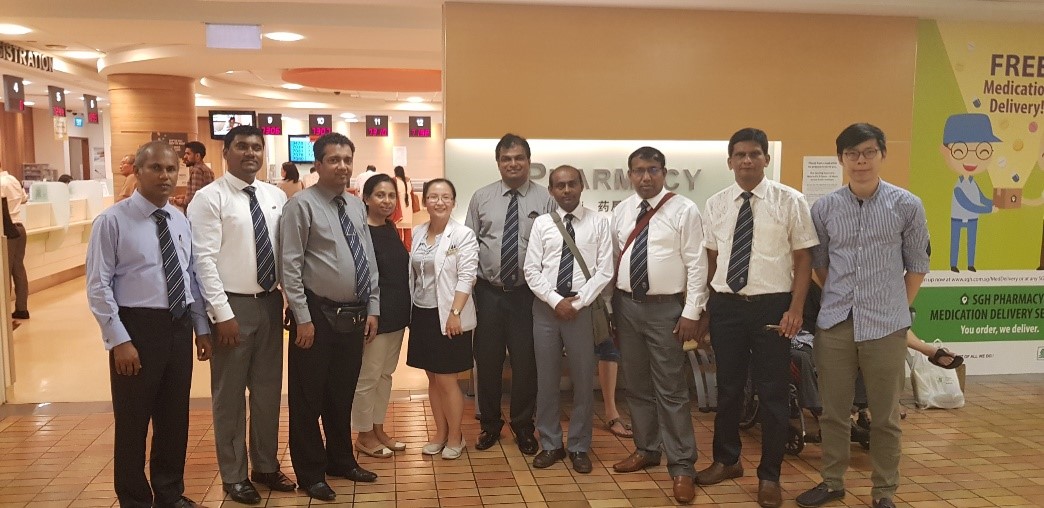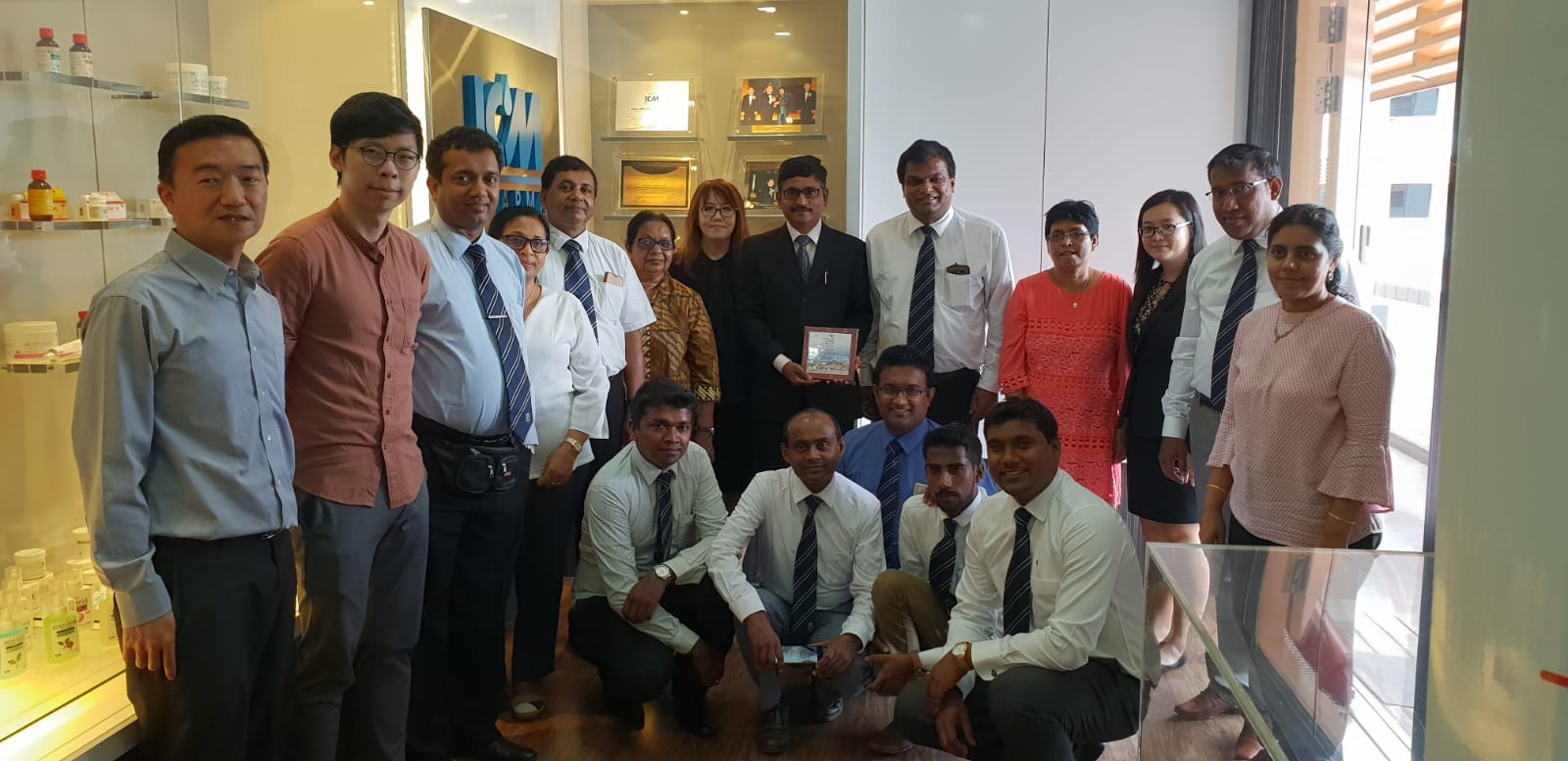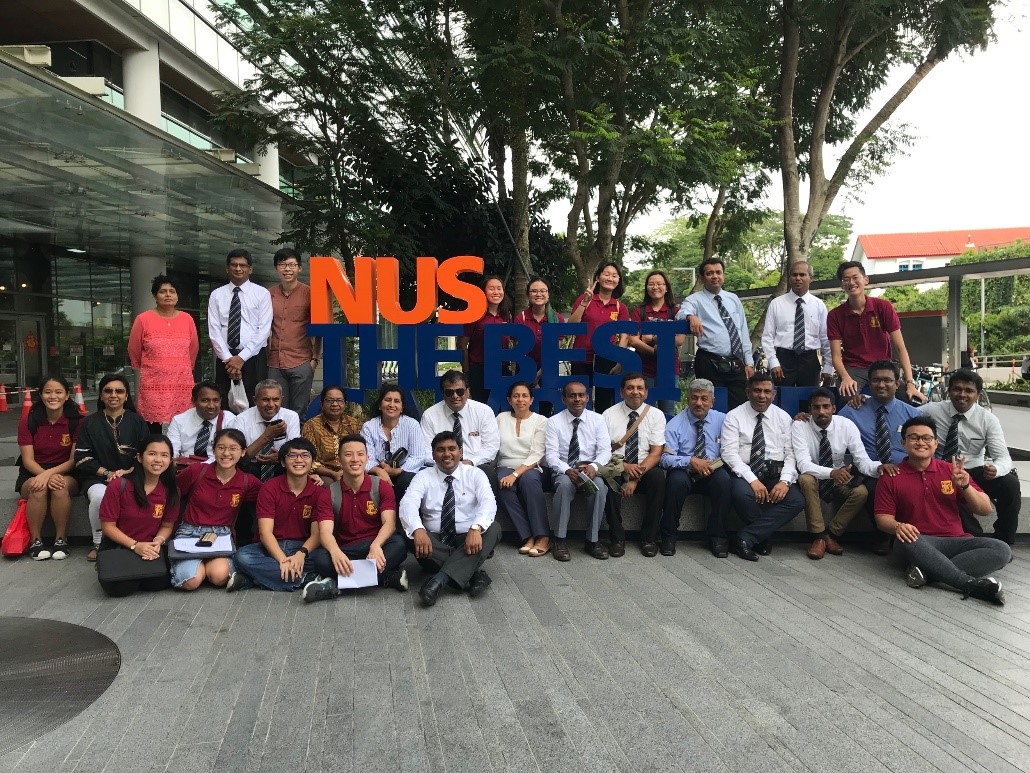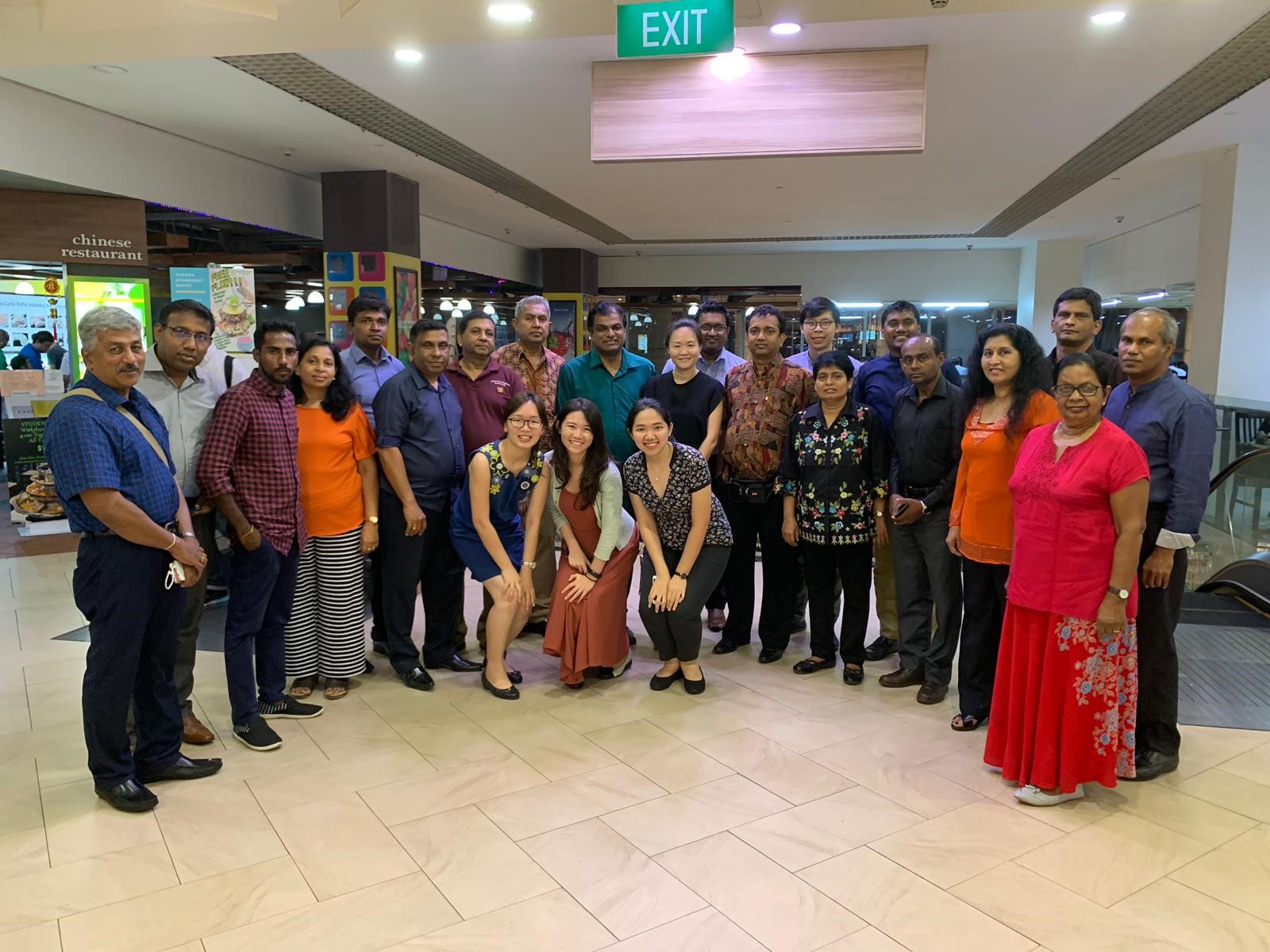 Terrarium Workshop
In-house instructor: Ms Vivian Chin Hui Min
YPC held a 2-hour terrarium making workshop on the 22 May 2019, led by our very own talented member, Ms Vivian Chin. A total of 21 participants joined the workshop to create their own masterpieces. It comprised of an introductory lesson to the self-sustaining mechanisms of a terrarium, followed by a hands-on session and bonding time. This was followed by our bi-monthly YPC meeting so that potential new members had the opportunity to know more about our projects and activities should they be interested in joining the chapter.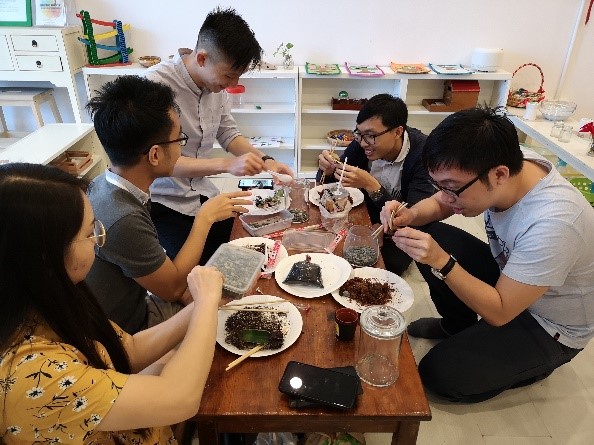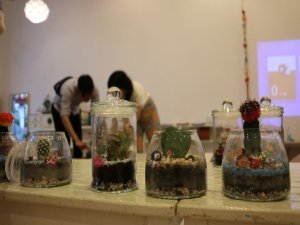 Yoga for Mind & Body
Organising Members: Mr Muhammad Hafiz Bin Amir, Ms Low Hui Ming Margaret
On 3 Sep 2019, YPC organized its first ever yoga event. This session was proudly hosted by our fellow pharmacist, Ms Lee Gim Ling, who is a certified yoga instructor. Besides being an actively practicing pharmacist, Gim Ling has a keen interest in Yoga, Kickboxing, and Pilates.
Through this event, the participants learned the fundamentals of Hatha Yoga, which may potentially improve their flexibility, improve their muscle strength, as well as hone the art of mindfulness. The 1-hour session began with a brief ice-breaker for participants to get to know one another, and ended with some relaxation techniques to help pharmacists unwind from the stress and challenges of day-to-day work.
AYPG Leadership Summit 2019
Participants: Mr Chew Woon Seng, Ms Vivian Chin Hui Min, Mr Ian Tan Sheng Feng
From 7 to 10 Nov 2019, a team of three delegates represented YPC to participate in the biennial Asian Young Pharmacist Group (AYPG) leadership summit held in the cultural city of Indonesia, Yogyakarta. This is part of our continuing efforts to actively engage and network with other Young Pharmacist Groups (YPG) across the Asia-Pacific region, as well as to ensure the continuing presence of PSS-Young Pharmacist Chapter (YPC) in an international landscape.
The theme for this year's summit was "Empowering Pharmacists in the Era of Change", one that resonated soundly with the various country representatives that gathered. Leading off with the Annual Meeting sharing by the various YPGs, ideas on how to tackle the challenges brought about by the changing landscape of the pharmacy practice were shared by member countries.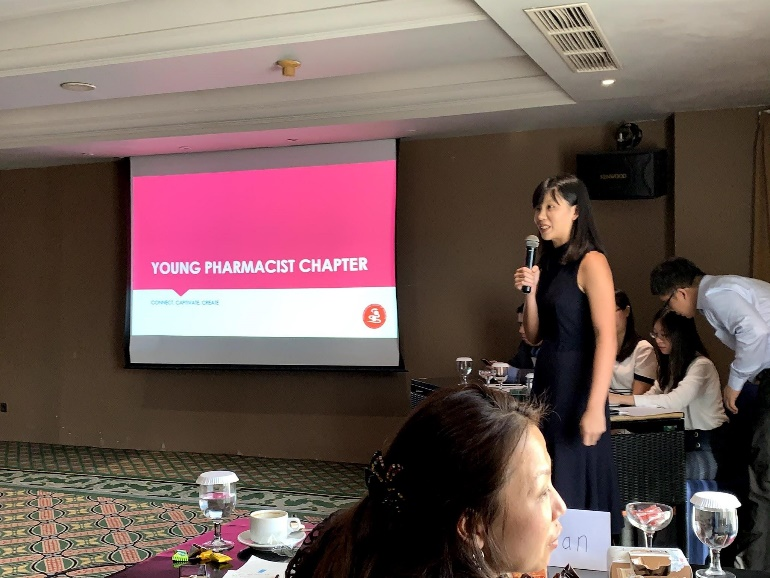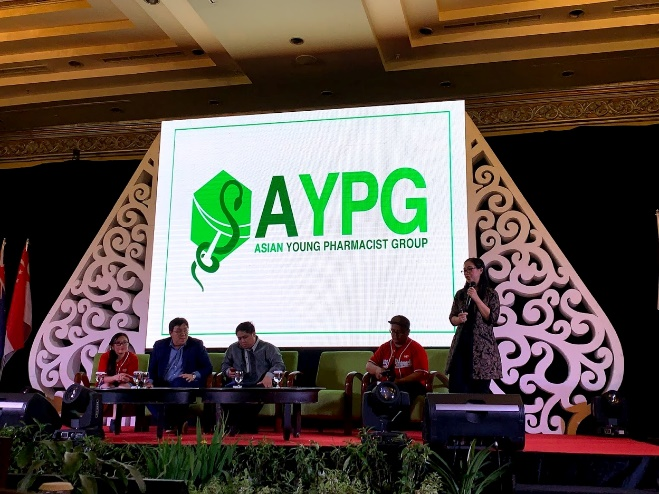 A series of talks and panel discussions touched on topics ranging from the threat of counterfeit medications to local leaders making an impact on the healthcare landscape in their own areas. The current and potential use of technology to enable healthcare was also discussed widely, with guest speakers from MIMS, Swipe-Rx and Halo-doc amongst others. It was a fruitful summit with meaningful exchange of ideas and experiences from the member countries so that each YPG may continue to enrich and contribute to their respective communities.
Hiking and Games
Organising Committee: Mr Ian Tan Sheng Feng, Ms Bernice Leow, Mr Lew Kuan Yeng Ray
A return for its second run, the YPC Hiking and Games Event was held at the Singapore Botanic Gardens on 23 November 2019. Among the 11 sign-ups were PSS members from both patient care and industry sectors. Participants had the chance to interact with fellow pharmacists while exploring a route near the Bukit Timah Gate.
Starting with icebreaker games, participants got to know one another and were divided into teams to promote healthy competition and to spice things up. Through a total of 4 game stations, they had much fun chalking up points. In particular, one of the stations featured a game entitled "String the words up!" where each team was given 5 minutes to write down as many pharmacy-related words that came to mind, ensuring that each word begins with the last alphabet of the preceding word. And as you may have guessed it, this is what happens when pharmacists work on it together!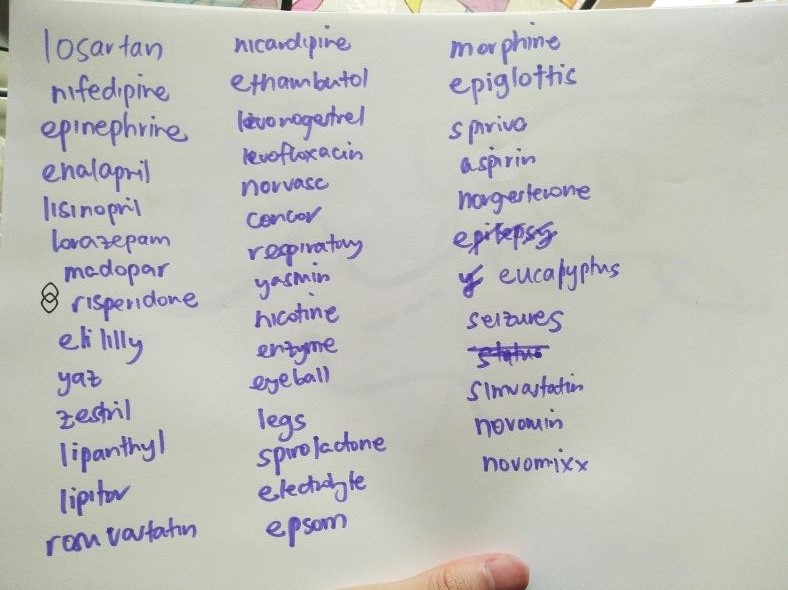 Along the way from one stop to another, participants took photos with creative poses to score points and worked on a quiz which helped them appreciate the history of the Garden better and learn fun facts about it. The games ended with a final challenge where teams pitted against each other, with the fastest team earning more points. The morning concluded with everyone receiving food prizes and leaving with a smile!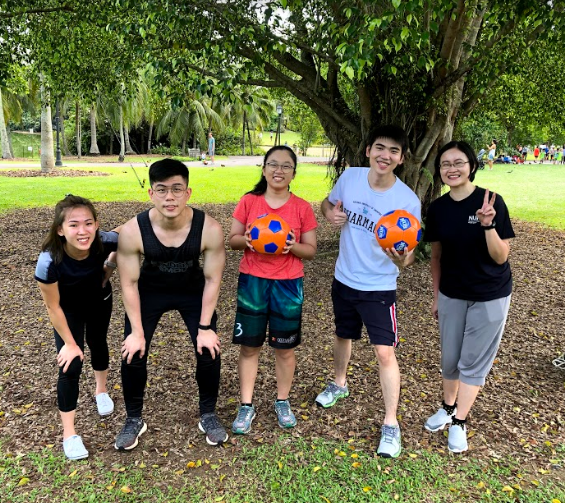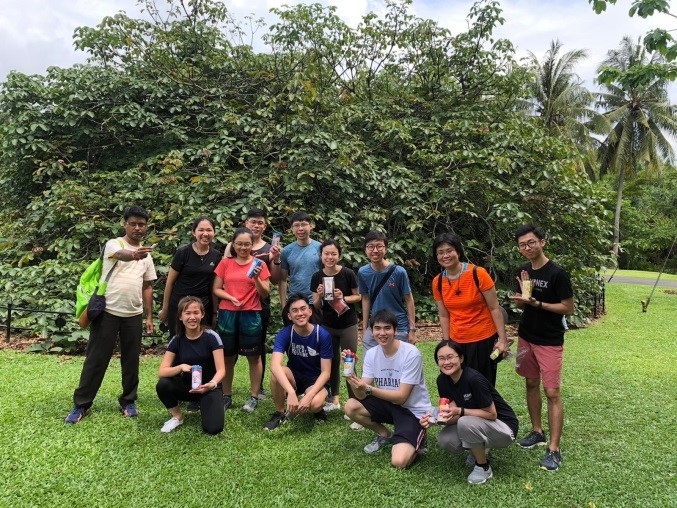 Controlled Drugs (CDs) Disposal Guide
Organising Committee: Ms Cindy Chew, Mr Chew Woon Seng, Mr Franky, Mr Ong Kheng Yong
As part of PSS's drive for safe disposal of medications, a workgroup was setup by YPC to examine and outline the procedures regarding disposal of unused CDs returned by patients.
CDs are prone to higher risk of diversion and abuse and hence tighter procedures need to be put in place to ensure their proper disposal. The Misuse of Drugs Act and its relevant regulations are non-prescriptive on the handling of patient-returned CDs and thus procedures are currently not standardized amongst healthcare institutions.
After much discussion, YPC's CD disposal workgroup, proposed a two-pronged approach to tackle this gap. A one-page concise patient information leaflet (PIL) was drafted to educate patients on why CDs are different from normal medications and how proper disposal should be carried out. Similarly, a good practice guide was drafted for pharmacists on how to handle patient-returned CDs. This brief guide provides suggestions on good practices on patient education, receipt, storage and destruction of the returned drugs and comes with a suggested template for documentation. The PIL, good practice guide as well as the template for documentation have been shared with Pharmacy managers.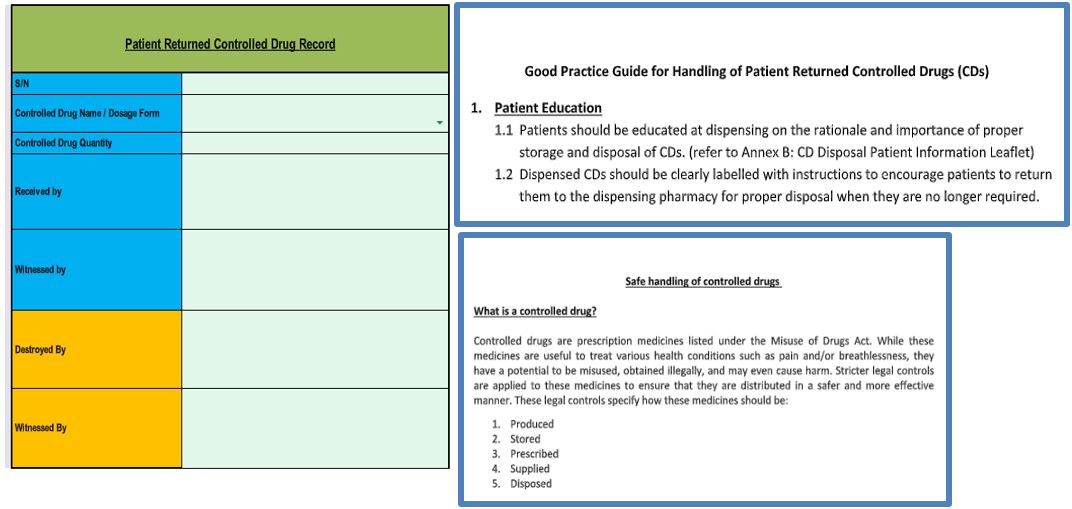 FUTURE PLANS
Volunteer Efforts
Organising Committee: Ms Vivian Chin, Ms Low Kai Xin, Mr Lim Cheong Cheng, Ms Tan Li Yan, Ms Chong Li Sze Nyx
This year, YPC was tasked to look into volunteering efforts in the community. This was to be done via provision of pharmacy-related services such as medication review and reconciliation, promoting smooth transition of care. 
Sunlove Care Services were selected for the implementation of this effort, with plans to start with 10-20 patients under Marsiling Community Care Centre and potentially expand to Chai Chee in the future. Teams consisting of pharmacists and student volunteers would conduct home visits to address medication-related issues and provide referrals to other healthcare professionals, if necessary.
Similar efforts were ongoing in the Hospital Chapter, who were in contact with Calvary Community Care (CCC) Services. After subsequent reconciliation, we noted that Sunlove would be involved in Phase 2 of Pharmaceutical Care Services under MOH and that CCC may not be available for visitation in 2020. The project is currently pending involvement and confirmation from CCC.