Industry Chapter 2019/2020
Ex-officio:              
Mr. Justin De Silva
Chairperson:              
Ms. Yak Xin Ran                                                   
Chapter Mentor :               
Mr. Ng Cheng Tiang
Members:              
Ms Adrienne Chew Dan            
Mr James Pan Jiaqing                    
Mr Ben Tan Khoon Bin            
Ms Joelle Chia Lai Kuan                    
Ms Chean Ning Wei, Tracy        
Mr Kevin Ben Lawrence    
Ms Chen Yee Ju                
Mr Lim Kai Kiong
Ms Elaine Lau Jia Qi            
Ms Sheree Lim Wan Ting    
Ms Hong Jiemi                
Mr Samuel Ng Wen Zheng
Mr Ivan Chew Yong Chia
 
Mission:
To bring all pharmacists working in the industry back to a home where they can have a place to interact with fellow pharmacists, to share experience or just to meet old and new friends.
To create opportunities for pharmacists working in different sectors to meet and understand what each other do.
Objective:
Represent the views and interest of pharmacists working in the pharmaceutical industry and to provide them with opportunities for continuing education in their related fields.

Click HERE for Industry Chapter's Terms of Reference
 
---
Highlights of 2019/2020:
Membership:
The Chapter continues to see strong interest and support from pharmacists in the industry and those keen to understand what industry pharmacists do. In 2019, we saw many newly minted pharmacists added into the WhatsApp interest group. Many fruitful discussions and advice graced the group chat as it hosts both veteran and young pharmacists.
 
Activities:
In 2019, we coordinated and led 1 career talk in November. We were also deeply honoured to co-organize the inaugural fundraising seminar for the Alfred and Lucy Wan Science Merit Scholarship with the NUS Department of Pharmacy. This scholarship will support deserving undergraduate pharmacy student in their education. All the talks were well attended and well received by the participants.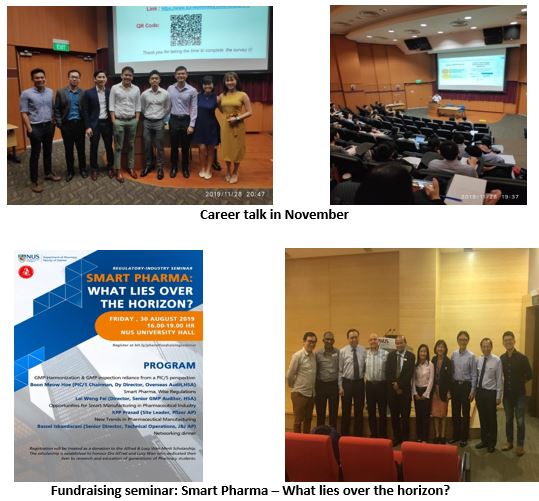 Awards:
PSS-ICM Industry Pharmacist of the Year Award 2019
One of our chapter members, Ms Tracy Chean Ning Wei, Regulatory Affairs, Quality Assurance and Pharmacovigilance Manager, Asiana at Galderma Singapore Pte Ltd, being awarded the ICM-PSS Industry Pharmacist of the year award for her contribution to the profession. We would like to convey to her our heartiest congratulations.
 
Plans for 2020/2021:
For 2020, we will continue to focus on reaching out not only to the industry pharmacists to bring them back into the Society as well as the chapter but also to the young pharmacy undergraduates from the Department of Pharmacy at NUS to expose them to the industry. We will also continue on the successful and well received activities and come out with more events to engage our members from the industry.
If you are keen to be included to the Industry Chapter WhatsApp interest group, do feel free to email to industry@pss.org.sg or join our Facebook public group: "PSS Industry Chapter".
Join us on our facebook page and on Linkedin!