PSS Intermediate and Long-Term Care (ILTC) Pharmacists Workgroup 2019/2020
Ex-officio:               
Ms Kng Li Lin, Grace
Chairperson:               
Mr Choo Yan Cheng
Vice-Chairperson:              
Ms Michelle Lee Jia Xin         
E-Learning Training coordination lead member:
Ms Reshma Lhode
Thematic CE and learning Trips lead member:
Ms Cherie Wong 
Quality improvement projects coordinator leads:
Ms Chung Wing Lam

Secretary:                       
Mr Hon Jan Yee

Members:              
Ms Andreas Nicholas                             
Ms Chen Fangping, Alice       
Ms Christina Lau Ik Mee        
Ms Peh Zi Xin                
Ms Choo Chui Yee            
Ms Sarah Low                
Ms Chua Rui Min            
Ms Shakilah Begum Mujtaba
Ms Joey Tan Hee Lim            
Ms Sonja Chua Jun Hui                 
Ms Koh Kai Yee                
Ms Tan Lay Keuan          
Ms Teo Bao Wen      
Ms Lim Xin Hui                
Ms Tan Sui Ping

Advisors:              
Ms Fatimah Moideen Kutty
Ms Yong Pei Chean
Ms Lim Zhi Ying
Ms Tan Zhenyin, Joyce
Ms Grace Lee (Immediate Past Chairperson)

Click HERE for ILTC Workgroup's Terms of Reference                   

Background
The PSS ILTC Pharmacist Workgroup was set up in Aug 2011. With the common goal of improving the safety and quality of patient care in nursing homes, pharmacists from different institutions banded together and piloted a project with Agency for Integrated Care (AIC) to measure the impact of pharmacists' service in nursing homes. Coming from diverse practice background, the pharmacists in the workgroup were able to harness the strengths and resources of individual institution, and ensure the sustainability of the service with flexibility in manpower arrangements.
Since its inception the PSS ILTC Pharmacist Workgroup has also been a convenient and reliable platform for external stakeholders, such as AIC & MOH, for medication/pharmacy-related services and consultation.
 
Missions / Objectives:
The PSS ILTC Pharmacists Workgroup is committed to:
1. Standardise pharmaceutical care practices within the workgroup by:
Acting as a platform for health information and pharmaceutical care knowledge exchange
Creating and sharing standard operating procedures
Offering standardised training framework for workgroup members
Upskilling team members on their capability to deliver best pharmaceutical practices
2. Drive pharmaceutical care initiative / practice standards in ILTC sector through:
Promoting collaboration with various stakeholders to develop quality or improvement projects
Providing medication related training to the ILTC healthcare professionals and care staff
Providing advisory support to ILTC partners
---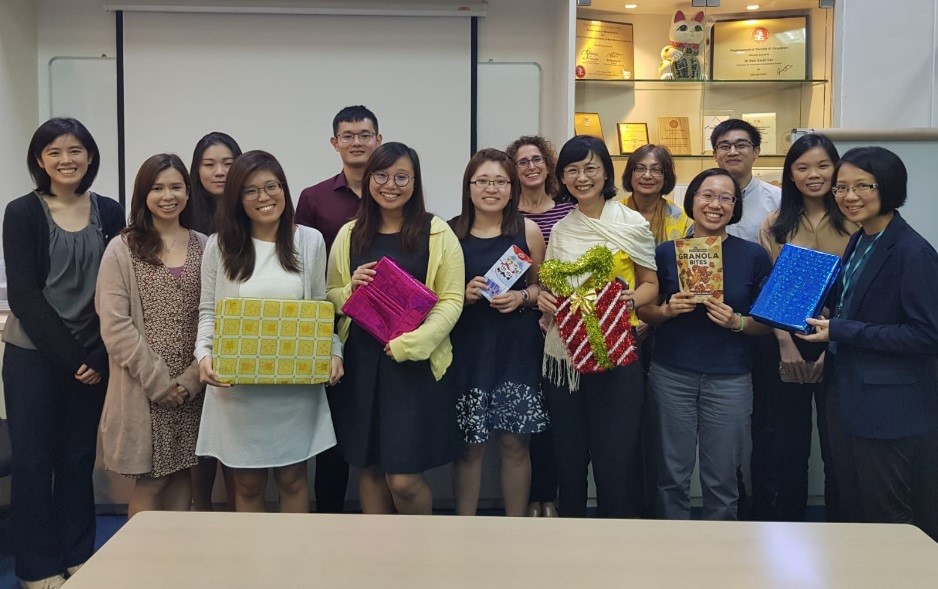 December Meeting and Appreciation at PSS Meeting room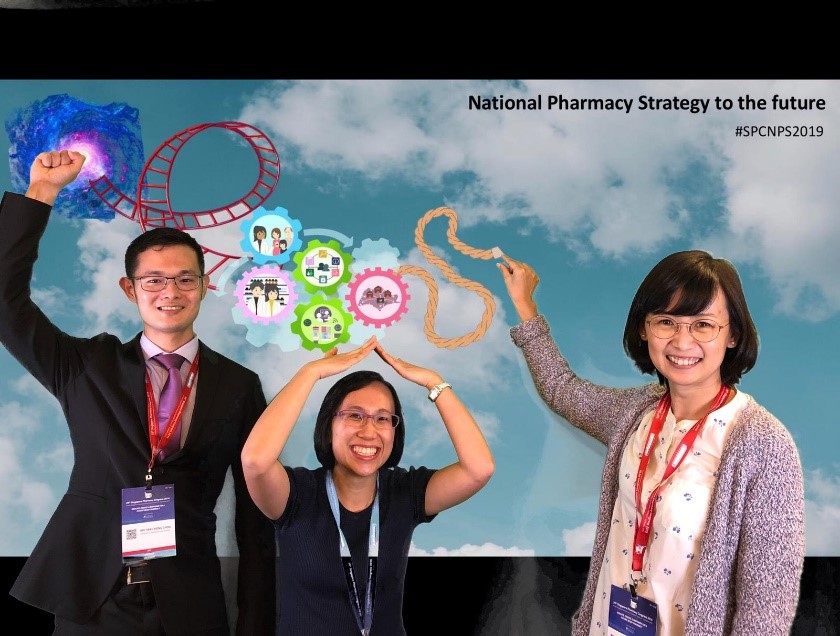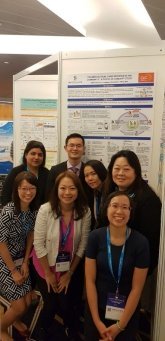 ILTC Workgroup representatives at Singapore Pharmacy Congress 2019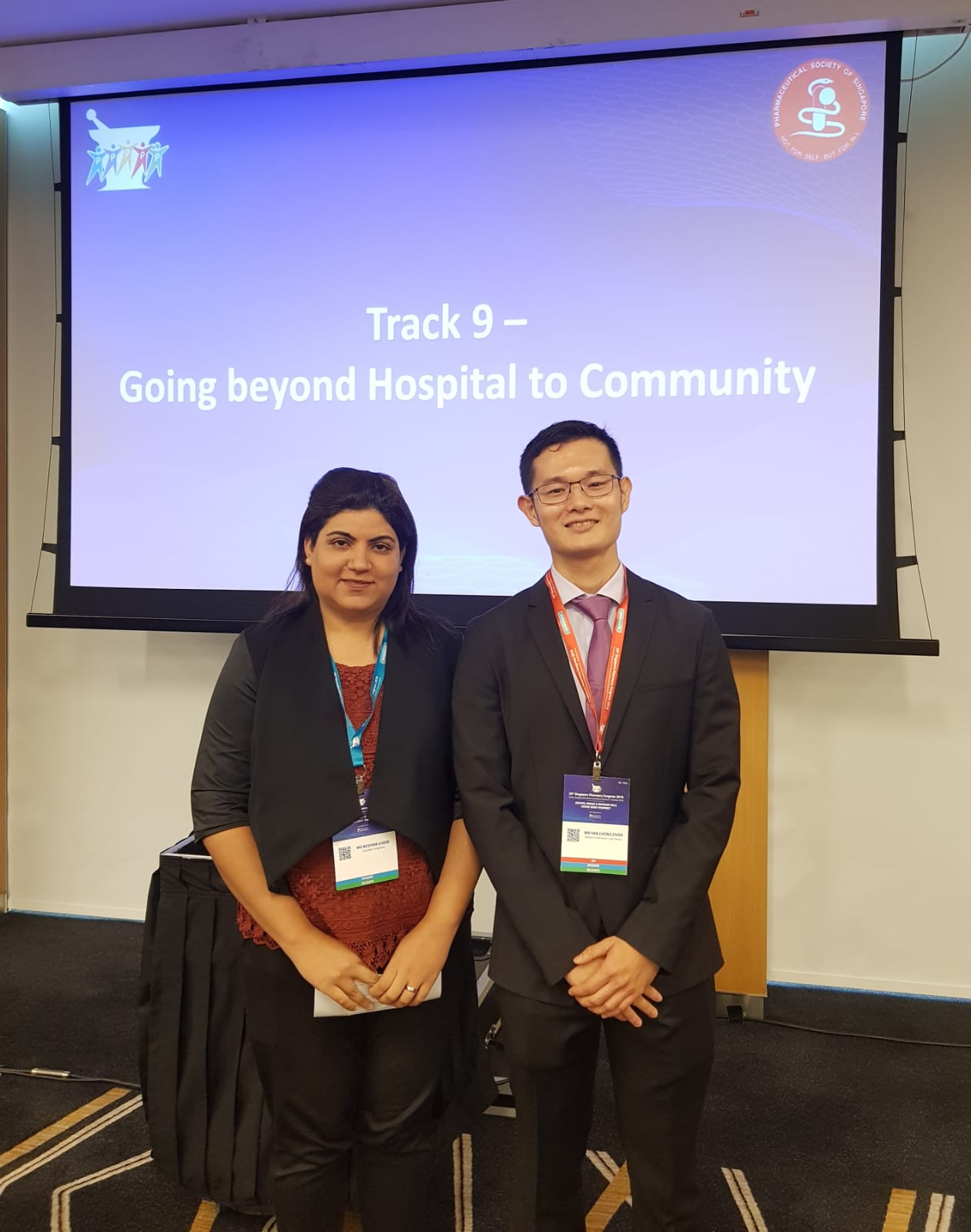 ILTC Workgroup Representatives Reshma Lhode and Choo Yan Cheng presenting at SPC 2019 on their experiences in the pre-pilot of the Pharmaceutical Care Services.
Workgroup Milestones
Building pharmacist role in vaccination
We acknowledge the growing role of pharmacists in vaccination and infection control, the workgroup sought to:
Upskilling our pharmacists' knowledge about the recommended vaccines for ILTC setting

In June, Ms Miao Jing, a pharmacist from Watson's Personal Care Stores Pte Ltd, presented a CE on Vaccine Schedules in the elderly and covered relevant vaccines: Influenza, Shingles, Pneumococcal.
 
Conduct a learning needs analysis among our ILTC partners regarding vaccines

A survey was conducted on 27 Nursing homes (NH), ~40% of NH in Singapore from February till July. It was observed that awareness of vaccines was mainly limited to influenza and more than 50% of participating nursing homes had interest in Vaccine-related training. Hence, there is room for pharmacists to drive the role of vaccines in ILTC infection control. The PSS ILTC Pharmacists Workgroup plan to continue advocating the importance of vaccination through E-learning modules.

Nurse e-learning medication management modules
Module 1: Medication Management Processes

Module 2: Drug Knowledge

Prescribing Terminology & Good Practices

GI System (Constipation, Diarrhoea, PUD, GERD)

Drug Information Resources

CV system (HTN, Hyperlipidemia, IHD, Stroke, DVT, Anticoagulant therapy)

Medication Safety

Respiratory System (Asthma & COPD)

Endocrine System (DM & Thyroid Disease)

Safe Medication Administration

CNS (Anxiety, Depression, Dementia & BPSD, Epilepsy, Parkinson Disease, Pain)

Medication Reconciliation

Common Infections (UTI, Pneumonia, Cellulitis, URTI)

Appropriate Drug Storage

Skin (Dry skin, Eczema, Fungal Infection, Pressure Sores, Scabies, Lice Treatment)

Waste Management

Eye (Dry eyes, Glaucoma)

Others: Medication & common condition related to fall risk
Topics for previous classroom-based medication management training
Previously, through the coordination of the Agency for Integrated Care (AIC)'s, our workgroup members conducted classroom-based trainings for nursing staff at AIC's training centre. This year, PSS ILTC explored the possibility of conducting its training through an e-learning platform. This enables training to be less labour-intensive for both trainers and learners, and more flexible in terms of scheduling. An E-learning platform also gives the workgroup another avenue (online) to engage our nursing professional colleagues.
AIC kindly assisted to coordinate with interested NHs for 2 pilot modules:
Safe Medication Administration
Medications and the risk of falls

In total, 6 nursing homes participated and more than 40 nurses took part in both modules from May till August. This pilot was a success with the high participation rate and the workgroup will continue to convert its previous trainings into E-learning materials for nursing home nurses. As mentioned, a new topic on vaccination will also be developed.


Continuing Areas of Focus

MRS GRACE (Medication Regimen Simplification Guide for Residential Aged CarE)
MRS GRACE is a tool validated by clinical pharmacists in Australian aged care facilities to reduce administration timings for residents. Quality Improvement Project Leads of the workgroup conducted two rounds of Delphi consensus in July and September to refine MRS GRACE into a tool applicable to the local context. A simplification tool is projected for release in 2020 and its role in optimising patient care will be evaluated.

Collaboration with PSS IDSIG
In line with the national drive to reduce antimicrobial resistance, the workgroup is collaborating with IDSIG to develop and implement empiric antibiotic guidelines. There are also plans to develop criteria for an infection-related hospital admission algorithm. This will help our ILTC partners determine when to admit their residents for an infection and reduce the rates of un-necessary admissions.

Collaboration with NUS & NCCS: Medication waste management study
The workgroup embarked on a study to assess the potential difficulties that ILTC facilities may face with pharmaceutical waste management. This is especially important for waste which requires special disposal methods such as cytotoxic drugs and antibiotics. Hence, the workgroup collaborated with NUS Pharmacy student Ms Sim Qiu Hui under the supervision of Dr Leow Jo Lene and A/Prof Lita Chew from NCCS to survey ILTC staff on pharmaceutical waste management.  The knowledge gained about their waste management practices will be used to tailor our guidelines to better suit the unique nursing home setting.

Collaboration with NUS: Medication-related needs of ILTC facilities
Ms Tan Poh Leng, a PhD student from NUS, is currently conducting a study on NH practices for patients who either have a swallowing impairment or are on tube feeding. The workgroup is assisting Ms Tan in coordinating the study among several nursing homes. The results from this study will enable the workgroup to further develop recommendations for improving the safety and efficiency of medication ordering, preparation and administration processes for patients, especially those with special needs.

Engagement of Regulatory Authorities in ILTC settings
In September, workgroup members had a discussion with representatives of MOH and HSA to discuss issues pertaining to the handling of Controlled Drugs in the ILTC setting. E.g. difference in management of ward stock CD versus patient's own CD. The workgroup will continue working with ILTC partners to navigate areas of uncertainty and refine processes for robust management of Controlled Drugs (CDs).
The workgroup also recommended that further guidance on vaccination for ILTC residents be included in the next update of the National Infection Prevention and Control Guidelines for Long Term Care Facilities. This suggestion was taken into account by MOH.

National Kidney Foundation (NKF) Collaboration
In July, workgroup members met up with partners from NKF to review and improve medication-related standard operating procedures such as drug disposal, storage of drugs, supply and transfer of medication to different dialysis centres. Following this extensive review, workgroup members will next focus on reviewing patient-care related process.

Internal Quality Improvement
To keep up to date with regulations, the workgroup continues to review the Standard Operating Procedures (SOP) for medication handling in the nursing home setting. This year, we have revised the standard operating procedures for controlled drug (CD) disposal in the NH to align with updates from our recent discussion with MOH.

Conclusion
2019 has been a year of planting the seeds of projects and practice improvement tools to allow us to improve our service for ILTC partners. With active engagements with regulatory authorities and stakeholders, we look forward to further shaping the community of practice in 2020.