PSS Intermediate and Long-Term Care (ILTC) Pharmacists Workgroup 2017
Ex-officio:               
Ms Yong Pei Chean
Ms Kng Li Lin, Grace
Chairperson:               
Ms Lee Wai Fong, Grace
Vice-Chairperson:              
Mr Choo Yan Cheng
Quality Improvement Projects ICs:
Chung Wing Lam

SOP, Shared Database and Contact List ICs:                       
Mr Hon Jan Yee
Thematic CE and Learning Trips ICs:               
Ms Lim Zhiying          
 
Members:              
Ms Andrea Nicholas, Ms Ang Wei Min, Ms Candace Lee Ying Zhen, Ms Chen Hsueh-Ni ,Ms Chen Fangping, Alice, Ms Chua Rui Min, Ms Diana Ting, Mr Hon Jan YeeMs Sarah Low, Mr Mohammad Riduwan Bin Mohammad Noor, Ms Shakilah Begum Mujtaba,  Ms Sonja Chua, Ms Lim Sing Choon, Ms Lim Xin Hui, Ms Lin Huimin, Ms Nadelyn Chua, Ms Tan Lay Keuan, Ms Tan Poh Leng, Mr Colin Tan,  Ms Tay Huiling, Ms Tay Xin Yong, Mr Teo Bao Wen, Ms Tran Anh Nih, Ms Wendy Ang, Ms Wong Yi Wen, Cherie, Mr Yeo Quan Qi

Advisors:              
Ms Fatimah Moideen Kutty
Ms Tan Zhenyin, Joyce
Ms Reshma Lhode
Ms Chung Wing Lam

Click HERE for ILTC Workgroup's Terms of Reference                   

Background
The PSS ILTC Pharmacist Workgroup was set up in Aug 2011. With the common goal of improving the safety and quality of patient care in nursing homes, pharmacists from different institutions banded together and piloted a project with Agency for Integrated Care (AIC) to measure the impact of pharmacists' service in nursing homes. Coming from diverse practice background, the pharmacists in the workgroup were able to harness the strengths and resources of individual institution, and ensure the sustainability of the service with flexibility in manpower arrangements.
Since its inception the PSS ILTC Pharmacist Workgroup has also been a convenient and reliable platform for external stakeholders, such as AIC & MOH, for medication/pharmacy related services and consultation.
The workgroup is currently represented by members from 14 institutions providing ILTC pharmacy services. We are pleased to report the following events and milestones in 2017.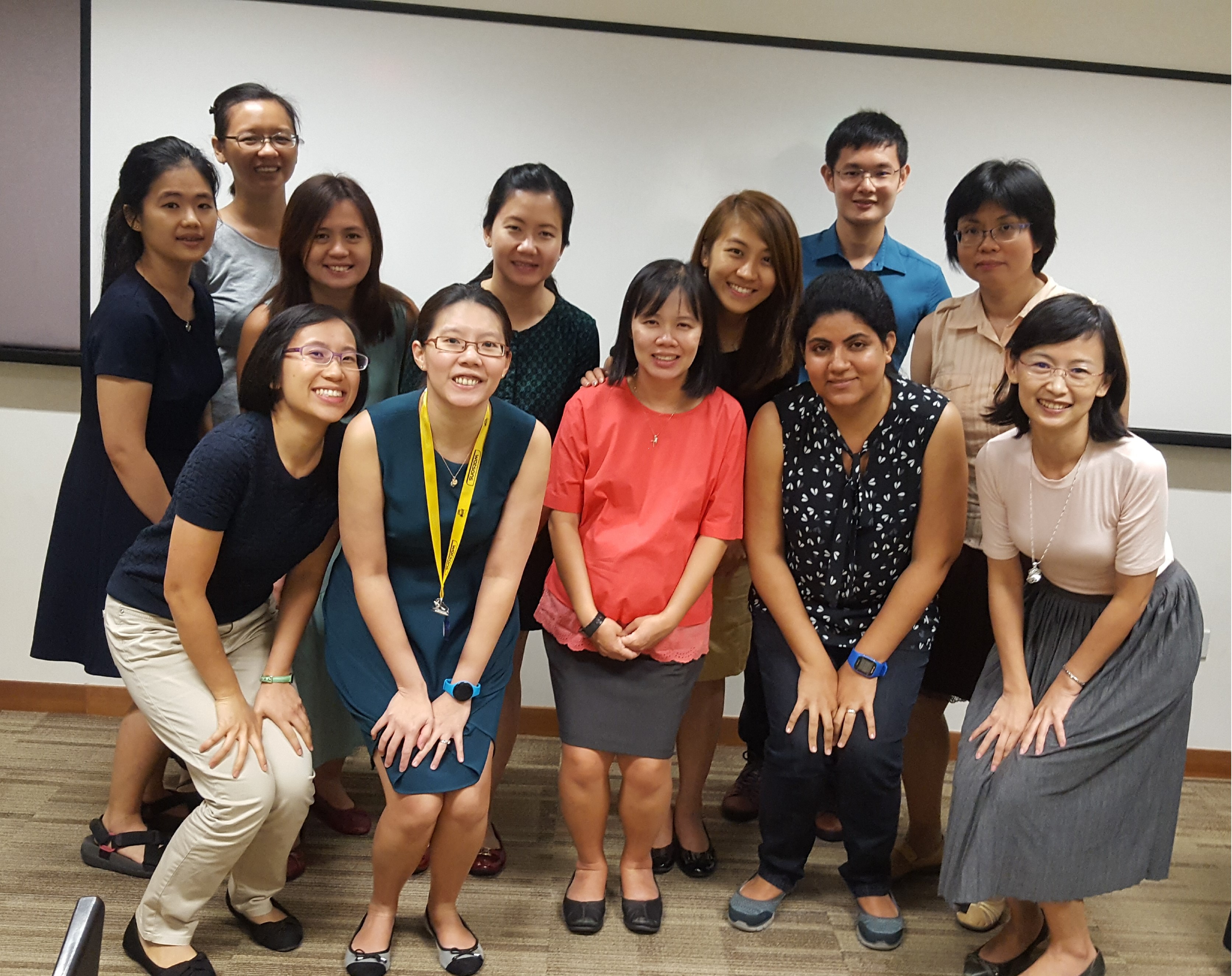 Members of the PSS ILTC Workgroup. 25th October 2017. (Some members are not present)
Workgroup Related Milestones in 2017
A) Peer Review ILTC Pharmacist Training Forms: Similar to previous years, the workgroup has been pivotal in supporting pharmacists who play a role in the ILTC sectors. To align members in providing standardised care, Reshma led the workgroup members (Jiun Yih, Grace Lee and Joyce Tan) in completing a set of Peer Review ILTC Pharmacist Training documents. They have since been introduced to the workgroup and will be used to train current and new pharmacists in the year 2018. Each institution will then further tailor the documents for their use and implement it by 2018.

B) Continuous Education: In the beginning of the year, Pei Chean suggested the workgroup initiate a CE program so that all members may come together during meetings to learn from each other's experience and expertise. Since then, Zhiying has been coordinating the CE topics and speakers for each meeting. Workgroup meetings are now accompanied by a 30mins CE session and 10 multiple choice questions where members may attempt on their own with answers provided on a later date. The CEs are uploaded into the PSS website to benefit more pharmacists.
 
| | | |
| --- | --- | --- |
| Month | Topic | Member and  Institution |
| April | Case studies: Geriatrics and Palliative Care | Mr Tan Jian Ming from Khoo Teck Puat Hospital |
| June |   | Ms Lim Zhiying from NTUC FairPrice Co-operative Limited (Unity by FairPrice) |
| August | | Ms Eunice Lim from National Healthcare Group Pharmacy |
| October | | Ms Tan Lay Keuan from Ren Ci Hospital |
List of CE topics conducted in 2017
C) Medication Management Training
Since 2014, the PSS ILTC Pharmacists workgroup has been providing AIC with a series of medication management training course ranging from medication management processes to drug knowledge for common geriatric conditions such as Dementia, Pneumonia etc. These talks are offered to the nursing staff of ILTC institutions such as nursing homes as well as staff from centre base care.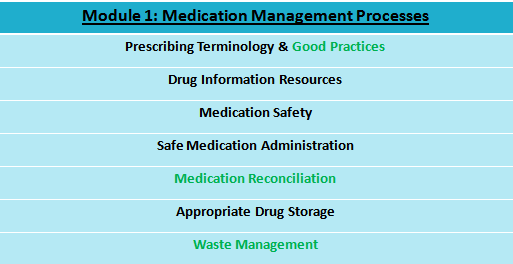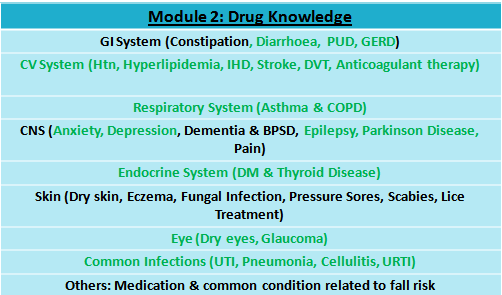 Topics for medication management training
These talks have been well received and complimented for their usefulness in refreshing the staff's knowledge on common geriatric conditions, and for assisting the staff in complying with the Enhanced Nursing Home Standard guidelines. Following the third and final run of the training program, an additional run for some of the topics was requested for the staff of St Hilda's Community Services and a few other institutions that were unable to attend the previous training runs. Our pharmacists gladly invested their weekend to contribute their knowledge. As of end 2017 AIC will be re-releasing the Request for Proposal for training providers for the next medication management run.
 
D) DRP Project conclusion/Presentation at Singapore Pharmacy Congress 2017
Last year, the workgroup launched the DRP standardisation project as a FYP project in conjunction with NUS. This study aims to contribute towards the development of a validated, standardised DRP classification system for the ILTC setting, enabling a more accurate assessment and demonstration of the impact of pharmaceutical care services in the ILTC setting.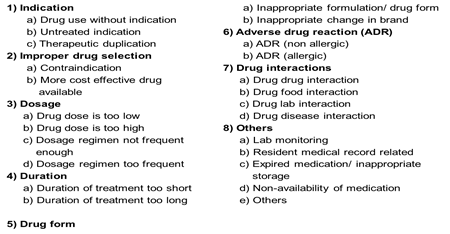 PSS ILTC Pharmacists workgroup standardised DRP classification
The results of this study showed that the Standardised DRP classification system developed by Quan Qi, Grace Kng and Wing Lam showed substantial external validity when used by ILTC pharmacists from various settings. In addition, opinions on its usability were generally positive.
This project was presented at the 2017 Singapore Pharmacy Congress by Lim Xin Yan, the NUS student who carried out the project under the supervision of Dr Yap Kai Zhen.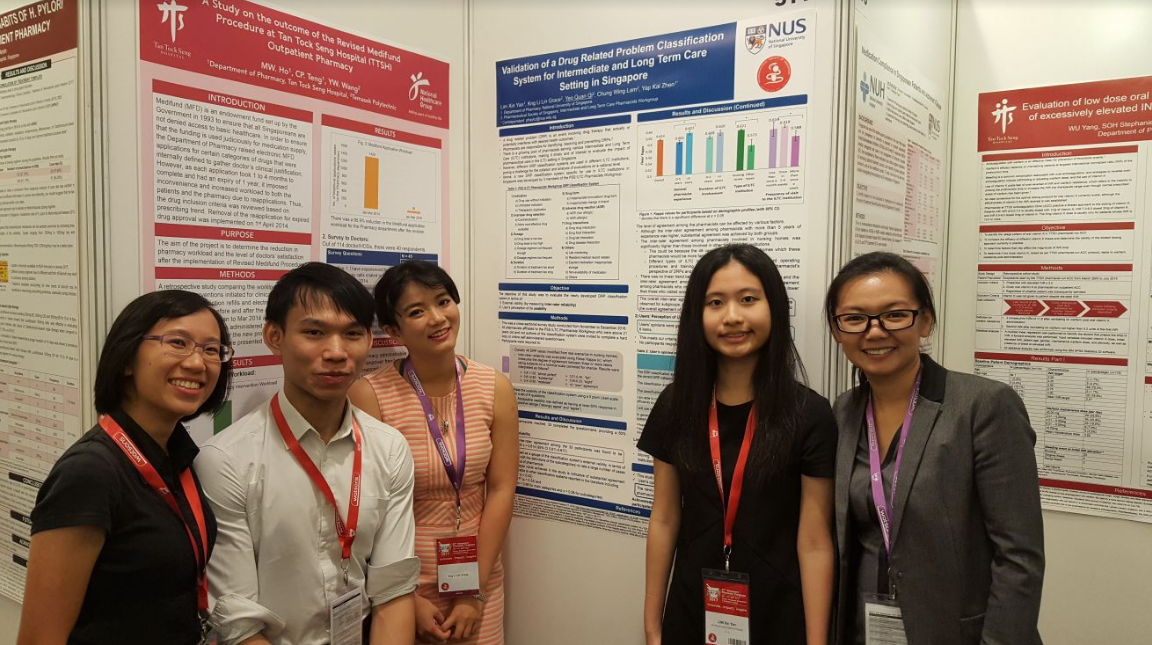 Project members standing next to poster presented            
Left to right: Chung Wing Lam, Yeo Quan Qi, Grace Kng, Lim Xin Yan, Dr Yap Kai Zhen
 
E)  National Medication Reconciliation guideline  
In early 2017, MOH sought feedback from pharmacists from various institutes for the upcoming implementation of the National Medication Reconciliation Guidelines. Representatives from the PSS ILTC pharmacist workgroup contributed their comments on the draft of the guidelines, as well as shared their experiences of conducting medication reconciliation in the unique setting of the nursing home during the mass consultation session in January
Many nursing homes are not connected to the National electronic health record system. Changes made in the nursing home setting are often not reflected in the records of government healthcare institutes and vice versa. Hence medication reconciliation plays a very important role in preventing medication errors. This sharing and consultation session was a great learning experience for pharmacist from all sectors to learn about the difficulties encountered in the different settings.
 
F) Therapeutic Drug Monitoring guideline for Nursing Homes
In July, Lee Ting Yee and Zhang Yan Xin, Tracy worked together to develop a comprehensive therapeutic drug monitoring guideline specific for nursing home settings. This guide covers conditions such as Diabetes, Hyperlipidemia, and Hypothyroidism.
Besides providing the workgroup pharmacists with a handy guide to refer to while they are on the nursing home floor, this guide can also be used to educate the staff nurses on the common monitoring parameters for such conditions. This guide is currently undergoing some improvements.
 
G) Future Direction
New Clinical study
It has been 6 years since the first Pharmaceutical Care Package pilot was run to demonstrate the necessity of pharmaceutical services in nursing home. Recently, the Addendum to Licensing Terms and Conditions on Nursing Homes imposed under Section 6(5) of the Private Hospitals and Medical Clinics Acts [CAP 248] (Circular Dated 21 Jul 2017) removed the requirement to have a visit at least every 6 months. The time period is now as determined by the pharmacist.
To appropriately evaluate the impact of pharmaceutical services, the workgroup plans to conduct a clinical study. This study will summarize the DRPs by category (using the standardized DRP classification developed earlier) that were detected and addressed, to review the impact of pharmaceutical care services.
Centre Base Care
In early 2017, AIC and MOHH completed a pilot project investigating the impact of pharmaceutical care in the centre based care setting. Following the successful pilot, AIC and MOH will soon look into expanding pharmaceutical services to other centre based care institutions. The PSS ILTC Pharmacists workgroup has begun preparing its members to provide for this sector.

H) Conclusion
2017 has been another eventful year for the PSS ILTC Pharmacists workgroup. With the guidance of the existing advisors, the members of the workgroup will continue to focus on keeping up to date on the latest in geriatric care, increasing our outreach to other sectors of ILTC such as day care and even home care, and contributing to the Ministry of Health's vision for Healthcare 2020.
Reported by:    
Chairperson and Vice Chairperson
Vetted by:         
Chung Wing Lam